| | |
| --- | --- |
| Launched | Jun 27, 2017 |
| Ends | Sep 24, 2017 |
| | |
| --- | --- |
| Launched | Jun 27, 2017 |
| Ends | Sep 24, 2017 |
$1,522
With these funds we will be able to provide sensory regulation to the students at Lakeview Elementary in the Wentzville School District located in Wentzville, Missouri. Our students are unique and learn in a variety of ways. They learn best when their bodies are safe, calm, and regulated. Studies have shown that when the students are provided with the opportunity to utilize appropriate sensory input their minds and bodies are better able to learn and focus throughout their school day. The use of sensory materials such as weighted balls, crash mats, yoga balls, trampolines, etc. will provide a variety of opportunities to meet the individual sensory needs of our amazing kids. 
The above video was our inspiration for creating a sensory room for our students. Three months ago Vicki and I found this video and were inspired at the possibilities for our students. We knew this would be an endeavor and quickly enlisted the help of our principal. We have his support and the support of our fellow teachers. We can't wait to see what opportunities this provides our students. Please help us create our dream room! 
If we do not meet our goal...
If we do not reach our goal we will work to purchase the core materials needed to best service our kids' sensory needs.
Brooke Schreiber
Special Education Teacher, Lakeview Elementary School
Hi all! I'm Brooke and this is my fellow teacher, Vicki. We're elementary special education teachers. We both have kids with varying levels of ability but both have kids with high sensory needs. We're creating this page to enlist your help in purchasing all kinds of sensory items that will help our kids be successful throughout the school day. From yoga balls to calm down timers to a sensory table. All these things will aide in our students being able to regulate their bodies and emotions. So, off we go! Thank you so much for your support!

O'Fallon, Missouri
The Wentzville R-IV School District is located in Saint Charles County, one of the fastest growing counties in the nation and the fastest growing area in Missouri . The county boasts a good blend of commercial, industrial and residential growth. The Wentzville School District is geographically located in the western part of the county or 40 miles west of downtown St. Louis.

The District is home to corporate offices and industries such as General Motors (sole producer of GM's full-size van), MasterCard Worldwide, and CenturyLink Telephone Operations. The District serves an 89-square mile area including all or part of Dardenne Prairie, Foristell, Lake Saint Louis, O'Fallon and Wentzville.
We Made Our Goal!!!
August 10, 2017
So, it's a little late...but we MADE OUR GOAL!!! Vicki and I want to thank everyone who donated. From the bottom of our hearts, we are truly touched by your generosity. A few weeks after the Wentzville Firefighters Community Outreach funded the rest of our project, we were able to meet with them and personally thank them for their donation.
As the school year approaches, Vicki and I are anxiously awaiting incoming supplies and working on preparing the room for our kiddos.
Again, thank you. Words cannot begin to describe how incredibly blessed we feel.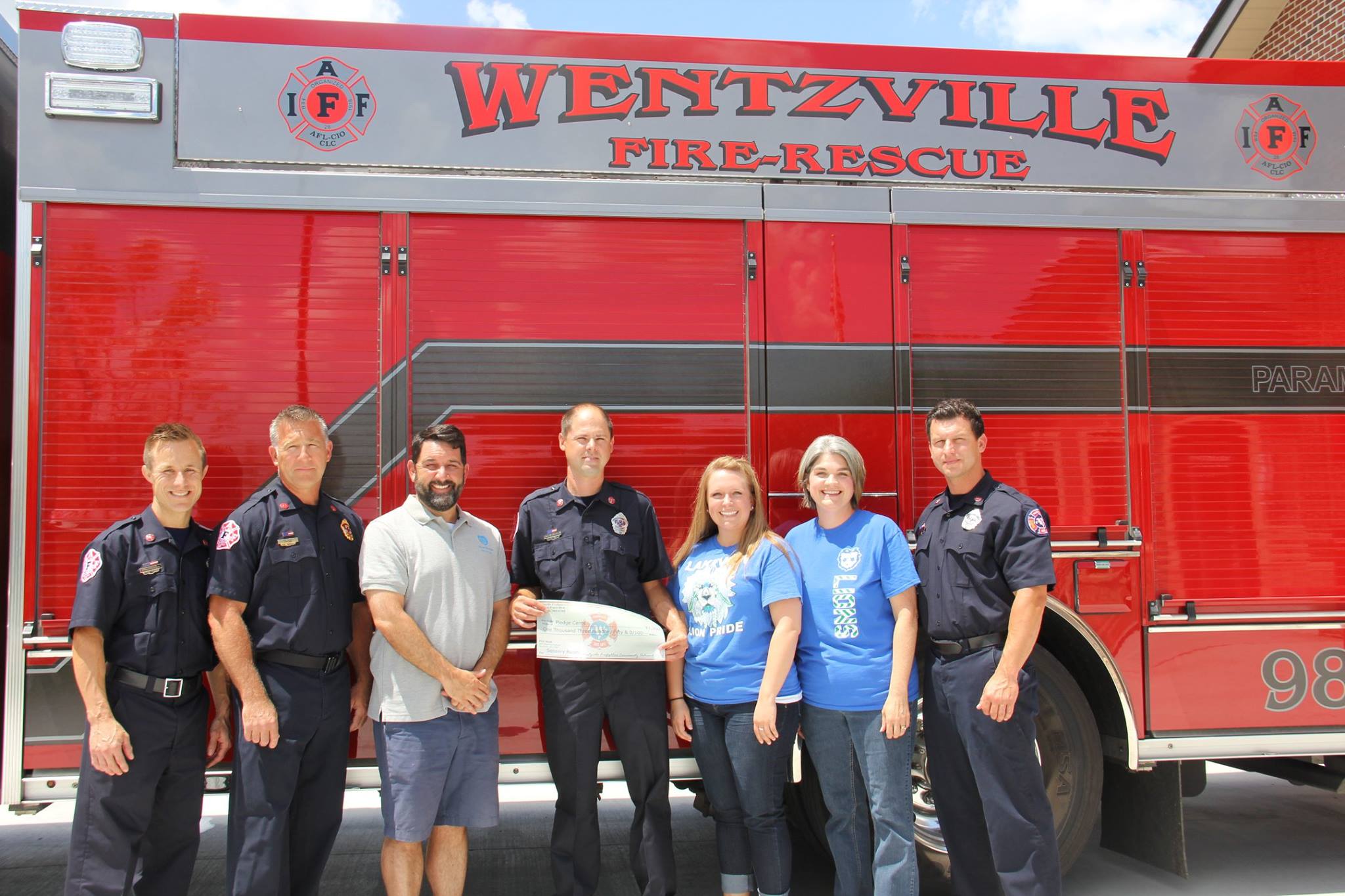 Megan Malay

Kris Hoelscher

Kenda Bremer

Carla Kunstel

Victoria A Stephens

Wentzville Firefighters Community Outreach