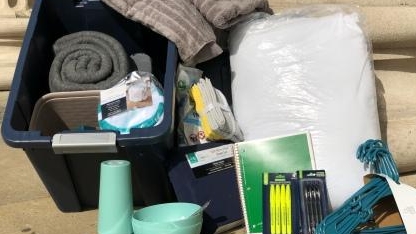 The Description
This is a project to supply graduating seniors with basic dorm room supplies as they prepare to start the next phase of their academic endeavors.  My 2019 goal is to fill 19 storage boxes with items needed to outfit a first-time dorm room, including sheets, pillow, comforter, towels, and mattress protector. Students will be identified based on need. More than half of the students at Allderdice High School come from low-income households.
Back Up Plan
If we do not reach our goal, I will purchase as many supplies as I can to fill a smaller number of storage boxes. 
Fundraiser Updates (1)
Amazing!
April 30, 2019
Thank all of you for donating to this so quickly! This has only been public for a few hours and we already have enough for 3 Dorm-in-a-Boxes!! (Dorms-in-a-Box?) Please keep sharing this on your social media.
Thank you again! We are going to make this dream a reality!
About the Creator

I am a Spanish Teacher and Football and Track coach at Allderdice High School in Pittsburgh, PA. I strive to provide the things my students need to be successful in the classroom, on the field, and in life.
Investments (23)
$100
Leslie Lewinter-Suskind
1 year ago
$50
Andrea Lowenstein
1 year ago
$150
Wesley Pickard
1 year ago
$150
Theresa M Schroeder
1 year ago
$25
jennifer mcgonagle
1 year ago
$75
Kelsey Daisley
1 year ago
$25
Brittany Bradshaw
1 year ago
$50
Ben & Mary Catherine Kronk
1 year ago
$50
Ben & Mary Catherine Kronk
1 year ago
$150
Matthew Diulus
1 year ago