fun classroom ideas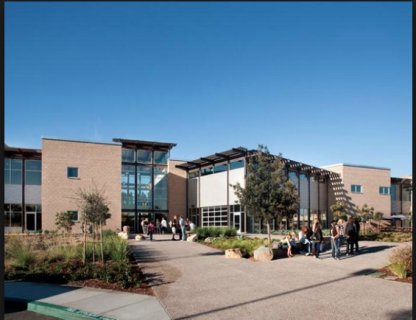 Michelle Sadrena Clark
With these funds the entire 9th grade will engage in a two day retreat to cultivate culture and a positive start to their high school career!  The retreat will include team building, trust building, and work ethic exercises that will ultimately translate into their academic work during the school year.  Entering high school can be a time of fear, anxiety, and uncertainty which is why the 9th grade teachers would like to eliminate or reduce those feelings and replace them with security, enthusiasm, and confidence.  The theme of our camp is centered around academic mindsets, in other words we want to students to feel a sense of belonging, to believe that abilities can change through effort, to understand that success is possible, and to engage in work that has value and purpose.  
The venue for our retreat is Laguna Campgrounds because we want our students to be as far away from technological distractions so that they can focus on the truth and beauty of nature and human interaction. The campground information is included below:
Overview
Laguna Campground is a great mountain getaway just one hour east of San Diego, California in the Laguna Mountain Recreation Area. Campers can enjoy cooler temperatures, unique natural areas and an extensive trail system at this mountain facility from summer through early fall.
Natural Features:
The campground sits at an elevation of 6,000 ft. in the Laguna Mountains. It is forested with pines and oaks that provide plenty of shade, in addition to a meadow. The area is home to many species of birds, as well as the endangered Laguna Skipper butterfly.

Little Laguna lake is located just a short distance from the campground and is an excellent hiking destination for photographers and visitors looking to explore the area.
Recreation:
The Laguna Mountain Recreation Area is known for great horseback riding, mountain biking and hiking trails. Visitors can get their boots dusty on the Laguna Meadow Trail system or access a segment of the 2,650-mile Pacific Crest Trail, which runs from California to the State of Washington. 

Wildflowers are usually abundant in April and May on the Big Laguna Trail, which takes visitors past Big Laguna Lake. In wet years there is water in Big Laguna Lake by December or January and ducks and other birds can be found. 

The trail presents a number of options to the user. A return to the trailhead parking can be made by cutting through the Laguna Campground or by taking the Pacific Crest Trail north. 

Families can learn about the area's flora and fauna by attending educational programs at the facility's amphitheater. Or for history buffs, the El Prado Cabin located at nearby El Prado Campground, is the first ranger cabin built in the Cleveland National Forest in 1911. 

The San Diego State University Observatory also sponsors "Star Parties" for campers most Saturday evenings during the summer (schedule can be obtained at the nearby visitor center or by calling 619-473-8547).
Facilities:
This large facility has five loops of campsites, with sites fairly close to one another. One campsite meets accessibility standards. The facility is equipped with campfire rings, flush toilet restrooms and coin-operated showers. 

Part of the campground is fenced off to protect the habitat of the endangered Laguna Skipper butterfly. Visitors are asked to respect the fence boundary and comply with the maximum site occupancy.
Here are the details regrading how the money will be invested:
We will be staying for 3 days and 2 nights.
Lodging: We are reserving 13 sites at the Meadow Loop section of the campsite at $53/night per site for a lodging total of $689.
Food: The retreat will include 2 breakfasts, 2 lunches, 2 dinners, and snacks. The cost will be approximately $30/person for the entire retreat; there will be 122 people total, which comes to about $3,660.
Transportation/Project Materials: The remaining $150 will go towards gas and some project materials for our onsite activities.
When students begin the year with a firm foundation of culture, they are able to build on that throughout the course of the year. And when students have a successful first year in high school, it increases their likelihood of success for the remaining three years! Everybody wins!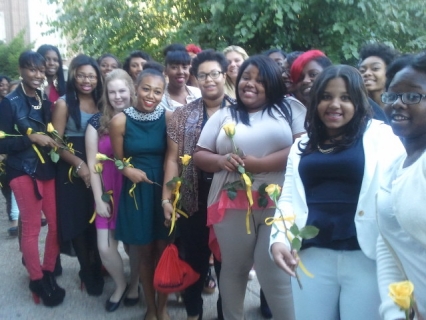 Sharon Connelly-Menotiades
With these funds I will...purchase supplemental novels and plays for my high school students.  Since our librarian was laid off for budget cuts, and our existing book selection is dated, my girls do not have access at school to rich literature.  Teaching literature is the heart of what I do, but I need more books.  This money will allow me to purchase over 100 books and share them with my fellow English teachers.
My students deserve this because each one applied to attend our all girls, public, college prep school.  They want a pre-college experience and education, and they work hard for us.  This money will show them that others care about their education too.
I will be purchasing novels and plays from Better World Books.  This website offers used books for $4 each and no shipping fees.  More importantly, for every book purchased, the company donates a book to another organization or school.  If you can help support my students, you are performing double the acts of kindness.
Some titles I am interested in purchasing are:  Rosencrantz and Guildenstern Are Dead,  Into the Wild, The Secret Life of Bees, Crime and Punishment, and maybe more.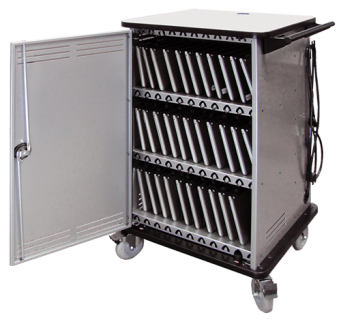 Paige Pritchett
Students in the 21st century are expected to be prepared for the complexity of the workforce by the time they graduate from college. Unfortunately, many of my students are not even ready for college once they complete high school. Students are learning the skill of memorizing information and answering questions on a test. According to the 2010 IBM study "Capitalizing on Complexity", the most important skill expected of young professionals is creativity. The current model for teaching students in the classroom simply does not prepare our students to meet the challenges they can expect to see in the workforce.
This year I will be co-teaching 9th grade environmental science as a special education teacher. In order to prepare students for college and beyond, we will be utilizing Project Based Learning in our classroom. "Project Based Learning is a teaching method in which students gain knowledge and skills by working for an extended period of time to investigate and respond to a complex question, problem or challenge" (PBE). Using this method, students drive their own learning and gain important skills like critical thinking, analyzing, revising, and collaborating with others. This model requires technology for students to watch videos, conduct research and collaborate on assignments.
Due to a lack of funding in our school, we are unable to consistently utilize this model in the classroom. We would like to have laptops in our classroom for students to utilize every day, especially given the technology-driven world we now live in. Every dollar raised for this cause will go directly to purchasing Chromebooks so that students can learn at their own pace and use the many skills that will benefit them once they go into the workforce.
Thank you,
Ms. Pritchett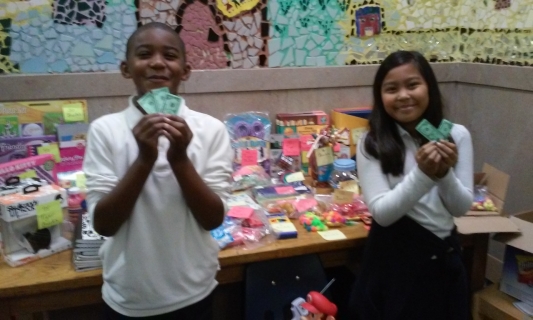 Michael Roth
With these funds, our school will motivate students through a school-wide positive incentive plan.  Every week our students are able to earn two tiger bucks.  Students who are ranked positive for the week by their teachers receive a tiger buck, as well as students who have perfect attendance.  To get ranked positive and earn a tiger buck, students have to display exemplary behaviors throughout the school week.  Once students earn their tiger bucks they are then able to use them to buy items at our school store.  We try to stock our school store with a wide variety of items; school supplies (pens, pencils, notebooks, backpacks, etc.), school gear (hats and uniform shirts), and much more (books and small toys to name a few).  We usually purchase these items every month from Oriental Trading Company.  To keep the store well stocked and kids excited, we need to spend around $400 dollars per month.  In addition to some of the smaller items we hope to purchase some education tech items for our big savers.  Last year two of our top students were able to save up all year to purchase Kindle Fires http://www.amazon.com/dp/B00KC6I06S/ref=ods_fs_far.  With your help we are hoping to reward more of our most motivated students with these big ticket items.  Last year, our school store helped us to significantly motivate students to succeed.  Our number of serious incidents decreased from the previous school year and our attendance was the best in our learning network of 45 schools.  The improved attendance and better climate helped our students to focus on and improve their academics.  Please help us to continue to motivate the students of Olney Elementary through our school store!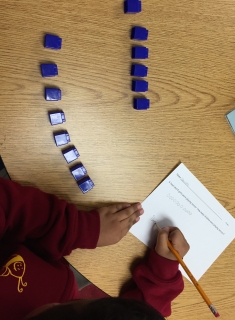 Matthew Salisbury
With these funds I will provide unifix cubes for students to use during math instruction.  Our teachers have worked hard to get professional development in Cognitively Guided Instruction for use during our Story Problems block.  During this time, students will solve and discuss one challenging problem per day.  The idea in CGI is not only to get a correct answer, but to also see that there are many solutions.  This builds love of learning, critical thinking, and flexibility.  Last year, we successfully started CGI in many of our classrooms, but because students did not have sufficient access to cubes, they weren't able to use concrete strategies as often as they wanted.  This meant that teachers had to give smaller numbers in problems or mastery was lower because kids didn't have the tools they need.  
Unifix Cubes are helpful because they snap together in groups of 10, which helps kids understand the base 10 system.  They are also beneficial because they only connect in one direction, so they aren't tempting to use as a toy.  They are clearly a math tool.  Unifix Cubes will provide students access to problems that they wouldn't have using just pencil and paper because they can use the cubes as a concrete representation of the numbers in the problems.  Using these cubes, even kindergarteners can solve multiplication and division stories!  The challenge is that each student needs 120 cubes so they can use them fluently in addition and multiplication problems where the solution can get pretty large.  If we buy Unifix Cubes in bulk, each set of 5,000 costs $360.  That's about 7 cents per cube.  In order to purchase enough cubes for all of our children in K - 2nd, we need 9 sets of cubes, which will cost $3,240.  These tools will last a very long time and will set students up for deeper understanding of the concepts they are learning in class.
educators
love
our benefits
PreK-12 Focused
Dedicated education focus from top to bottom. We are a crowdfunding platform that is created for educational needs. Built with the voices of educators to create an online platform that safeguards current school fundraising processes.
Matching Opportunities
We connect philanthropists and businesses to help bring more opportunities for students everywhere. We offer unique matching opportunities to rally more support for our causes.
Keep What You Raise
We allow you to keep what you raise even if you don't meet your goal. We understand the value that every cent raised can help provide better opportunities for your students.
Your Choice
We provide you flexibility to raise funds for any school or classroom need. You know what your students need most which is why we allow you to decide your need and decide the vendor that is best for you.
Anyone can raise funds for anything PreK-12 related anywhere in the country.