Exploring Engineering and Robotics

Verified Non-Profit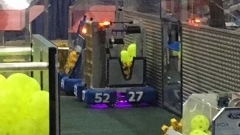 The Description
With these funds I will pay for the registration fee for our High School First Robotics Club. The registration fee is $5,000 no matter how many students are on the team. As a small club, we are in need of help to pay for this large registration fee. Paying this registration fee will allow the students to spend 6 weeks designing, building, programming, and troubleshooting a multi-task 100lb robot for a minimum of 2 weekend competition events. These competitions consist of 40 teams that we play against in a round robin style while being partnered with 2 other teams. These competitions last both Friday and Saturday of the weekend with 18 teams making it to the playoffs.  The events will take place in March with the location to still be determined. The students in the robotics club learn a great deal about marketing, engineering, computer programming, and teamwork while participating in this group.
Back Up Plan
If we do not reach our goal I will apply the funds that we did raise to the registration fee.
No Updates
About the Creator
I am the Algebra/Physical Science/Engineering Teacher and Robotics Coach at Schoolcraft. Schoolcraft is a small school district in MI. I love providing students with additional STEM opportunities.
Investments (5)
$100
Mike and Marie Byars
8 months ago
$20
Grandmsma&pa Wilson
8 months ago
$1,000
craig lambrecht
9 months ago
$10
elizabeth marko
9 months ago