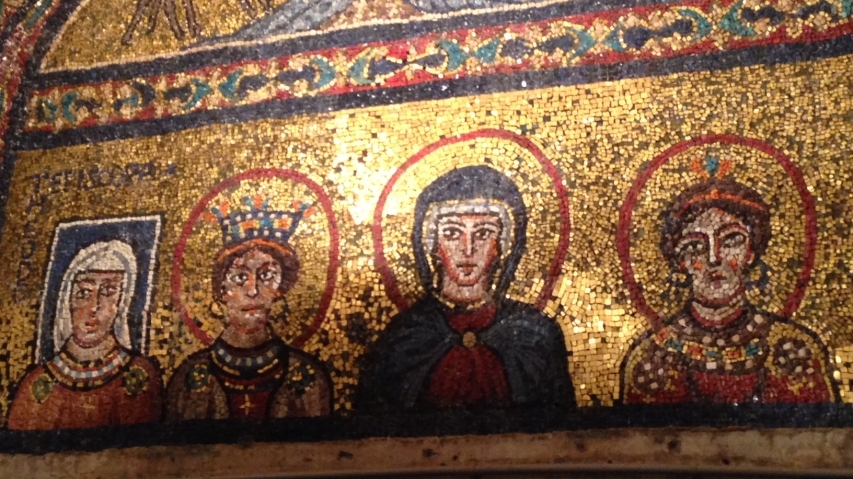 The Description
           As a woman who is an ordained Catholic bishop with the Ecumenical Catholic Communion (ECC), I have done a lot of research about women who were ordained in the early church.  For years I had seen pictures of a mosaic in the Church of St. Praxedes depicting four women, the Virgin Mary, two sisters Sts. Praxedes and Pudentiana, who were priests in the early church, and Theodora, whose inscription reads "Episcopa" meaning bishop.   Four years ago, when I had the opportunity to travel to Rome, I was moved to tears when I saw this mosaic in person.  I knew then that I needed to bring others to see this and other remarkable sites.
           In February 2019 I am leading a pilgrimage to Rome and Assisi.  In Rome, we will be exploring the evidence of women who were ordained in ancient times.  We will then spend a couple of days in Assisi, taking time to reflect on all we have seen, as well as learn more about St. Clare and St. Francis of Assisi.  I was overjoyed when two of the teens in my parish, Chiara & Anna, expressed an interest in joining me for this trip!  As neither of their parents is able to come it was important to find just the right chaperone.  I found that person in Annie Hayes, a 27-year-old woman from an ECC Church in Boulder CO.  All three of these women are looking forward to the ways that this trip will impact their faith and deepen their spirituality!
           The only remaining hurdle is fund-raising for all three of these dynamic young women.  The cost for the trip, between airfare and the pilgrimage itself, is approximately $2,600.  They have been fund-raising in various ways.  Through PledgeCents we are hoping to raise an additional $3,300 to help make the trip possible ($1,000 for each of them and $300 to cover the additional airfare cost involved for Annie to accompany the girls on the last leg of the trip.)
Back Up Plan
We are also involved in raising funds in other ways, and we will step up as we need to.
Fundraiser Updates (1)
Moving Along!
December 7, 2018
Hello friends!!
To date, we have raised about $750, some of which has come through this page and some that have been promised from elsewhere! We are moving along towards that goal.
Thank you to all who are helping to make dreams come true for Anna, Chiara, Annie, and ME! It will be so exciting to have young people who are full of dreams, hopes, visions, and enthusiasm joining us!! This is exactly what the church of today needs. These are our future leaders!!
Thanks for your support and your prayers! If you know others who would want to support this endeavor please forward or share our posts!
with love, Denise
About the Creator

I am the pastor of Mary Magdalene Church, an inclusive church in the Catholic tradition. We are a Christ centered church.
Investments (16)
$2
Bianca Caiazzo
1 year ago
$100
Mary Ann Roncker
1 year ago
$100
Patty Tilghman
1 year ago
$60
Stefanie Gorski
1 year ago
$60
Constance Hanser
1 year ago
$50
Therese Harroun
1 year ago
$25
Christine Votraw
1 year ago
$100
Lynne Hamilton
1 year ago