Hurricane Harvey Support for Katy ISD Families

Verified Non-Profit

The Description
In the wake of Hurricane Harvey, 15,007 students and 2,600 employees of Katy ISD are recovering from direct impact of the storm. Despite the destruction, the Katy community has proven to be "Katy Strong" in providing support to those in need.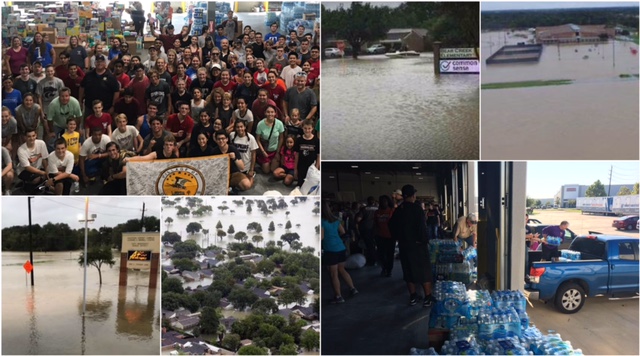 In keeping with that theme, the Katy ISD Education Foundation is launching an initiative that will provide support for Katy ISD families and staff adversely impacted by flooding in their homes as a result of Hurricane Harvey. The Foundation will collect donations from the community, while Katy ISD campuses will identify students and staff in need of support.
"The Katy ISD Education Foundation is truly proud to be a part of a generous and close-knit community that continually jumps in to lend a helping hand to those around them," says Tara Wilson, Katy ISD Education Foundation Board President. "With a tremendous amount of work ahead of us, this small but mighty initiative will provide the necessary support to Katy ISD staff and families that need to not only rebuild homes, but rebuild lives."
Any donation you can make regardless of size will help us help our Katy ISD families and staff. Please share this opportunity on social media and email to help spread the word.
About the Katy ISD Education Foundation - The Katy ISD Education Foundation unites people and companies with big hearts and a big belief in Katy ISD teachers and students to provide unprecedented opportunities for both. To learn more visit www.katyisdeducationfoundation.org.
Note: All contributions will be tax deductible, and you will receive a tax receipt when your donation is processed.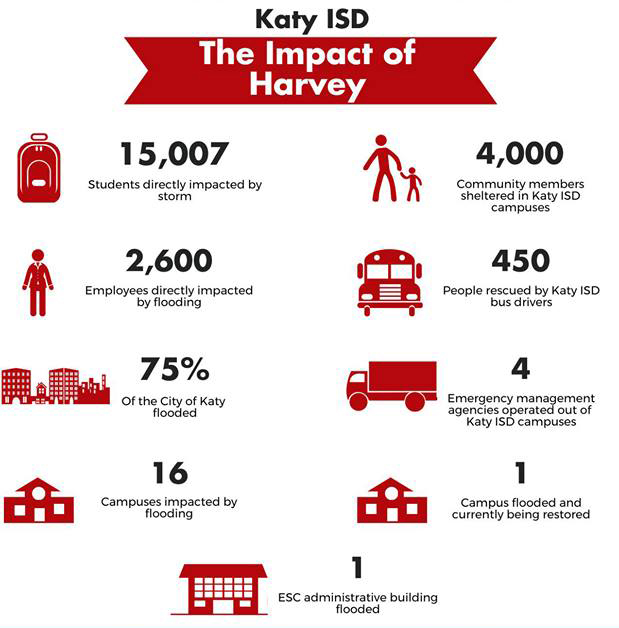 Back Up Plan
If we don't reach our goal, we will use all of the funds raised to support as many families and staff in need as possible.
About the Creator

The Katy ISD Education Foundation is a 501(c)(3) nonprofit that serves as an investment for community minded businesses and individuals to invest and enrich the lives of students at Katy Independent School District. For more information, visit www.katyisdeducationfoundation.org.
Mailing Address: 6301 South Stadium Ln, Katy, TX, 77494
Investments (791)
$50
Vanessa & Chris Nickolas
4 years ago
$25
Avajean Griffith
4 years ago
$150
thehubon4th.com theHubon4th.com
4 years ago
$100
Shelley Meyer
4 years ago
$20
Jen & Al Antonson
4 years ago
$20
Pareesa Shirazi
4 years ago
$50
Lisa Governale
4 years ago
$100
John and Annette Parnell
4 years ago
$20
Matthew C Vaughan
4 years ago
$20
Melissa Nixon
4 years ago
$20
Genevieve Dinh
4 years ago
$100
Susanne M Jackson
4 years ago
$50
Robert Cortez
4 years ago
$50
Lorraine Bourgeois
4 years ago
$100
Thomas Crockett
4 years ago
$150
Clarence and Harriet Grier
4 years ago
$20
Ashley Eidson
4 years ago
$50
Catherine Lusby
4 years ago
$20
Leatrice Gillis
4 years ago
$150
Brian Tuccillo
4 years ago
$50
Denise K Alcover
4 years ago
$500
Paul and Jan Pool
4 years ago
$50
Daniel Herrin
4 years ago
$50
Laura Bohuslav
4 years ago
$100
Sankarappan Periyasamy
4 years ago
$20
Veerabhadra Dokula
4 years ago
$20
Laura Beth jackson
4 years ago
$20
Valeria Claps
4 years ago
$100
Michael Stewart
4 years ago
$935
David Russell
4 years ago
$20
Christin Newell
4 years ago
$20
Gajalakshmi Radhakrishnan
4 years ago
$50
Shani Matheson
4 years ago
$150
Jan Whitehead
4 years ago
$20
sanjay biyani
4 years ago
$20
Devon Mikeska
4 years ago
$300
Rebecca Gould
4 years ago
$20
JuliAn Kabazi
4 years ago
$20
Olubukola Alemeru
4 years ago
$50
Sandip & Poulami Bhattacharya
4 years ago
$20
Margo Van der Ahe
4 years ago
$20
Lissete Ferrer
4 years ago
$20
Dora Kasireddi
4 years ago
$40
Laura Scioratto
4 years ago
$20
Angela Hundhausen
4 years ago
$20
Giselle Boyce
4 years ago
$100
Chris Crockett
4 years ago
$20
Carolina Soriano
4 years ago
$200
Yvonne Kershner
4 years ago
$50
Arman Zhumagaliyev
4 years ago
$20
Karina Wyckstandt
4 years ago
$40
Isam and Amaan Arshad
4 years ago
$30
Andreina Aumaugher
4 years ago
$90
Foster Family
4 years ago
$20
Carrie Singletary
4 years ago
$100
Jessica B Walsh
4 years ago
$20
Sathia Mayandi
4 years ago
$25
SRI KRISHNA MEKA
4 years ago
$25
Sherri Torrez
4 years ago
$50
Susan Marriott
4 years ago
$20
Cazilda Steele
4 years ago
$20
Ramesh Prabhala
4 years ago
$20
Johanna Brasen
4 years ago
$20
Sarang Mujumdar
4 years ago
$20
Perdita A Chavis
4 years ago
$20
Bibinkumar Boldrine
4 years ago
$20
CAMILLE AGUILLON
4 years ago
$40
jeremiah Smith
4 years ago
$25
Gayatri Yeleswarapu
4 years ago
$25
Mike Van Hoozer
4 years ago
$100
Jennifer and Mitchell Srack
4 years ago
$20
Evan & Jaynee Tierce
4 years ago
$20
Sivaprakash Pudhupalayam Muthurathinam
4 years ago
$91
David Valentine
4 years ago
$20
Anita L Haynes
4 years ago
$50
Marie Shurtliff
4 years ago
$40
Alice Cardner
4 years ago
$100
Branch J Brinson
4 years ago
$20
Katherine M Williams
4 years ago
$20
Hironari Kurata
4 years ago
$40
jessica Fukuda
4 years ago
$500
The Adams Law Firm
4 years ago
$20
Nichole Brabham
4 years ago
$20
The Courville Family
4 years ago
$20
Kolliyil Kumar
4 years ago
$20
Julmar S Toralde
4 years ago
$20
Grant Anderson
4 years ago
$50
Beatriz Escobar
4 years ago
$100
Rachel Migues
4 years ago
$20
Victoria Russell
4 years ago
$20
Christian J Park
4 years ago
$20
Murugan Manickam
4 years ago
$20
Hanna Pascual
4 years ago
$50
Carlos Giunzioni
4 years ago
$20
Laura MacLoughlin
4 years ago
$20
Kavitha Senthilvelan
4 years ago
$20
Kimberly Clayton
4 years ago
$100
Cliff and Sheryl Reed
4 years ago
$50
Roger Williams
4 years ago
$50
Douglas Black
4 years ago
$40
Kris Genitempo
4 years ago
$150
Cydney Wright
4 years ago
$20
Tiffany Zbranek
4 years ago
$30
Manuel A Hadad
4 years ago
$250
Jeremie Schleis
4 years ago
$40
Cathy Bannert
4 years ago
$100
Mark & Charity Little
4 years ago
$100
Meredith Sheridan
4 years ago
$20
Takaki Miyazaki
4 years ago
$20
Deanna Echavez Doria
4 years ago
$20
Emilio & Malena Dolci
4 years ago
$20
Ishita Bollavaram
4 years ago
$100
Sara Szymanski
4 years ago
$50
Shalini Upadhyay
4 years ago
$20
zenabou njoya
4 years ago
$20
Venkata Lanka
4 years ago
$30
Brandon Sturm
4 years ago
$80
Stephanie Vaughan
4 years ago
$50
Catherine Schleimer
4 years ago
$20
Zahely Flamenco
4 years ago
$50
Trish Reynolds
4 years ago
$25
Lauren Zufall
4 years ago
$50
Dr Steven & Linda Johnson
4 years ago
$50
Vamsi Thakkallapati
4 years ago
$20
Latasha E Rothschild
4 years ago
$20
Christine Pyle
4 years ago
$50
Courtney Diezi
4 years ago
$20
Stacey Galloway
4 years ago
$20
Archana Prakash
4 years ago
$25
Prafulla Bora
4 years ago
$20
Theresa Scherer
4 years ago
$20
Courtney Heedles
4 years ago
$20
Juli Noeldner
4 years ago
$500
Advantage Ambulance Service, LLC
4 years ago
$100
Christy Maeker
4 years ago
$20
Suzanne David
4 years ago
$50
George Hieronymus
4 years ago
$25
Cheryl Glasser
4 years ago
$25
Laura Mueller
4 years ago
$50
Gary Galloway
4 years ago
$20
Karen Gallant
4 years ago
$20
rebeca guzman
4 years ago
$20
Angela Gabler
4 years ago
$50
Rebecca Schmitt
4 years ago
$50
Hashim Hussein
4 years ago
$20
Michael Smith
4 years ago
$20
Christine Norwood
4 years ago
$20
Jo hyun kykung
4 years ago
$50
Angelique Roncal
4 years ago
$100
Jacqueline Stahl
4 years ago
$20
Stephen Maeker
4 years ago
$60
Nevena P Nikolova
4 years ago
$20
Jessica Capshaw
4 years ago
$20
Kenyc Labarca
4 years ago
$100
Jennifer Samuel
4 years ago
$40
Dan and Martha Brown
4 years ago
$20
Rosalind Kinney
4 years ago
$50
Mamie Jane Barker
4 years ago
$20
Jill Cleveland
4 years ago
$20
Anna Kafoglis Bjork
4 years ago
$25
Diane McKeown
4 years ago
$20
Nancy Pausche
4 years ago
$150
Gregory J Henry
4 years ago
$100
Jerry and Sari Kroll
4 years ago
$1,200
South Highlands Elementary Magnet School
4 years ago
$500
Angela Conaway
4 years ago
$100
Randy & Debbie Petty
4 years ago
$100
Keiko Davidson
4 years ago
$50
Manimala Arumugam
4 years ago
$80
Kathryn Brown
4 years ago
$100
Heather Mulcahy
4 years ago
$300
Sandstone School in Billings, MT Leffler
4 years ago
$100
Karen & Bodley Thornton
4 years ago
$4,000
Heritage Dental Katy, TX
4 years ago
$250
Larry and Ann Nix
4 years ago
$100
Kenneth Gregorski
4 years ago
$500
Praveen Govindraj
4 years ago
$20
Joseph Edwards
4 years ago
$100
Chad and Shana Peterson
4 years ago
$100
B. J. Alvarez
4 years ago
$50
Heekyoung ahn
4 years ago
$100
Heather Sanders
4 years ago
$20
Samantha Hyle
4 years ago
$1,300
Lawrence Nguyen
4 years ago
$100
Jennifer Patterson
4 years ago
$300
Rip and Tammy Stringer
4 years ago
$500
N2 Learning L C
4 years ago
$100
Hieu H Nguyen
4 years ago
$1,000
Pramoda Mohapatra
4 years ago
$20
Jayne Villanueva675
4 years ago
$50
Bryan, Vicki and Skylar Wiggins
4 years ago
$1,000
Carl Mountford
4 years ago
$100
Jeff and Mitzi Poole
4 years ago
$455
Shrikanth Reddy
4 years ago
$50
Laura Farnsworth
4 years ago
$200
Dawn Carlson-Scruggs
4 years ago
$100
Laura Beth Jackson
4 years ago
$500
Wilson Rincon
4 years ago
$50
SHARON THORN-GREEN
4 years ago
$100
Jennifer McFarlin
4 years ago
$25
Adriana Pirovolou
4 years ago
$250
Caroline Caruthers
4 years ago
$100
Raymond Herman
4 years ago
$1,500
Normandy Elementary PTA
4 years ago
$50
Robert H McAuliffe
4 years ago
$100
Tracy A Macha
4 years ago
$250
Fred & Patti Shafer
4 years ago
$100
Peggy Woodward
4 years ago
$50
Jennifer Royo
4 years ago
$200
Dan and Martha Brown
4 years ago
$50
Portia Willis
4 years ago
$3,000
Members Choice Credit Union
4 years ago
$1,000
Lawrence Nguyen
4 years ago
$100
Raghavan Yanamandram
4 years ago
$100
Patricia Wright
4 years ago
$1,000
Tri-West High School Lizton, Indiana
4 years ago
$50
Leslie Starcke
4 years ago
$1,000
Rejoice Sunday School First United Methodist Church - Katy
4 years ago
$20
Angela Pinney
4 years ago
$50
Samina Merchant- Fidvi
4 years ago
$150
Louisa De Koker
4 years ago
$2,564
Beth Konieczki
4 years ago
$1,000
Brian Balasco
4 years ago
$500
Chris & Eileen Paulus
4 years ago
$100
Deborah M Decker
4 years ago
$50
Amanda L Verell
4 years ago
$50
Annika Nielsen
4 years ago
$150
Kelley Kirila
4 years ago
$100
Catherine Schleimer
4 years ago
$500
Tracy and Dixie Sanders
4 years ago
$400
Karran Kuhler
4 years ago
$1,000
Ursula Stephens
4 years ago
$50
Laurette Sadek
4 years ago
$100
Jennifer Anderson
4 years ago
$50
Ernesto Maycotte
4 years ago
$100
Leslie Flattery
4 years ago
$205
The Marszaleks
4 years ago
$50
phyllis cashman
4 years ago
$103
Steven Elliott
4 years ago
$515
Michael De Nicola
4 years ago
$25
Karen Linares
4 years ago
$26
Janette Reynolds
4 years ago
$103
Lisa Schwartz
4 years ago
$26
Kerry Deardorff
4 years ago
$103
Michelle B Burton
4 years ago
$10
Clara Dambrosio
4 years ago
$21
Denise Renee Keenaghan
4 years ago
$103
Dewi & David Ammerman
4 years ago
$52
Carissa Brownlee
4 years ago
$500
Sylvester Oyeye
4 years ago
$50
Kelli McClung
4 years ago
$30
Lucrecia Gordon
4 years ago
$25
Annette Stubbs
4 years ago
$15
Shobhit S Verma
4 years ago
$21
Iris Diaz-Hornung
4 years ago
$258
Marissa O'Malley
4 years ago
$500
Bob and Felice Bryant
4 years ago
$50
Justin Graham
4 years ago
$10
Lori Harrison
4 years ago
$515
Sally and Jim Crompton
4 years ago
$150
Mike Van Hoozer
4 years ago
$1,000
Pat & Lauren Sullivan
4 years ago
$50
Jessica Jordan
4 years ago
$100
Catherine Bond
4 years ago
$52
Ramil Hasanli
4 years ago
$515
Downy & Kavin Vickery
4 years ago
$26
Latrisha Goodwin
4 years ago
$25
Kathryn Rhodes
4 years ago
$250
Victoria Rosekelly
4 years ago
$25
Marlene Alban
4 years ago
$50
Arina Dmitrieva
4 years ago
$75
Darla Corrigan
4 years ago
$20
Ahmed Mohamed Ridha
4 years ago
$10
Yusmila Machado
4 years ago
$100
Ramesh K Raghunathan
4 years ago
$52
Donald & Sallie Dickerson
4 years ago
$52
Victoria Jones
4 years ago
$200
Phyllis Chronowski
4 years ago
$21
Maritess Castilan
4 years ago
$50
Brenda Rolirad
4 years ago
$52
chris borreca
4 years ago
$50
Shashanka chintha
4 years ago
$103
Rebekah Granbery
4 years ago
$26
Jessica M Eiszner
4 years ago
$52
Juliana Amosu
4 years ago
$50
kathleen huynh
4 years ago
$10
Javier Portillo
4 years ago
$20
Melissa Craig
4 years ago
$21
MYLENE TUMBAGAHAN
4 years ago
$52
Modupe ADEBIYI
4 years ago
$30
Abdul W Mohammed
4 years ago
$52
Elizabeth Thorndike
4 years ago
$340
Sarah Santomauro
4 years ago
$52
Gina J. Scherwitz
4 years ago
$500
andrew kyriakides
4 years ago
$21
Cathy M Porter
4 years ago
$50
Jose L. Bueno Jr
4 years ago
$103
Jeff & Heather Buhr
4 years ago
$150
melissa landrum
4 years ago
$258
Kimberley & Richard Allender
4 years ago
$250
Victoria Lynch
4 years ago
$50
Indira Jenula
4 years ago
$155
Feroze Family
4 years ago
$500
Joey Bluhm, MD
4 years ago
$52
Cynthia P Villegas
4 years ago
$52
Theresa Shaver
4 years ago
$10
Nancy Shakespeare
4 years ago
$52
Lokendra Veerapaneni
4 years ago
$50
Leianne Kalisek
4 years ago
$100
M Ann Teeters
4 years ago
$25
Anupama Hosadurga Srinath
4 years ago
$515
Josie Galindo Caballero
4 years ago
$10
Melissa Lennon
4 years ago
$52
George J Zacharia
4 years ago
$100
Diana Wilches
4 years ago
$150
Oleg Mikhailov
4 years ago
$100
Matt Schomburg
4 years ago
$21
Francisco Perez
4 years ago
$155
Shelley Conroy
4 years ago
$50
Manoj Kumar Pandurangam
4 years ago
$773
Mark & Brenda Shaver
4 years ago
$200
Saravanan Gnanaprakasam
4 years ago
$52
Leslie LaBounty
4 years ago
$25
Scott Schneider
4 years ago
$100
Massimo Balacchi
4 years ago
$26
Hemender Devangan
4 years ago
$206
Andrea Grooms
4 years ago
$100
Deborah J Cook
4 years ago
$50
Yanelly Rodriguez
4 years ago
$50
Elanchezhian Lingesan
4 years ago
$50
Elanchezhian Lingesan
4 years ago
$52
Kerri Francis
4 years ago
$515
James A Taglia
4 years ago
$50
Patricia Echevarria
4 years ago
$150
martin s gutierrez
4 years ago
$155
Kari Karnowski
4 years ago
$100
Jennifer Tonder
4 years ago
$30
Maria Sotomayor
4 years ago
$155
Nichole Tomjanovich
4 years ago
$50
Susan Kolodziej
4 years ago
$52
Shaoqing Huang
4 years ago
$200
Xiangning Mao
4 years ago
$100
Ben & Laura Lopez
4 years ago
$50
Merc Jallorina
4 years ago
$100
Walid Soliman
4 years ago
$31
Sridhar Srigadha
4 years ago
$10
Lifang Kuchler
4 years ago
$50
joselyn perez
4 years ago
$21
Nahid Naghashzadeh
4 years ago
$52
Elena Shlimak
4 years ago
$2,500
Yuni Paufiques
4 years ago
$50
Kailash Hemrajani
4 years ago
$20
melanie r browne
4 years ago
$52
Jackelyn Dawson
4 years ago
$1,000
Kenneth Janda
4 years ago
$5
Tabbatha Diaz
4 years ago
$500
Vicky Donaldson
4 years ago
$103
Sushil Mandhania
4 years ago
$52
Carlos Fuentes
4 years ago
$52
Lindi and Chris Stegeman
4 years ago
$52
Candy and Jerry Ary
4 years ago
$500
Cynthia P Rogan
4 years ago
$150
Michael & Carol Moore
4 years ago
$50
Shirlee Keddington
4 years ago
$21
Katrina Harwell
4 years ago
$500
Darren and Cris Bowden
4 years ago
$515
Christianna Woods
4 years ago
$52
Alison Adamoli
4 years ago
$103
Chris Crockett
4 years ago
$52
Frances McTigrit
4 years ago
$26
Julie Covington
4 years ago
$100
Susenne Telage
4 years ago