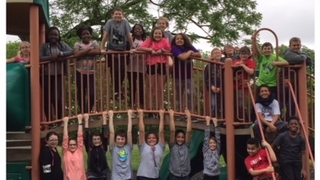 The Description
In my classroom, we are all about growing, having fun, and developing a lifelong love of learning. One tool that would help in all of these areas in a QBall! This tool is a microphone that is conveniently placed inside a ball and can be tossed around the room engaging the students in the lesson and making them excited about sharing. Many of my students can be nervous to answer or discuss math strategies. I want them to feel comfortable and be excited about the chance to share and develop their ideas. This amazing tool allows even the most soft-spoken student to be heard in class and open the floor to so much discussion. My students have so many ideas, but can be nervous to share. I want them to amplify their voices and learn to be advocates for their learning while also practicing the art of listening and respecting others and their ideas. Thank you for your support and help in amplifying my students' voices! 
Check out Qball here if you want to learn more: https://www.buyqball.com/
Here is the breakdown of our goal of $184.54 for PEEQ
| PEEQ Teacher Account (x1) | $179.00 |
| --- | --- |
| WePay payment processing fee | $5.54 |
| Total goal amount | $184.54 |
Back Up Plan
If we do not reach our goal depending on how much money is raised I will either cover the remaining cost or the money raised will go into flexible seating or books for our classroom.
No Updates
About the Creator

Hello, I am a 5th grade teacher in Galesburg, IL. I teach at a title 1 school with students who have amazing stories to tell but just need their voices heard.
Investments (2)
$10
Amanda Pedersen
4 years ago
$100
Layla Alizadeh
4 years ago