Culture Cultivation Camp (AKA HTHNC 9th Grade Retreat!)

Verified Non-Profit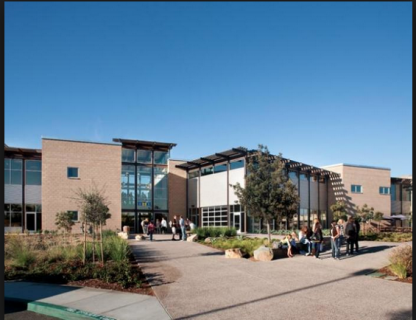 The Description
With these funds the entire 9th grade will engage in a two day retreat to cultivate culture and a positive start to their high school career!  The retreat will include team building, trust building, and work ethic exercises that will ultimately translate into their academic work during the school year.  Entering high school can be a time of fear, anxiety, and uncertainty which is why the 9th grade teachers would like to eliminate or reduce those feelings and replace them with security, enthusiasm, and confidence.  The theme of our camp is centered around academic mindsets, in other words we want to students to feel a sense of belonging, to believe that abilities can change through effort, to understand that success is possible, and to engage in work that has value and purpose.  
The venue for our retreat is Laguna Campgrounds because we want our students to be as far away from technological distractions so that they can focus on the truth and beauty of nature and human interaction. The campground information is included below:
Overview
Laguna Campground is a great mountain getaway just one hour east of San Diego, California in the Laguna Mountain Recreation Area. Campers can enjoy cooler temperatures, unique natural areas and an extensive trail system at this mountain facility from summer through early fall.
Natural Features:
The campground sits at an elevation of 6,000 ft. in the Laguna Mountains. It is forested with pines and oaks that provide plenty of shade, in addition to a meadow. The area is home to many species of birds, as well as the endangered Laguna Skipper butterfly.

Little Laguna lake is located just a short distance from the campground and is an excellent hiking destination for photographers and visitors looking to explore the area.
Recreation:
The Laguna Mountain Recreation Area is known for great horseback riding, mountain biking and hiking trails. Visitors can get their boots dusty on the Laguna Meadow Trail system or access a segment of the 2,650-mile Pacific Crest Trail, which runs from California to the State of Washington. 

Wildflowers are usually abundant in April and May on the Big Laguna Trail, which takes visitors past Big Laguna Lake. In wet years there is water in Big Laguna Lake by December or January and ducks and other birds can be found. 

The trail presents a number of options to the user. A return to the trailhead parking can be made by cutting through the Laguna Campground or by taking the Pacific Crest Trail north. 

Families can learn about the area's flora and fauna by attending educational programs at the facility's amphitheater. Or for history buffs, the El Prado Cabin located at nearby El Prado Campground, is the first ranger cabin built in the Cleveland National Forest in 1911. 

The San Diego State University Observatory also sponsors "Star Parties" for campers most Saturday evenings during the summer (schedule can be obtained at the nearby visitor center or by calling 619-473-8547).
Facilities:
This large facility has five loops of campsites, with sites fairly close to one another. One campsite meets accessibility standards. The facility is equipped with campfire rings, flush toilet restrooms and coin-operated showers. 

Part of the campground is fenced off to protect the habitat of the endangered Laguna Skipper butterfly. Visitors are asked to respect the fence boundary and comply with the maximum site occupancy.
Here are the details regrading how the money will be invested:
We will be staying for 3 days and 2 nights.
Lodging: We are reserving 13 sites at the Meadow Loop section of the campsite at $53/night per site for a lodging total of $689.
Food: The retreat will include 2 breakfasts, 2 lunches, 2 dinners, and snacks. The cost will be approximately $30/person for the entire retreat; there will be 122 people total, which comes to about $3,660.
Transportation/Project Materials: The remaining $150 will go towards gas and some project materials for our onsite activities.
When students begin the year with a firm foundation of culture, they are able to build on that throughout the course of the year. And when students have a successful first year in high school, it increases their likelihood of success for the remaining three years! Everybody wins!
Back Up Plan
In the unlikely event that we are unable to reach our goal, we will use whatever funds we do raise toward this trip and try to find other ways to supplement this meaningful retreat. 
Fundraiser Updates (1)
Culture Cultivation Camp Photos!
October 19, 2015
Thank you for all of your support! Culture Cultivation Camp was a tremendous success!!
About the Creator
Hello! I pasted my bio below. It's written in third person but it's me!

Michelle Sadrena Clark earned her Master's in Pacific International Affairs, with a career concentration in International Development and a regional specialization in Latin America at the Graduate School of International Relations and Pacific Studies, University of California, San Diego. Prior to entering graduate school, Michelle lived in Bisai, Japan for two years, teaching English and American culture at public junior high schools while engaging in performance dance and theater. Michelle received her undergraduate degree at the University of California, Irvine, with a major in International Studies and a minor in Clinical Psychology. During this time she also attended La Universidad Catolica Pontificia in Santiago, Chile for one semester. Proficient in Spanish, conversational Japanese and Portuguese, Michelle enjoys international travel and leaves the country at least twice a year. As a former member of the renowned public speaking organization, Toastmaster's International, Michelle has won numerous accolades for competitive public speaking. Michelle earned a Certificate in Dance at Palomar College, where she was also awarded 2013 Dancer of the Year. In May of 2014 she was the teacher speaker at the USC Shoah Foundation's 20th Anniversary Gala in honor of President Barack Obama and in June of 2014 she spoke about the impact of digital footprints at TEDx Hollywood. With a dual passion for education and dance Michelle embraces an energetic teaching style that truly motivates students to learn.
Investments (25)
$52
Natalie Brine
6 years ago
$52
Manuel Occiano
6 years ago
$100
Ericka Neitzel
6 years ago
$50
Mamta Malhotra
6 years ago
$200
Haylee A Sindt-Davis
6 years ago
$50
Jonathon Michael Golden
6 years ago
$50
joni k. eisenstein
6 years ago
$150
LAURA FITZPATRICK
6 years ago
$100
Burton G Thompson
6 years ago
$50
Kelly Tompkins
6 years ago
$10
Michelle Sadrena Clark
6 years ago