This Cause Has Ended
| | |
| --- | --- |
| Launched | Mar 18, 2017 |
| Ends | Aug 05, 2017 |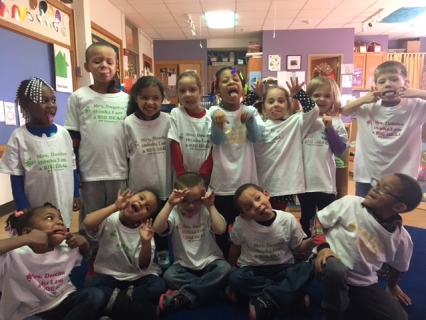 This Cause Has Ended
| | |
| --- | --- |
| Launched | Mar 18, 2017 |
| Ends | Aug 05, 2017 |
$0
With these funds I will create a positive learning environment in my classroom.  We will use craft vinyl to decorate our  classroom.  We will also use craft vinyl  to create keepsakes for our families.  Vinyl projects will also be used as positive behavior incentives in my classroom  As the teacher, I will create t-shirts, banners, and yard signs for my students to celebrate their successes.
Items to purchase:
*  10 Blank Yard Signs with stakes 18x24 = $42.39
*  Oracal 12" Rolls Vinyl = $35.11 each ( black, blue, white, gray)
* Oracal 651 Assortment pack 24 = $22.99
*  Heat Transfer Glitter Vinyl Bundle = $39.97
*  Cricut tools craft basic set = $13.72
* Cricut craft mat = $12.01
*  Rincons Heat Press Pillows = $69.65
* Cricut xl scraper = $10.60
XS Gildan child shirt ( admiral blue, purple, kelly green,yellow) = $2.73 (20 shirts)
If we do not meet our goal...
If I do not meet my goal I will purchase I will purchase as many supplies as possible with the funds provided.

Jessica Deschu
Preschool Teacher, Southwest Early Childhood Center
I am a wife and mother to 3 beautiful children. I am currently in my 16th yr of teaching.

Southwest Early Childhood Center View All Causes
Jefferson City, Missouri
At Southwest we believe that with character and knowledge, every child will have the tools to be successful. So with a strong partnership with you, we hope to have a very successful year. We have worked very hard to prepare for a school year filled with fun, hands-on, learning opportunities for all of our students. We will strive to provide a balanced instructional program, which will stimulate your child's social, emotional, physical, and intellectual growth. We are excited about this upcoming year! Together, we will be able to give your child(ren) the tools necessary for success. We believe children will achieve at high levels when the parent and teacher recognize and accept them as unique individuals with special talents and limitations. You, as a parent, are a valuable component of your child's education. As a part of our team we expect you to attend school functions, communicate with your child's teacher and to support your child's learning through activities at home such as daily reading and talking about your child's day at school. We are a Title 1 preschool in an urban public school system. 100% of our students receive free breakfast and lunch. As Southwest we believe that with character, every child will have the tools to be successful and develop into independent, life-long learners.