Krimmel Cheerleaders

Verified Non-Profit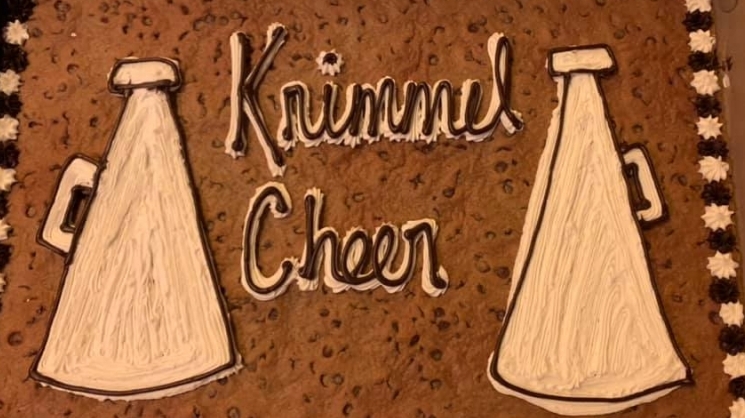 The Description
This year, our fundraiser requires our cheerleaders to jump their way to success!  We're asking for you to support your child in the first annual Krimmel Jump-a-thon. It's a win-win for all! Your cheerleader improves the more she practices, and our Cheer program earns the funds desperately needed to continue to maintain our high performance achievements. 

You may pledge per jump or a flat rate, but whatever you can do will be most appreciated - no matter how small! 

We look forward to another amazing year and thank you for your consideration and support!
If you plan to donate, please make sure you mention the cheerleader you are cheering on! 
Your donations will help pay for:
Cheer camp this summer
Additional instruction at a local gym
Team building opportunities
Additional unexpected costs
Back Up Plan
If we do not reach our goal, we will use what is made toward the deposit for camp. 
No Updates
About the Creator
Hello! We are the 2019-2020 Krimmel Cheerleading team! Thank you so much for helping us reach our goals. If you are interested in pledging money towards our goals, please make sure you note which cheerleader you are cheering on. Thanks, again! We appreciate your support of our program.
Investments (51)
$90
Loretta Lemond
1 year ago
$50
Gordon H Hance
1 year ago
$100
Michael McClendon
1 year ago
$100
Loretta Lemond
1 year ago
$100
Beth & Jim Cunningham
1 year ago
$25
Donna Hopkins Cunningham
1 year ago
$50
Jacque Tomchesson
1 year ago
$135
Rose Gutierrez
1 year ago
$20
Lindsay McCrary
1 year ago
$50
Darin McLimans
1 year ago
$50
Margaret McLachlan
1 year ago
$50
Nancy Gillespie
1 year ago
$100
Susan Gunnewig
1 year ago
$30
Kristie Palacios
1 year ago
$32
Florinda M Belmarez
1 year ago
$10
Mike and Stephanie Howlett
1 year ago
$100
Michelle B Kelly
1 year ago
$50
George Matthews
1 year ago
$50
Chui Ting Stroud
1 year ago
$30
Angela Gilbert
1 year ago
$25
Mykel-Anne Baumann
1 year ago
$50
Kristy Sailors
1 year ago
$25
John Rex Wayland
1 year ago
$50
Jerry Pennington
1 year ago