Blue Valley Northwest Girls Basketball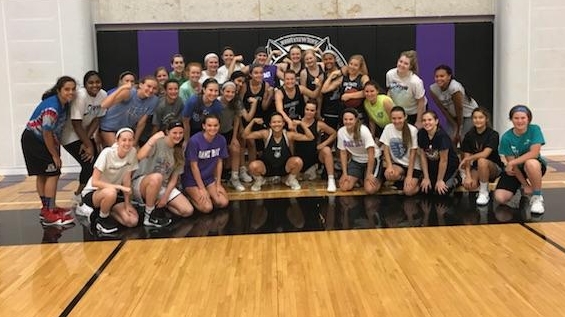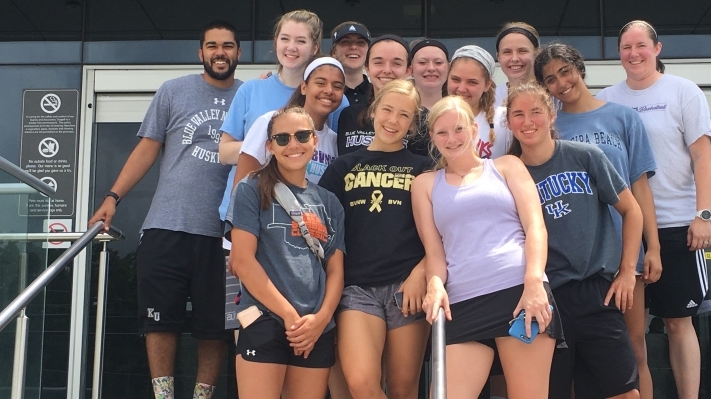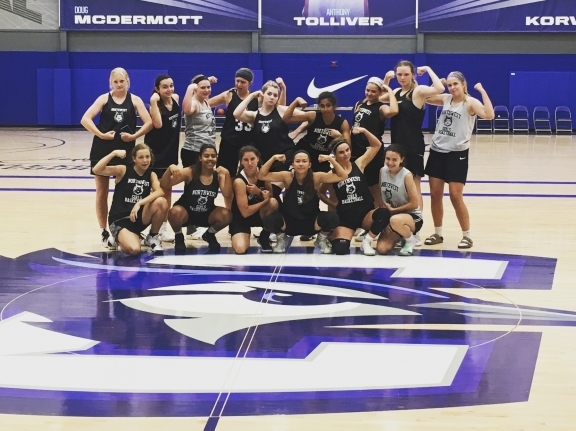 The Description
Blue Valley Northwest Girls Basketball is looking to be one of the most prestigious programs in the state. In order begin this journey we need to look the part. Thus we would like our girls to be outfitted in the same caliber gear as our Boys team and our competitors.
Due to incredible generosity of our administration we have already been able to purchase 40 brand new Adidas Practice Uniforms to outfit our Varsity, JV, C-Team and Freshman teams as well as, 20 game warmups for our Varsity & JV. Thanks to our school we have been able to check off our first two major needs but we will need your help with our remaining goals.
All money donated will benefit each of the girls on the BVNW Girls Basketball teams. Access to this new gear will provide our girls with more confidence on and off the court as they represent our program. Confidence is a key component of being a successful student-athlete. Providing our student-athletes with updated clothing and equipment will help to build that needed confidence to succeed.
We are using the online fundraiser Pledgecents. They have created a fundraising site for educators and take 0% of the money we raise unlike other sites that can take 15-30%.
TRAVEL SUITS
We would like to purchase new travel suits. Our hope is that all teams can be outfitted in matching gear for away games, so that we are look uniform each time we step off the bus!
Adidas Utility Top: 22 x $42 = $924
Adidas Utility Pants: 22 x $42= 924
Total= $1,848
(Examples of the items)
TEAM BACKPACKS
Next we would like to purchase 20 new team backpacks! We want to make sure our ENTIRE PROGRAM is able to use these backpacks during the season as opposed to the old black duffle bags. While JV/Varsity already have them we would like make sure the other teams get them so we look uniform.
Adidas Team Stadium Backpacks w/numbers: 20 x $36 = $720
(Examples of the item)
EQUIPMENT
These next 3 items we looking to acquire are connected together and will help our program for many years to come.
We would like to be able to purchase 1 ball cart, 1 ball cage, and 12 new basketballs.
The these items would help us out during practice, camps, and clinics. The ball cage will help us protect our equipment and ensure that it does not come up missing. It will also be nice to on par with other programs in our league, and the metro area. Giving our girls access to quality equipment everyday.
Ball Cart: $274
Ball Cage: $329
Basketballs: 12 x 62.50 = 749.88
Total = 1,352.88
(Examples of the items)
Ball Cage: https://goo.gl/images/q6xqzy
Ball Cart: https://goo.gl/images/f8aHXV
Basketballs w/logo: https://goo.gl/images/fnWZyt
TEAM SOCKS
Student Athletes love socks! They truly enjoy socks that show off and represent their school. Every school in which I have coached we have been able to purchase a team sock. These socks brought pride to our program as they were excited to show off them off. I would like for our girls to wear these socks during the season and they will be asked to purchase them during the season, so if we are able to purchase them as a program it will help take that off the list in November.
Strideline Classic Crew Socks 40 x 10.59 = 423.60
We will just pick one of the designs (Actual Item)
http://store.strideline.com/customsocks/review?email=mshulman25%40gmail.com
TEAM BOOK STUDY
One thing that I have seen other coaches do successfully is incorporating a team book study. This engages students to think about more than just basketball during the 4 month period that they will have to work. This will help build your student athlete as a person as well as a basketball player. The book I've chosen is The Energy Bus: 10 rules to fuel your life, work and team with positive energy. by Jon Gordon. I chose this book as it reinforces the positive energy that I have spoken about in camp and workouts. This will help them carry it off the court as well. Another reason I chose this book is that it is not too taxing to read and can easily be incorporated into normal reading time for classes.I would love for our entire PROGRAM players and coaches to read this to help build the culture for all levels! Currently on Amazon the book cost 12.62
Energy Bus Books: 40 x 12.62 = 504.80
(Actual Item)
https://www.amazon.com/Energy-Bus-Rules-Fuel-Positive/dp/0470100281/ref=sr_1_1?ie=UTF8&qid=1531867140&sr=8-1&keywords=energy+bus&smid=ATVPDKIKX0DER
Grand Total
$1,848 - Travel Uniforms
720- Backpacks
1,352.88- Balls, cart, and cage
423.60- Socks
+ 504.80 - Books
$ 4,849.28
If we are to reach our goal any additional money will be placed into our Friend of the Program fund, which helps the student-athletes that are unable to pay for team events, apparel, and other team functions. All money donated will continue to be used towards the benefit of the student-athletes in the entire Blue Valley Northwest Girls Basketball program. This can help pay for summer tournament fees, camps, and any potential travel expenses for our student-athletes.
I appreciate your time and consideration for a cause that will help change the culture and tradition of Blue Valley Northwest Girls Basketball. Your purchase will not only benefit your student-athlete but will be appreciated for years to come. Thanks in advance for your donation!
If you do not feel comfortable donating through Pledgecents, we will gladly take donations sent to:
Blue Valley Northwest High School
13260 Switzer Rd
Overland Park, KS 66213
Checks can be made payable to BVNW Girls Basketball.
If we do not reach our goal, our first priority will be to purchase the travel suits, followed by backpacks, to ensure that our entire program can benefit right away. Next the purchases would be used to buy new equipment, socks and finally the books.
Please feel free to contact me with any questions. Thanks again for your consideration! We are looking forward to a great season and years to come. GO HUSKIES!!!
Matt Shulman
Back Up Plan
If we do not reach our goal we will purchase...
Travel Suits
Backpacks
Fundraiser Updates (3)
IT"S OVER!
August 29, 2018
THANK YOU EVERYONE! We went above and beyond our goal! The fundraiser is over and we will be sent a check from Pledgecents in the next week for the money raised! This helps our first year of changing the culture and excitement around BVNW Girls Basketball! Thank you again to everyone!
YOU DID IT!
August 23, 2018
I couldn't be happier to share that with the donations that we received by check, WE HAVE HIT OUR GOAL! This makes this first year at NW so much more exciting that we are able to order these new items for all of our student athletes! I can't thank you all enough for sharing, investing and just wanting to help out the girls program at BVNW! I'm ready for November to be here already!
Go Huskies!
ALMOST THERE!
August 16, 2018
HOLY COW! We are almost there! We have received multiple checks outside of this website that have pushed our numbers to over $4500!! My excitement is super high right now! We have 12 days left so if we can continue to share and tell others about this we will definitely reach our goal AND potentially exceed it! This makes me so happy and excited to be apart of this school and community!
Go Huskies!
About the Creator

Matt Shulman, Educator and Basketball Coach. Working to change the culture of Girls Basketball at Blue Valley Northwest High School in Overland Park, Ks. Teaching others to play with energy, enthusiasm and to love the game of basketball as much as I do.
Investments (54)
$25
Kristen Wheeler
1 year ago
$50
Barbara Roggentien
1 year ago
$50
Precision Athletics
1 year ago
$100
Robert P. Numrich
1 year ago
$40
SusanGreg Burbach
1 year ago
$50
Kristin McClain
1 year ago
$250
Traci Naber Nandi
1 year ago
$200
Tascha & Kirk Naber
1 year ago
$25
Harry M Edwards
1 year ago
$150
Jarrett & Kim Grosdidier
1 year ago
$25
Constance Alexander
1 year ago
$5
Lindsey LaPlante
1 year ago
$30
Joshua Shulman
1 year ago
$100
R Matthew Garms
1 year ago
$50
Kathy Weyforth
1 year ago
$100
Brian C Numrich
1 year ago
$20
Samantha McInerney
1 year ago
$50
Collin Prentiss
1 year ago
$50
Deborah Buscher
1 year ago
$100
Zach & Sherry Edwards
1 year ago
$100
Stephen D Gerard
1 year ago
$100
Joe and Marilyn Bouldin
1 year ago
$100
Katherine Goering
1 year ago
$50
Becky Anderson
1 year ago
$100
Katherine and Ron Nicholson Faaborg
1 year ago
$75
Joel T Goering
1 year ago
$200
Gil & April Garlington
1 year ago
$20
Lisa Bredemeier
1 year ago
$300
Matthew Spillman
1 year ago
$100
Ann and Dana Suchma
1 year ago