Hero Night Amputees Autism Spinal Injury Awareness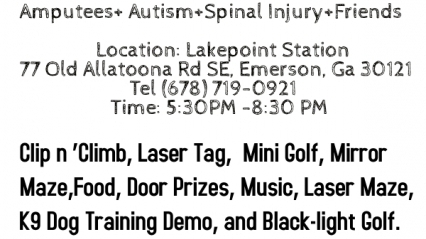 The Description
200 children need sponsors for HERO NIGHT at Lake Point Station!
Play nite...For FREE because a Sponsor Helped US HELP THEM HAVE FUN!!!
Building Community Awareness for Amputees, Autism, Spinal Injuries, and Obesity
This event has a budget of $5000 and last week had an anonymous World Class Athlete donate a pro style Quickie Hand Bike to help raise money for this event!
We are selling 500 tickets for $10 each
This online drawing will be live on Eldridge Askins Facebook and UABA1 Instagram page held on October 30th during the "HERO NIGHT" event.
All funds will go towards a giveaway of the bike, facility rental, sponsoring a child ($25.00 each) to attend this event, food, games, and refreshments.
You are WELCOMED TO share this info and help our kids have a FUN FILLED time at LakePoint Station!!! AMPUTEE, AUTISTIC, & ALL CHALLENGED FRIENDS & FAMILY ARE WELCOME.
4PM-9PM...MONDAY, OCT 30,2017
For more info and to attend the event goto www.uaba1.com and see the "Hero Night" Tab
Thanks for HELPING US TO HELP THEM ENJOY LIFE FULFILLED!!!!!
Back Up Plan
CALL 334-560 7183 IF YOU HAVE NEEDS
Fundraiser Updates (1)
Quickie Shark
October 25, 2017

Standard 27 Speed
Ergonomic Seat and Back
Adjustable Arm-Crank
Coaster Style Brake
About the Creator

My name is Eldridge Askins and Im the founder of the United Amputee Autistic Basketball Association. Our organization helps the less fortunate with prosthetics, Autism research for new improved technologies, and rehab for paralyzed and obese people. Thanks for your support!