Full STEAM Ahead

Verified Non-Profit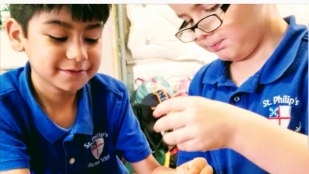 The Description
With these funds I will purchase the items and training needed to add a STEAM Lab/Makerspace to our existing Library/Media Center.  The purchase of two KIBO 21 Robotics Kits from Kinder Lab Robotics, Inc will allow our lab to bring coding and robotics to even our youngest learners.  In addition, the Ultimate Maker Kit Plus from Maker Maven will provide two sets of ten STEAM activities including four Ozobots and two 3D Printing Pens. This kit contains low, medium, and high tech activities for students that will be able to be used many times over.  A Lego wall will be added to allow students to create and build vertically. Four Samsung Chromebook 3 devices will be purchased for coding and research in the planning, design and construction of projects in the lab. I will also need to purchase storage tubs for activities and supplies.  Finally, tables and chairs that lend themselves to teamwork, focus, choice, and comfort will be added.
KIBO 21 Demo: https://www.youtube.com/watch?v=GhfAeZblJBo
Ozobots Demo: https://www.youtube.com/watch?v=VBdBG1TSgR8
Scribbler Duo 3D Printing Pen Demo:  https://www.youtube.com/watch?v=laXUSu2t9E8
Back Up Plan
If we do not reach our goal I will purchase one set each of the KIBO 21 Robotics Kit and the Ultimate Maker Kit.  If there is money left from these purchases I will purchase as many Chromebooks as I can. In the event the goal is not met, I will hold off on additional robotics kits and Maker sets, the Lego wall, and new furniture.
No Updates
About the Creator

I have been Head of School at St. Philip's Episcopal School in Uvalde for the past two years. Before that I was a part of UCISD for 20 years. I am a mother and grandmother to children who have attended both St. Philip's and Uvalde CISD. My hope is to grow our resources for our students at SPES to enable them to be successful no matter where they go from here!
Investments (15)
$100
Frances Rhodes
1 year ago
$25
Susan McCloskey
1 year ago
$50
Mandy Benavidez
1 year ago
$250
Connie Tidwell
1 year ago
$50
Annabell McNew
1 year ago
$25
Happy Birthday JAC
1 year ago
$200
Jonathan Duran
1 year ago
$100
Jean Ann Chisum
1 year ago