Read the World

Verified Non-Profit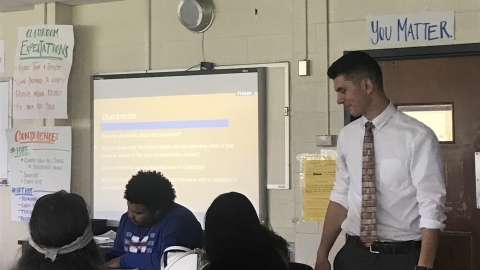 The Description
The theme of our English class at Denby High School this year is Read the World. Along with my students I am incredibly excited to work towards unlocking the world via literature.
These funds will be used to bring Reading the World to life. From pencils to paper, board markers to books, posters to paint, these funds will be used to ensure my students and I have the resources we need to create a safe, fun, relevant English classroom. 
Some specifics that the funds will be purchasing include (but are not limited to): 
Used Books - $150.00
Classroom Decorations - $50.00
Back Up Plan
If I sadly don't raise the funds needed, my students and I will work with what we have and I will try to buy the classroom essentials out of pocket. 
Fundraiser Updates (1)
THANK YOU SO MUCH!
August 24, 2018
Thank you so much to all the people who have already donated to our classroom. We almost 50% there meaning our classroom will at minimum be able to provide pencils, paper and some books. Thank you for believing in us so far, and let's keep this momentum going as we close out August.
About the Creator

As a former ESL student, Mr. M-K never thought he would become an ELA teacher. However, as he is entering the classroom he has quickly realized the beauty of being able to learn with your students everyday.
Investments (25)
$10
Humphrey Akujobi
1 year ago
$10
Lauren Gewirtz
1 year ago
$30
Nathalie McGill
1 year ago
$50
Marianne Forman
1 year ago
$10
Jessica DeClercq
1 year ago
$50
Ioanna Gryllaki
1 year ago
$20
Edward Gotfredson Jr
1 year ago
$10
Suzanne Whitehead
1 year ago
$10
Sloane Forbush
1 year ago
$50
Madeleine David Caughey
1 year ago
$20
Elizabeth Wilkins
1 year ago
$10
Nick Hirschel-Burns
1 year ago
$30
Charles Callis
1 year ago