Bringing Hands on Science to Young Scientists

Verified Non-Profit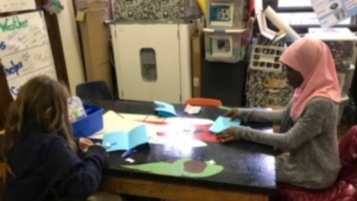 The Description
With these funds I will...purchase a school license for Mystery Science, an interactive science curriculum that can be used for grades K-6. Multiple teachers are already using a free membership that expires in June 2018 for their classrooms, and we would like to purchase the discounted school membership for the 2018-2019 school year. The discounted price is $499 for the upcoming school year if purchased before June 30, 2018. 
I use Mystery Science with all the grades that I teach (K-4 and Special Ed) and the students love it! The guided lessons and investigations add so much to the hands on activities we do. Students benefit when they see science concepts in real world situations and Mystery Science reenforces that. The 4th and 6th grades have also used the open and go lesson format in their homerooms with their teachers. A school wide membership would benefit multiple grades and multiple teachers here at Bache-Martin. 
Mystery Science provides great supplemental open and go investigations and lessons to a wide variety of science topics that are covered in the School District of Philadelphia's curriculum. They are engaging with lessons aligned to the Next Generation Science Standards. 
I am also asking for funds to help supplement the costs of consumable supplies in my classroom. Paper, markers, crayons, glue, etc. All of these things go quickly and I would like to refresh supplies to finish out the school year. 
Funds will first be used for  Mystery Science, with any extra funds going toward consumables. 
Back Up Plan
If we do not reach our goal I will purchase...a classroom membership to Mystery Science ($99) which will only be good for up to 35 students, and consumables out of my own pocket. 
Fundraiser Updates (2)
Thank you!!
February 28, 2018
Thank you to our investors, and everyone who has shared this fundraiser. The other teachers and I can't wait to get Mystery Science set up for the 2018-2019 school year and start planning how to use all the awesome hands on lessons with our current curriculum. I'm also grateful that we'll be able to purchase more consumables to finish out the rest of this school year with some great experiments and investigations for all grades and classes. Thank you again for all the support in bringing hands on science to these young scientists!
Thank you and please share!!
February 12, 2018
Thank you to our investors so far! I'm beyond grateful for your donation and hope that we can raise enough funds to bring hands on science to as many students as possible here at Bache-Martin. Please continue to spread the word about this fundraiser! Thank you again.
About the Creator
I am a 3rd year teacher in the School District of Philadelphia. I teach science to K-4 students in a diverse neighborhood school in the Fairmount neighborhood of Philadelphia
Investments (13)
$25
Tara Desmond
10 months ago
$30
Kathy McCracken
10 months ago
$50
Wendy Sedlak
10 months ago
$50
Nissa Eisenberg
10 months ago
$50
Yana Balson
10 months ago
$50
Aaron Olson
10 months ago
$50
Kathleen Klemm
10 months ago
$100
Kathryn Shovlin
11 months ago
$10
David W PERKINS
11 months ago
$100
Angelica Jaszek
11 months ago