About
Bache-Martin is a K-8 school with 460 students. Bache-Martin is located in the Fairmount section of Philadelphia. Bache-Martin serves portions of the Fairmount, Francisville, and Spring Garden communities. Our school is 65% African American, 13.6% white, 8.2% Latino and 12.5% other. The vision of the Bache Martin School community is that every child will learn to his/her full potential. This will be an ongoing process with continuous feedback using the results of various and numerous assessment tools. Quality instructional practices will be utilized and appropriate adjustments made in instruction in order to provide the best education possible for every student in our school community. Ongoing professional development will take place to strengthen instruction in the standards where standardized test data reveals weaknesses in the students' knowledge. The mission of the Bache Martin School is to develop knowledgeable lifelong learners who are challenged to meet their individual potential and who can effectively communicate, express themselves creatively, use technology appropriately, solve problems using higher order thinking skills, work cooperatively, understand and respect cultural diversity,adapt to change, and be responsible and productive in society.
$22,464 Raised
440 Investors

Jessica Pagliara
1st Grade Teacher
have been teaching for 8 years and love every minute of my time with my first grade students. Teaching has become difficult due to the lack the funds needed to teach our students what they deserve to learn. I don't have the resources to give students access to various materials. I have an amazing group of students. They come from all walks of life and make up a very diverse classroom. I teach a self-contained first grade class with English as a Second Language and Special Education children. They are enthusiastic and eager to learn, but suffer from our lack of materials. Many of the children come to school without the necessary school supplies to have a successful year. Young students need a strong start in school starting in Kindergarten with the appropriate supplies they can have that jump start to be successful in school the rest of their lives. In city public schools teachers are often buying classroom necessities such as paper towel, toilet paper, soap, and hand sanitizer. This leaves little in the teachers' budget to buy other essentials such as folders, notebooks, and pencils. Please help me give each student starting school in my classroom the same opportunity to excel in school.

Heather Histed
K-4 Science Teacher
Thank you for visiting my page! My name is Heather Histed and I have my teaching certification for grades PreK - 4. I attended Shippensburg University and graduated magna cum laude in 2013. I love working with children and I have been graced with many amazing opportunities over the past few years. During my time at Ship, I was a substitute teacher for the child center on campus, and I had the honor of receiving the Taylor Internship to student teach 1st grade at the Grace B. Luhrs University Lab School. Upon graduation I accepted a position to teach Montessori Preschool in my hometown, and eventually moved to Philadelphia, PA where I am currently teaching K-4 science in the city. I am also the Lego robotics team coach for my school. I love gaining new knowledge of my practice through my daily experiences and collaborating with other professionals in the field. I'm looking forward to discovering where else this journey will take me.

Crystal Robinson
Special Education
I am currently working as a Paraprofessional in Special Education. I work in the LSS class. I would like to purchase learning support items for our students to help with their everyday life skills to assist with making them more productive.
Carrie Kreider
Music Teacher
Hi all! I am a music teacher in Philadelphia who wants to share my love of music with all my students. In my music class, student use a variety of tools to listen to and respond to music. I'm looking to add materials to my classroom in order for my students to hear and see many examples of music. My students and I thank you for your help!
Heather Chiminello
1st Grade Teacher
I am a 1st grade teacher at Bache-Martin Elementary School in the city of Philadelphia. I have been teaching 1st grade for 6 years and I just love it. Each year, I enjoy helping students develop the tools to access new knowledge and cultivate a lifelong love of learning. I am inspired by how much my students grow both academically and socially in just a year. We really learn to work together as a crew and support everyone's learning. We start the year as an eager bunch of students ready to learn and we develop into a crew of scholars who have a toolbox of strategies for continued success.
Sharon DeSalvo
Teacher
My name is Sharon DeSalvo and I have been teaching in inner city Philadelphia for the past 8 years. I am a very dedicated and passionate educator. Regardless of the financial struggles our district has endured over the last few years, I have high hopes that my students can and will succeed. With your support, you will be providing students with materials that are essential to their learning. Please consider donating towards my cause.
Ginna D'Alba
K-2 Autistic Support
I became a teacher in 2011, seeking a career where I could do more for children. When I was given the opportunity to teach students with autism in K-2, I took the chance without a clue of how awe inspiring, endearing and extraordinary my students would be. They have so much to offer, but our resources are very limited. Please support our cause and help them reach their full social, creative and academic potential!

Jennifer Malloy
5th grade
I am a 5th grade teacher in a Title I public school in Philadelphia. I believe whole-heartedly in Reading Workshop and the value of providing authentic learning experiences to students from diverse backgrounds.
Melisa Aglidian
2nd-3rd grade Autistic Support Teacher
Autistic Support Teacher in Philadelphia
Jennifer Ganci
Kindergarten Teacher
I am a Kindergarten teacher in Philadelphia, teaching for 23 years. I have a class of 29 students with diverse needs. One of the goals for my students this year is to have all students ready for first grade. With your help we can give each student an equal opportunity to succeed and reach that goal!!
Georgeanna Dortone
Spanish Teacher
I am a Spanish teacher at Bache-Martin Elementary School.
Brittany Mitchell
3rd Grade Teacher
I am a third grade teacher at Bache Martin Elementary in Philadelphia, Pa. I have a class of 26 students. My main goal is to instill a love of learning in each of them.
Rachel Gelb
ESOL
I teach ESOL to grades k-8
Emmaline Imbriglia
Kindergarten Teacher
I am a third year kindergarten teacher at Bache-Martin Elementary School in Philadelphia! After studying educational psychology and social work, I earned my MSEd. at UPenn. I love teaching in Philly and hope to have another great schoolyear!
Julie Tice
Physical Education
I am currently a gym teacher in a philadelphia public school. I am here to acquire new equipment for my Physical Education program.
Alexis White
1st grade teacher
Hi, my name is Ms. White and I am a first grade teacher in the city of Philadelphia.
Kristin Luebbert
7th & 8th Grade Reading, Writing & Literature
I am an educator who believes that education is revolutionary as well as practical. I infuse my reading classroom with relevant current and historical texts (visual as well as written) that empower students to know, understand, and direct their path.
Jeffrey Rupertus
7th and 8th Grade Science
I'm a 7th and 8th grade Science teacher at the Bache-Martin School, a public school which serves the students of the Fairmount and Francisville neighborhoods of Philadelphia.
Jennifer Zwilling
Kindergarten Mother
I am the mom of a First Grader at Bache Martin Elementary School in the Fairmount neighborhood of Philadelphia.
Charlotte MCCracken
K-4 Science Teacher
I am a 3rd year teacher in the School District of Philadelphia. I teach science to K-4 students in a diverse neighborhood school in the Fairmount neighborhood of Philadelphia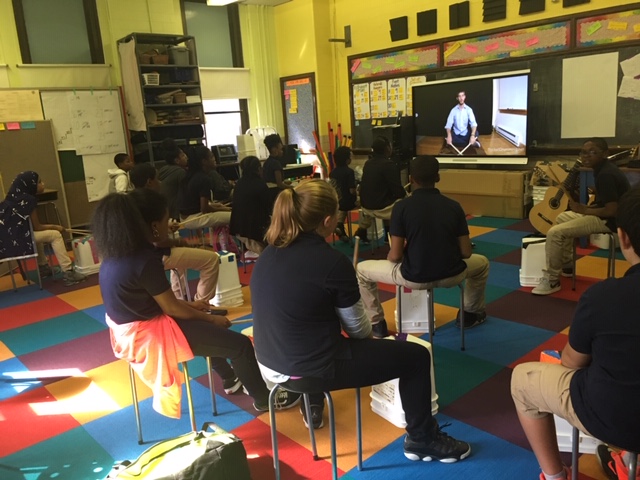 Dana Fiero
K-8 Music Specialist
I am a 4th year K-8 general music teacher in Philadelphia, PA. My speciality is vocal music, but my goal as a music teacher is to give students the skills they need to excel in any music activities they choose to engage in in high school and beyond!