Claymobile for All Bache Martin Kindergarteners!

Verified Non-Profit
The Description
Help us fund The Claymobile program at Bache Martin. The Clay Studio teachers will come to the school to teach the kids how to make art with clay. The children will learn skills, channel their creativity, and get to take home the art they make after it's fired in the kiln! Claymobile, the Community Outreach arm of The Clay Studio, has been visiting the Kindergarteners at Bache Martin for several years. The program brings a full experience of ceramics arts to each child with experienced teachers and assistant teachers, high quality lessons plans, and most of all a fun learning environment! Learn more about the Claymobile program here. A video about Claymobile's great programs is here.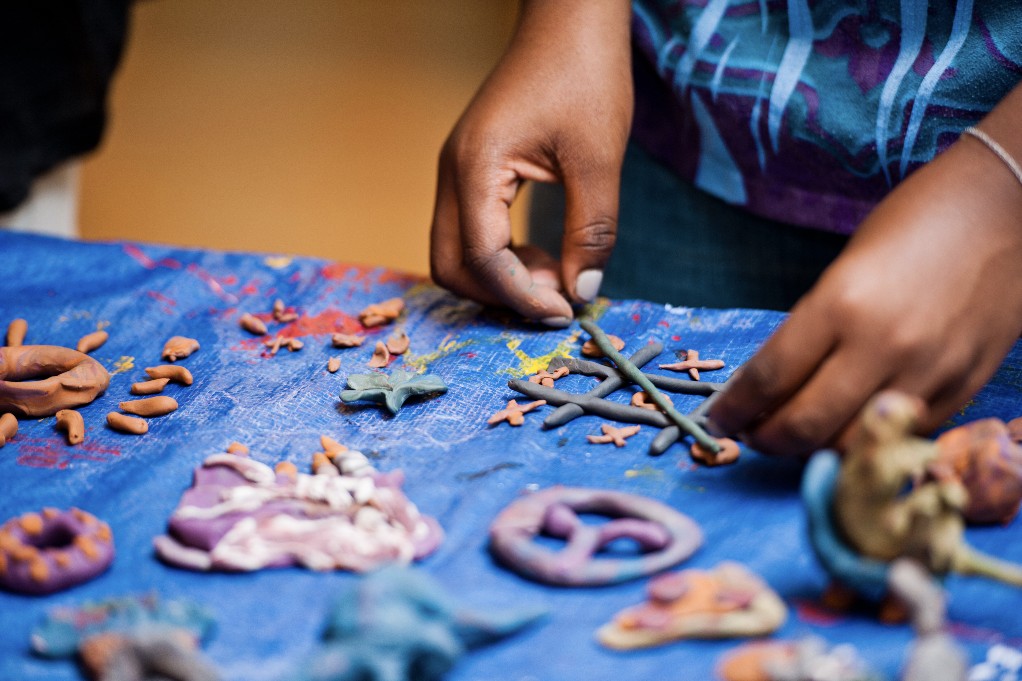 The teachers report that it is an important part of the children's experience and allow them each to express their thoughts and feelings in a special way.  This year we want to make sure all Kindergartners in the school have access to the program.  This includes three classes of children.  To support a 6 week residency for each class we need to raise $3,600.  This is the subsidized cost to the school after the grants and fundraising done by The Clay Studio to support the Claymobile's visits to Bache Martin.  Please help us give each Kindergartner at Bache Martin this memorable and powerful experience.  If each child's family could donate $10 per class ($60 total) we could easily reach our goal in no time! Thank you!
Back Up Plan
If we do not meet our goal, each class will have fewer visits from the Claymobile.  Each visit costs $200/class.  We will divide the funds so that each of the three classes has an equal number of visits.
Fundraiser Updates (2)
Outside Grant and new Goal Amount
February 14, 2017
Dear Friends,

Thanks again, so very much for your donation to help bring Claymobile to all the kindergartners at Bache Martin Elementary School.
We are excited to let you know that an outside donation and an additional grant from The Clay Studio have been applied to our total. The amount we need to raise via Pledgecents is now $1,800 and we are $251 away from achieving that amount! We wanted to let you know so that you understood why our goal amount has changed.
If you are able to share the page on your social media networks, that would be a big help toward achieveing the total goal.
Many thanks and all best,
Bache Martin Parents, Teachers and Administrators
Chance to win a 3-D Printer!
January 12, 2017
I am excited to announce that our fundraising page was chosen to be one of the few entered into a raffle to win a 3D printer ($1,899 value)
How we can win a 3D Printer (valid from 1/10 - 1/31):
You will earn 1 entry for your fundraising page since it is live.
You will earn 3 (additional) entries for every $100 your page receives.
So make sure you donate so we can enter to with this exciting prize for the school!
About the Creator
I am the mom of a First Grader at Bache Martin Elementary School in the Fairmount neighborhood of Philadelphia.
Investments (33)
$30
Phoebe Sutherland Kaufman
1 year ago
$36
Soma Banik Banerjee
1 year ago
$21
Jerilyn Dressler
1 year ago
$25
Helen & Gordon Keit
1 year ago
$40
Barbara Mische
1 year ago
$103
TJ and Nicole Ginieczki
1 year ago
$100
Noam Kugelmass
1 year ago
$5
Ashanti Martin
1 year ago
$100
Nissa Eisenberg
1 year ago
$100
Susan Kutchinsky
1 year ago
$62
Kelly Kutchinsky
1 year ago
$77
Maria P Zwilling
1 year ago
$10
Tatyana Smolen
1 year ago
$200
Jennifer & Christopher Storb
1 year ago
$10
Kanisha Hampton
2 years ago
$30
Robert Weyman
2 years ago
$25
Kathleen Klemm
2 years ago
$103
Jerilyn Dressler
2 years ago