Hurricane Harvey Relief for Schools and Children

Verified Non-Profit

The Description
My name is Larry Le and I am a Houstonian living in Dallas.

Speaking to my sister, who is a teacher in Houston, she says there will be a major possibility that children and schools will have lost many of the necessary supplies for a proper educational experience.
Like many people in America, I am forced to experience this disaster from the outside looking in. Due to this, I feel the duty to lend support and help anyway I can and many of my friends are working on donations and supplies for rescue and survival.

I have over 50+ relatives who are affected by Hurricane Harvey, including my mom, and my 2 sisters.

So my goal is to help the schools and the children who are affected by Hurricane Harvey.  I am actually organizing a group of people and sending the donations to the schools that are suggested - so the list of specific schools is ever growing.

With these funds I will...replenish and replace anything that was destroyed or taken away for our children and the schools they attend.  This may include books, school supplies, back packs, school uniforms, shoes, and teaching materials (whatever is deemed necessary by the school themselves).

My goal is to make it so the road to recovery is as smooth and as quick as possible so our children's education does not miss a beat.

Thank you for your support and please share with the teachers and schools you feel need help and attention.
Back Up Plan
If we do not reach our goal, I will personally work on financing the rest of it out of my own pocket.
Fundraiser Updates (2)
https://www.facebook.com/groups/HarveyReliefForSchools
September 2, 2017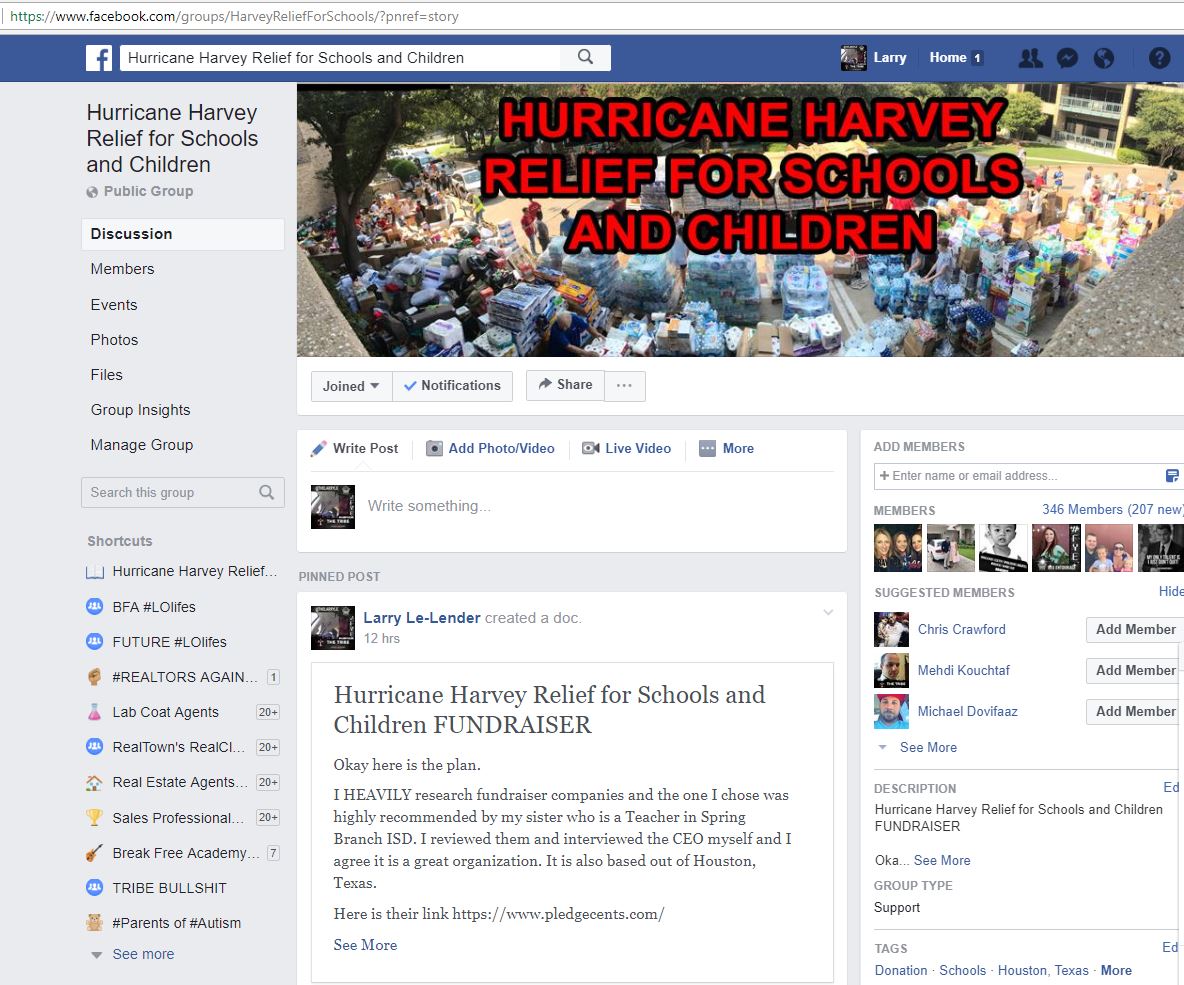 We created a group to help organize the request for each individual school and of course to rally support.
September 2, 2017
About the Creator

I am a father of 3 young boys that I raise with my amazing wife. I know that in order to give my sons a chance of becoming good people, I myself have to set the example - so live everyday with this mission.
Investments (7)
$21
Babs Fleischer
1 year ago
$50
Brandi Pacheco
1 year ago
$10
Fernando Barragan
1 year ago
$100
Paul Reutershan
1 year ago
$26
Alejandra Farias
1 year ago