Flexible Seating

Verified Non-Profit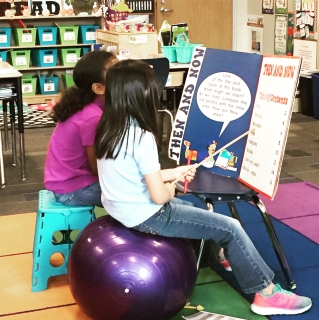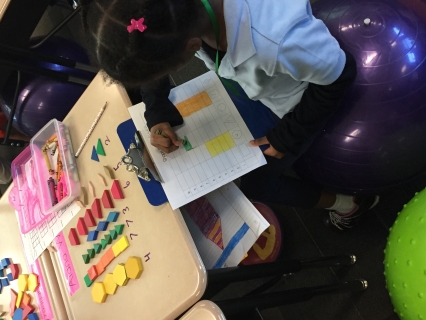 The Description
Imagine a classroom where students walk in with the freedom to choose where they will work each day, based on their own needs. I firmly believe in the power of choice, even with our youngest learners.  The more choice students have, the more they will feel invested and responsible for their learning.  I have tested this theory in my classroom during our "Read to Self" time, where students choose any spot in the classroom where they can read quietly and comfortably.  I currently have yoga mats, pillows, reading buddies (stuffed animals), and a few small chairs readily accessible for students.  Here's a video of what this has looked like in my classroom.  It has been quite a transformation.
I want to take this idea to the next level by transforming my classroom into a flexible seating environment.
Research has shown that flexible seating (balance balls, wobble chairs, soft seats, motion stools, etc.) leads to more focused behavior and engaged student learning. Through the use of flexible seating, my students will have opportunities to understand their own body signals and select the seating option they feel will be most beneficial to them to better support their learning.  I am looking to obtain 15-20 flexible seating options, so that every child may freely choose an option each day.  The seating types vary in price, from $10 for a soft seat to $109 for a hokki motion stool.  The Gaiam Kids Stay-N-Play Balance Balls ($20) are known to help increase focus by keeping the body actively in motion while children are working.  I currently have a small table with some cushions on the floor, which could also be used as a flexible seating location for students to work.  
Here are a few articles to better understand the flexible seating movement:
Flexible Classrooms: Providing the Learning Environment That Students Need
Why the 21st Century Classrooms May Remind You of Starbucks
I teach at a bilingual low-income school, which poses many challenges for my students both in and out of the classroom. Many of them are raised in single parent apartments and receive a free lunch based on their socioeconomic status.  Several of them don't have the freedom to participate in extracurricular activities and sports outside of school.  While I can't control what happens outside of the classroom, my goal is to keep my students safe, comfortable, and productive in my classroom. I strongly believe students become more engaged and retain more information when they are able to make a choice of the best working environment for them. Flexible seating options will help my students by promoting positive choice, helping to release extra energy, and increasing blood flow to their brains.
Back Up Plan
I will still use the funds to invest in flexible seating options for my classroom.  I will continue fundraising and apply for any available grants within my district.
Fundraiser Updates (1)
Fundraising Goal Complete!!!!
April 5, 2017
THANK YOU to all of my wonderful investors who have helped bring this project to life. I could not have done this without you! I really appreciate all of your support and encouragement. I will be sure to post updates and pictures in the next few weeks when the new seats arrive!! Stay tuned.
Sincerely,
Kathleen
About the Creator

I am a passionate 1st grade teacher at a Title I school in Houston, TX. I strive to find new and innovative ways to keep my students focused and engaged in their learning.
Investments (25)
$52
Kathleen Hartsell
5 years ago
$103
Donna Johnson
5 years ago
$52
Nick Lejarcegui
5 years ago
$31
Hannah Johnson
5 years ago
$15
Angie Pietrini
5 years ago
$52
Ashley Chavez
5 years ago
$52
Carol Binkley
5 years ago
$25
Kaleana Markley
5 years ago
$50
Nellie Hartsell
5 years ago
$5
Meghan Khurana
5 years ago
$50
Jessica Bjorlo
5 years ago
$20
Elizabeth Crawford
5 years ago
$50
Magee Kennedy
5 years ago
$21
Eleni Barkulis
5 years ago
$10
Caroline Blowers
5 years ago
$52
Miren Crawford
5 years ago
$50
Lindsay Howard
5 years ago
$100
Kathleen Hartsell
5 years ago