KISD Food for Families

Verified Non-Profit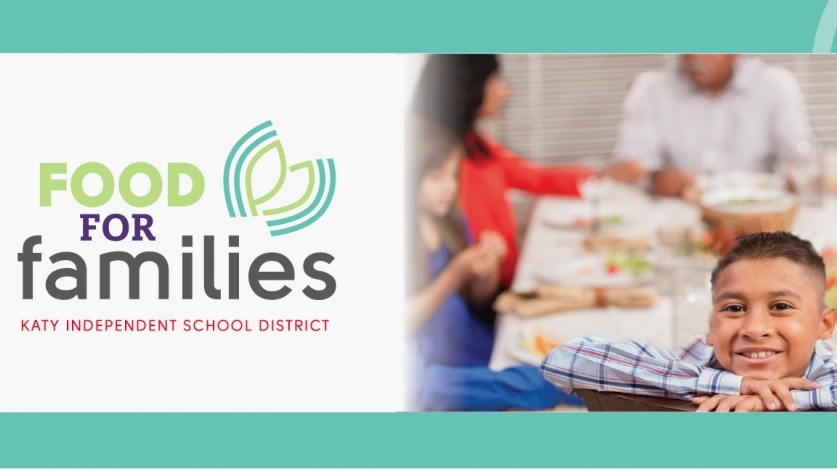 The Description
Through Food for Families, our community's support of Katy ISD students transcends the classroom and related academic performance.
We realize the need is even greater during challenging times. 
Katy ISD campuses identify students for the program and Partners in Education collects individual and corporate donations.
Grocery gift cards valued at $50 along with a note of support from the Katy ISD community are then delivered to each student by a campus staff member.
What started as a simple concept has since grown to a successful community campaign that has donated over $266,000 to more than 5,600 families in the past 17 years.
Such is the character of our community:  combining the individual contributions of many to help others – one Katy ISD family at a time.
Back Up Plan
If we do not reach our goal we will purchase...as many gift cards with the funds raised for our families.
Fundraiser Updates (1)
THANK YOU!!! Over $45,000 Raised!
December 17, 2020
Thank you for your generous donations to our Katy ISD Food for Families. This fundraising site will remain open until December 31st if you would like to share with family and friends.
We are filled with gratitude!
About the Creator

Leading this initiative with Katy ISD Partners in Education is one of my most valued roles.
Investments (729)
$10
Deborah Foreman
2 years ago
$100
Scott Phillips
2 years ago
$10
Nasim Bigdeli
2 years ago
$20
Matye Lewis-Hubbard
2 years ago
$25
Vijayalakshmi Subramanian
2 years ago
$18
Amit Parchure
2 years ago
$25
Sonja Barclay
2 years ago
$100
Stephanie Luchetti
2 years ago
$25
Hanuma Gujjula
2 years ago
$50
Jennifer Anderson
2 years ago
$5
Gabriella Grant
2 years ago
$50
Kevin and Norma Riehle
2 years ago
$50
Anish Nambiar
2 years ago
$20
Yetzirah Urthaler
2 years ago
$50
Daniela Braganholo
2 years ago
$25
MANEESH BHATNAGAR
2 years ago
$50
Senthil Sundarraj
2 years ago
$50
Elliott Sandlin
2 years ago
$25
ARNOLD Martin
2 years ago
$100
The Henkes Clan
2 years ago
$25
Tanvi Nandargi
2 years ago
$100
Thomas Kelley
2 years ago
$50
Bharati Venkitaraman
2 years ago
$25
Leonardo Saran Chagas
2 years ago
$25
Christene Manfre
2 years ago
$100
Brenda Chinchilla
2 years ago
$50
jeremy langlois
2 years ago
$100
Adeola Ibeneme
2 years ago
$50
Monica Carrasco
2 years ago
$50
Fatima Pirzada
2 years ago
$50
Karthikeyan Radhakrishnan
2 years ago
$25
Vincent & Tina Fink
2 years ago
$100
Prince Elangiyil
2 years ago
$200
Kris and Tim Stoever
2 years ago
$50
Asibeli Okonkwo
2 years ago
$50
Ramakrishna Uddanti
2 years ago
$50
Narayanan Mangalath
2 years ago
$25
Cecilia Levin
2 years ago
$250
theBridge Family Therapy LLC Johnson
2 years ago
$25
Michelle Benning
2 years ago
$250
Clarence and Harriet Grier
2 years ago
$25
Maria O'Connor
2 years ago
$100
Melinda Ginter
2 years ago
$100
Adeola Zuokumor
2 years ago
$50
jennifer chapman
2 years ago
$500
Patrick & Kristen Brennan
2 years ago
$15
Carlos Alfredo Villatoro
2 years ago
$10
Rachel Miller
2 years ago
$25
Carole Langley
2 years ago
$50
Hari Swaminathan
2 years ago
$25
Jen & Al Antonson
2 years ago
$25
Mabel Guerra Giraldez
2 years ago
$20
JoAnna Hawryluk
2 years ago
$100
Muthiah Subbiah
2 years ago
$25
Frank Anzalotti
2 years ago
$45
alison fitzgerald
2 years ago
$25
Jacquelyn Gravois
2 years ago
$25
Karen Johnson
2 years ago
$50
Courtaney Davis
2 years ago
$300
Cody and Rachel Linn
2 years ago
$10
Kris Kishor Pitta
2 years ago
$25
Veronica Barrios
2 years ago
$20
Iselin Bjordal
2 years ago
$100
Stephanie Mead
2 years ago
$25
Danielle Talerico
2 years ago
$100
Mohammad Umer Ansari
2 years ago
$25
Dennise Rivera
2 years ago
$25
Melanie Redner
2 years ago
$50
Thanh Dieu Huynh
2 years ago
$50
Carolina Reavis
2 years ago
$50
Suzel Thachar
2 years ago
$75
Denise Tobolka
2 years ago
$100
Sameer Kulkarni
2 years ago
$50
Deepanjan Mukherjee
2 years ago
$25
Radha Krishna Myneni
2 years ago
$50
Paola Guerrero
2 years ago
$50
Sandip & Poulami Bhattacharya
2 years ago
$50
Lauren Francis
2 years ago
$25
Holly Schomerus
2 years ago
$25
Allison Salvato
2 years ago
$250
Brittney Hyden
2 years ago
$100
Criss Scruggs
2 years ago
$25
Ryker Fitzpatrick
2 years ago
$25
Natasa Barjaktarevic
2 years ago
$50
Kristin Murzyn
2 years ago
$50
Gayathri Dhandapani
2 years ago
$50
Erica McDaniel
2 years ago
$50
Adia, Aidan, Kaya Mohammed
2 years ago
$100
Phyllis Weller
2 years ago
$25
Maria Paula Orduz
2 years ago
$100
Jennifr Montgomery
2 years ago
$50
Scott & Karen Remlinger
2 years ago
$11
Liam Shepherd
2 years ago
$10
Deborah Foreman
2 years ago
$25
Sarah Considine
2 years ago
$50
Srihith Gadigota
2 years ago
$50
Jennifer Samuel
2 years ago
$50
Adriana Rubin
2 years ago
$250
Stephanie Taylor
2 years ago
$25
Partha Mohanty
2 years ago
$100
Daniel Hodgman
2 years ago
$50
Alan Guerrero
2 years ago
$500
James Lansing
2 years ago
$25
Misty DiSantis
2 years ago
$25
Pranetha chand Jampa
2 years ago
$100
Anthony Simon
2 years ago
$585
The Adams Law Firm
2 years ago
$25
Emily Ashworth
2 years ago
$100
Bari Michalski
2 years ago
$25
Charlotte Noto
2 years ago
$30
ayten mccormick
2 years ago
$100
Chris Crockett
2 years ago
$25
Lynette Alidon
2 years ago
$25
Connie Dowling
2 years ago
$50
MayDell Jenks
2 years ago
$20
Michelle Bilanoski
2 years ago
$50
Antonieta Cadiz
2 years ago
$50
Edgardo Huanilo
2 years ago
$100
J. Ryan Jones
2 years ago
$25
Sherry Carmichael
2 years ago
$10
Patricia van Ee
2 years ago
$20
Melinda Benavides
2 years ago
$100
Nicole Windham
2 years ago
$25
Karla Jimenez-Novick
2 years ago
$50
Kellie Little
2 years ago
$50
Daniel Estrella
2 years ago
$50
Susan Lebsack
2 years ago
$500
Ryann & Nikki Donaldson
2 years ago
$50
Michael Giroir
2 years ago
$100
Logan McCarthy
2 years ago
$100
Johnpaul Joseph
2 years ago
$50
Joshua & Kate McDonald
2 years ago
$25
Cherie Duddridge
2 years ago
$9
BALAKRISHNA KASHETTY
2 years ago
$10
Christina Schultz
2 years ago
$250
Greg & Lora Hodges
2 years ago
$20
Candice Vieira
2 years ago
$25
Mohammad Ullah
2 years ago
$100
Sadasiva Athota
2 years ago
$100
Draco & Deedy Miller
2 years ago
$25
M Carolyn Salazar
2 years ago
$20
Tiffany Horst
2 years ago
$100
Darren and Cris Bowden
2 years ago
$100
Steven Elliott
2 years ago
$50
Divya Krishnan
2 years ago
$25
Michelle Gaskamp
2 years ago
$50
Vierah Hulley
2 years ago
$50
Juana Almaguer
2 years ago
$100
Véronique DeRouselle
2 years ago
$250
Adrian Aguilar
2 years ago
$50
Saravanan Gnanaprakasam
2 years ago
$100
Micah Maharaj
2 years ago
$25
Savitri Savitri
2 years ago
$50
Fariha Rashid
2 years ago
$100
Allison Thurmond
2 years ago
$10
Kalli Dechert
2 years ago
$25
DIYA PEDDIBHOTLA
2 years ago
$50
Michelle Cordle
2 years ago
$50
Anamika Gupta
2 years ago
$100
Michelle Bodington
2 years ago
$25
Michelle Hubbard
2 years ago
$100
Maria Portillo
2 years ago
$50
Deborah M Decker
2 years ago
$25
David B Engle
2 years ago
$50
Kithcart Family
2 years ago
$100
Pallavi Borah
2 years ago
$10
Divya Janardhan
2 years ago
$100
Sankarappan Periyasamy
2 years ago
$250
Renee Rosener
2 years ago
$50
Ramakanth Soudari
2 years ago
$10
Dontanette Perkins
2 years ago
$20
Stella Tupinamba
2 years ago
$100
Kameshwar Mantri
2 years ago
$25
Stephanie & Brooke Heath
2 years ago
$50
Vonda Washington
2 years ago
$25
Daniel Sequeira
2 years ago
$50
Madhavi Valluru
2 years ago
$10
Deborah Foreman
2 years ago
$25
Patricia Echevarria
2 years ago
$50
Rebecca Griebe
2 years ago
$50
Melanie Stilwell
2 years ago
$10
Tatiana Lawson
2 years ago
$20
Fakhri Kaydawala
2 years ago
$25
Stephanie Keener
2 years ago
$50
Nathan & Carol Schmidt
2 years ago
$40
Denis Akhiyarov
2 years ago
$100
Melissa Thomas
2 years ago
$100
Jannatun Iqbal
2 years ago
$250
Bryan, Vicki and Skylar Wiggins
2 years ago
$200
Rob & Kristy Hughes
2 years ago
$50
Saki Krishnamurthy
2 years ago
$50
Srikanth Venkata
2 years ago
$50
Christine Mouton
2 years ago
$50
Christy Notareschi
2 years ago
$100
Frank Fellows
2 years ago
$30
Bronwyn Sutherland
2 years ago
$20
Sujatha Raghunathan
2 years ago
$150
Jesus Trevino
2 years ago
$25
Charisse Wright
2 years ago
$10
Cynthia P Villegas
2 years ago
$25
Justin Nwakacha
2 years ago
$50
Joseph Edwards
2 years ago
$25
Jimena Shmidt
2 years ago
$10
Michelle Mason
2 years ago
$50
Cathleen Pittman
2 years ago
$100
Nicole Swingle
2 years ago
$50
Robert H McAuliffe
2 years ago
$100
Mark & Brenda Shaver
2 years ago
$25
Casey Mitchell
2 years ago
$200
Courtney Synnott
2 years ago
$100
P. J. McGuigan
2 years ago
$50
Kathryn James
2 years ago
$100
Erick Peterson
2 years ago
$100
Cheryl Shelton
2 years ago
$35
Brandon Huizingh
2 years ago
$25
Bonnie Holland
2 years ago
$100
Kristi Williams
2 years ago
$100
Rebecca Sjolund
2 years ago
$25
Melinda Copeland
2 years ago
$50
Natalie Sandberg
2 years ago
$100
EMG Electric Llc
2 years ago
$25
Nolan Robinson
2 years ago
$100
Rebekah Granbery
2 years ago
$250
BABAK BADANFIROUZ
2 years ago
$50
Svetlana Wilson
2 years ago
$50
Sergio Henrique Guerra de Sousa
2 years ago
$50
Cara S. Riccetti
2 years ago
$100
Rahul Bhutani
2 years ago
$50
Jumana Khandwawala
2 years ago
$50
Carrie Calkins
2 years ago
$25
Eliane Romano
2 years ago
$25
Tracy A Macha
2 years ago
$20
Gabriela Urquiza
2 years ago
$200
Heather Sanders
2 years ago
$50
Terri Walker Murphy
2 years ago
$50
Dawn Carlson-Scruggs
2 years ago
$50
Elizabeth Garza
2 years ago
$25
DEBRA J DAVIES
2 years ago
$50
Sandip & Poulami Bhattacharya
3 years ago
$50
Ken and Tracy Janda
3 years ago
$10
Margarita Ramirez
3 years ago
$50
Michael Casey
3 years ago
$25
Rita Fernandez
3 years ago
$50
Kim Guillaume
3 years ago
$100
Brian Tuccillo
3 years ago
$100
Angela Gabler
3 years ago
$50
Catherine Lusby
3 years ago
$50
JENNIFER FINGER
3 years ago
$200
Gina Teafatiller
3 years ago
$100
DEWI AMMERMAN
3 years ago
$50
Ginger Paskowitz
3 years ago
$10
Patricia van Ee
3 years ago
$100
Meredith Weinbrecht
3 years ago
$100
Carlos Mesquita
3 years ago
$100
Heather DeVries
3 years ago
$100
KEVIN PARRISH
3 years ago
$50
Narayanan Mangalath
3 years ago
$200
Carole Chichester
3 years ago
$20
April Quillen
3 years ago
$50
Christina Ramirez
3 years ago
$25
Lucinda Eshenbaugh
3 years ago
$200
Jan Whitehead
3 years ago
$50
Jimena Shmidt
3 years ago
$50
Kaylyn Elissa
3 years ago
$25
Andrea Oliver
3 years ago
$50
Dominic Fierro
3 years ago
$20
Stephanie Ledet
3 years ago
$100
David Patterson
3 years ago
$50
Jessica Rowan
3 years ago
$100
Jamie and Ray Wolman
3 years ago
$100
Cheryl Glasser
3 years ago
$50
Rebecca Rae Day
3 years ago
$20
Erin LaBrache
3 years ago
$50
Michelle Gaskamp
3 years ago
$100
Rhonda Henderson
3 years ago
$25
Christene Manfre
3 years ago
$50
Haldi Shannon
3 years ago
$5
Ryan Wilshusen
3 years ago