Personalizing Instruction with Technology

Verified Non-Profit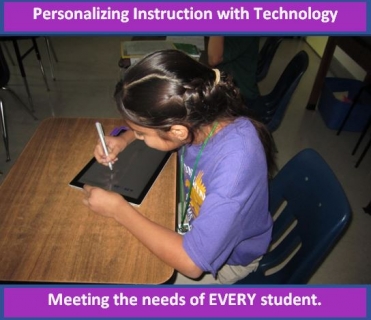 The Description
I teach 6th grade math at Spring Woods Middle School, which is a school with over 90% low-income students. Most of the students speak English as their second language and some don't speak English at all. My students come to me with a wide range of abilities from 2nd-6th grade math. Of my 80 students each year, I have about 15 at 6th grade level, 35 at 5th grade level, and 30 below 4th grade (including 5 that speak no English). It is so important to be able to meet the needs of all of my students in order to bring them up to grade level. When you have students with such a wide range of ability it can be challenging to give them the special attention required to get them caught up. Advancements in tablet technology will make it much easier to not only identify students that are struggling but also to intervene quickly and give them the help they need.
With a 2-in-1 tablet device student learning will be truly personalized. Using the OneNote Class Notebook will give me the ability to watch students on my own device as they work through problems directly on their device. I can then use this data to quickly provide differentiated assignments to each student based on their level. Students that are struggling can instantly get feedback on their device such as a note from me, supplemental materials, or getting pulled into small groups. Students that are excelling can be encouraged to take on more challenging material or projects using their tablets. Students that do not speak English will have the ability to instantly translate any text into Spanish with the OneNote Program or Google Translate. This would greatly impact my ELL student's ability to understand the content as I am teaching and to solve longer word problems.
With these funds I will purchase a class set of Dell Venue 11 Pro 2-in-1 Tablet/Laptop devices. This tablet is a powerful device that has a touch screen, stylus, and keyboard combination. The pen is pressure sensitive, has palm recognition, and has designated buttons for erasing and selecting. The stylus and touch screen are the most important reason that the Dell Venue Pro 11 Tablet is necessary over a regular laptop. Having the keyboard attachment will allow students to experience the full functionality of the 2-in-1 device while also extending battery life. The option of having the full laptop experience will allow students to practice writing in math by typing out written explanations of  problem solving strategies. Furthermore, students will be able to type in answers when playing online math games, and more easily type and research on the internet in general (The onscreen keyboard often blocks the view of most of the screen). The docking station will be used for projecting my tablet to the entire class, which also allows me to project their work through OneNote. Here is a breakdown of the items I would need that are approved for use in my district:
Dell Venue 11 Pro 7000 (128GB) $735 each x 31= $22,785 (1 extra in case I get another student, or for myself to use while walking around with the kids & projecting to them on the board)
Dell Tablet Full Keyboard $119.99 each x 31= $3,719.69
Dell Active Stylus- $26.24 each x 31= $813.44
Docking Station = $104.99
Total: $27,423.12
Back Up Plan
If we do not meet my goal... We will purchase as many tablets and styluses as we can with the money. (The keyboards will be purchased last)  These tablets will go first to my Spanish speaking students to help them translate during class. Any other extras will be used in small groups to help students that are struggling or as extensions for those that need a challenge. If we end up getting enough for at least 15 tablets, then students will partner up and be able to use the tablet together. 
No Updates
About the Creator
I am currently on my 4th year teaching 6th grade Math at Spring Woods Middle. This campus is over 90% low income and many students come in not knowing English well (or at all). I am really interested in technology integration in the classroom and hope to be a leader in this area someday soon. I helped to write the curriculum for the district for the past 2 years and love being able to have a bigger impact on my students learning (and all students in the district!) I am motivated by my love and passion for teaching and for kids.
Investments (11)
$100
Melissa Vallery
6 years ago
$21
Susan roberts
6 years ago
$10
Christina Sierra
6 years ago