Supporting Our English Language Learner Students

Verified Non-Profit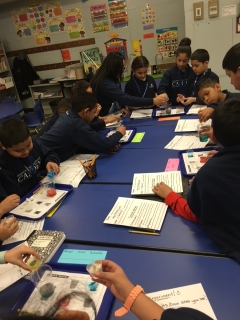 The Description
In fall 2015 Mastery Schools of Camden opened Molina Elementary, a K-8 school serving 420 students in partnership with the Camden City School District through its Renaissance initiative to turnaround failing schools. Molina's student body is 95% economically disadvantaged and 15% of total students are English Language Learners (ELL).  The vast majority of these students' native language is Spanish.  Of the 68 total ELL Students, 28 are in our Bilingual program focusing on teaching grade level materials in their native language while learning English through our ESL program.
The students served at Molina are in dire need of basic classroom resources and materials in order to have the same opportunities available to monolingual English classrooms and for them to succeed in primary and secondary education. Our educators have a strong passion to elevate the ELL/Bilingual program at Molina, and with the high level materials we're seeking to purchase, they will have the tools necessary to provide Molina's ELL students with the strongest ELL/Bilingual program available in Camden.
Recently we were given a challenge grant which requires us to raise $12,500 on our own. To-date, we've raised $2,500. With your help, we will complete the challenge and purchase the following for our ELL program: Imagine Learning English Program which is a K-5 instructional reading based program ($8,300), Benchmark K-6 Spanish Book Room ($11,850) and Anisa literature curriculum ($2,124). 
The goal of this project is to increase the level of student achievement in our identified English Language Learner students, with the objective of 40% of these students achieving proficiency on quarterly benchmark exams.  We also expect to increase the North Camden Community's awareness of our bilingual educational program.  By making a strategic investment in the ELL program we will significantly increase the achievement of a historically underserved population of students.  Finally, buy building out our program for ELL students, we hope to attract more bi-lingual students across Camden at Molina.  By the end of the 2016-17 school year our overarching goal through this grant is to have 40% of ELL students proficient in literacy benchmarks, which are given four times per year after a ten week instructional period.
More about the programs we wish to purchase:
Imagine Learning is an adaptive language and literacy software program that focuses on vocabulary, academic language, and grammar.  As a student progresses, the program reacts based on individual student performance and automatically selects lessons/activities with increasing levels of difficulty to expand their learning.

Benchmark K-6 Spanish Book Room - 

Our Spanish guided reading library will be expanded with benchmark materials in order to increase the quality and quantity of rich authentic literature across genres. Authentic literature is crucial, and allows students and staff to identify and develop an asset framework for how to embrace and build upon the strengths that each student brings to the community.  Additionally, students will access information more readily and therefore achieve more when they are able to relate with the characters and varying styles of writing. 
The Anisa Spanish language arts curriculum will be utilized in order to meet the morphosyntatic rules of Spanish which differ from English language structure. The literacy curriculum currently in use solely follows English language rules which are completely different than those in Spanish in many cases.  Understanding the specific rules in Spanish with allow them to transfer with more fluency to English when the same concepts are presented with a different set of rules. Literary teachers will utilize these resources daily.
Back Up Plan
If I do not meet my goal I will purchase as much of the materials as possible toward increasing the proficiency of our English Language Learner students.
No Updates
About the Creator
At Mastery Charter Schools, we believe all children deserve high-quality education, regardless of their zip-code.
Investments (29)
$52
Joyce Zimmerman
4 years ago
$10
Maria Christina Gonzalez
4 years ago
$20
Michael Kerwin
5 years ago
$52
Veronica Martinez
5 years ago
$26
Michelle Brown
5 years ago