About
Mastery Charter Schools and Mastery Schools of Camden form a non-profit school network of 21 schools in Philadelphia, PA and Camden, NJ serving approximately 12,000 students in grades K-12. Our mission is to ensure that all students learn the academic and personal skills they need to succeed in higher education, compete in the global economy and pursue their dreams.

At the core of every Mastery school is a set of values that guides all of our actions. Mastery's values are infused in the everyday life of the organization -- in the recruitment criteria for new staff, in staff evaluation and promotion decisions, in the organization's growth strategy, and in the way staff interact with each other and the parents and students we serve.
$84,873 Raised
1,056 Investors
Michelle Brown
Director of Development
At Mastery Charter Schools, we believe all children deserve high-quality education, regardless of their zip-code.
Michelle Brown
Director of Development
testing
Kerry Sorensen
Internship Coordinator
Internship Coordinator at Mastery Charter School Shoemaker Campus.

Samhita Basuthakur
K-2 Social Studies Science Teacher
I am a K-2 Science and Social Studies teacher at Hardy Williams Elementary Mastery Charter School in West Philadelphia. I love what I do everyday; combining quality literacy and hands-on experiences to bring science and social studies to life for my students. For the same reason, I am constantly on the look out for meaningful and enduring learning experiences that will enrich the whole child.
Isobel Dewey
9th Grade Science and Engineering Teacher
Science and Engineering teacher in Philadelphia committed to stem education and a nerdtastic time for all.
Kyle Epps
Phys. Ed Teacher / AD
Mastery Charter Shoemaker Campus Athletic Director

Men of Frederick Douglass Mastery
Men of Frederick Douglass Mastery Co-Leader
The purpose of Men of Frederick Douglass Mastery is to provide a space to influence and uplift strong children who will become future leaders and contributors to their community through positive interactions with men of color. Our men of color will partner with the teachers of Douglass to help cultivate these young, powerful minds as they learn to become authors, activists, mathematicians, scientists, and influencers.
Jennifer Montano
11/12 History Teacher
Greetings! I teach AP Government and Politics and Government/Economics!
Micah Hart
AP of Instruction
I work with inner-city students at a charter school that is dedicated to providing them with opportunities to succeed in higher education and beyond. 99% of our students receive free/reduced lunch and come from neighborhoods heavily impacted by trauma. That said, they are the most resilient, driven, and overall amazing bunch of humans one may ever meet.

Nya Terrell
Special Education Teacher
I teach children with Autism for a charter school in Philadelphia. Our class continually strives to develop our social, academic, self, and community skills! Your support will allow us to continue to grow our abilities.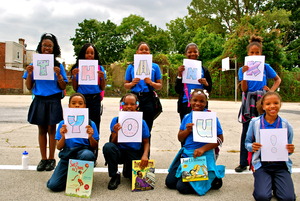 Lisa Rittler
1st grade teacher/ Talent Show Director/Stage Troupe Leader
I became a teacher 3 years ago at 41 years old. I felt a calling & passion to teach in Philadelphia and I'm thrilled to being do in it...in MY city! I teach in, what many consider, a "rough" neighborhood. My students are faced with adversities that most of us couldn't imagine. I love them and teach them because I want them to know that if they work hard, they can and WILL reach their dreams! They deserve it! Thank you for your consideration! My students, my co-workers and our school community appreciate it so much!

Zach Wright
11th and 12th grade teacher
11th and 12th Grade World and AP literature teacher at Mastery Charter School Shoemaker Campus.

The Fellowship BMEC, Inc.
Principal
Through four city wide Black Male Educator Convenings, The Fellowship will address the recruitment, retention, instructional support and coaching of black male professional career educators (teachers, deans, principals, CEOs, etc.) during the 2016-2017 school year. We also focus on policy Practices and advocacy work that impact Black male leaders in the education field where this group is severely under represented.

Kristin DiSipio
Assistant Principal
For the past 9 school years I have had the privilege of teaching, supporting, and empowering our urban youth in Philadelphia. The past three years I have been blessed to be an Assistant Principal of Specialized Services and I am always looking to bring new and improved resources to our K-8 students receiving services Philadelphia.
Kristin DiSipio
Elementary Special Education Teacher
For the past 12 years I have had the pleasure of teaching and leading in urban education. In particular I have been fortunate to work in Philadelphia for the past eight school years. I love that I every day I have the opportunity to learn from our students. Students receiving specialized services at our school have a very special place in my heart and I am eager to enrich our classroom space to provide students in grades 3rd through 6th with additional supports to support their reading, math, and social emotional growth!
Markita Floyd
API
Hello everyone! I am one of the proud school leaders at North Camden Elementary in Camden, NJ.

Stu Warshawer
Principal
I am the principal at Mastery Charter Harrity Upper School - a public, neighborhood middle school in Southwest Philadelphia that serves approximately 300 students in our catchment area. As a staff, student and family community, our mascot is the "West Philly Wolf Pack." Due to mandatory budget cuts, we can no longer afford a sports program at our school. We are seeking partners to help us raise the money to give our students the athletic opportunities they deserve.

Samantha Sloan
Spanish Teacher
I have been an active member of Teach for America, and I have spent the last year and a half immersed in the movement to solve education inequity in this country and provide all students with a quality education. I was fortunate enough to be selected from a nationwide talent applicant pool to join a teacher corps comprised of leaders who commit a minimum of two years to teach in high need public schools. I firmly believe that education exists to create global citizens who are prepared to take on the challenges of the 21st century world. For that reason, I am hoping to further this mission by providing my students with a culture/service trip outside of the United States.
Emily Murai
5th Grade Teacher
Category: General Class Size: 30 Grade: Prek - 12th Follow This Cause As a Teach For America Philly Corps Member I am responsible for my very own classroom! I engage daily with my students and their families and it is my responsibility to ensure that my classroom is a welcoming environment for everyone. One of the biggest hurdles that students in high need schools face is a lack of the necessary materials that are needed daily. It makes it infinitely more difficult for students to take part in activities and classwork when they do not have basic supplies. To get the year started off right, I will use the funds that I raise to purchase the startup supplies needed to welcome my students to a classroom that is clean and stocked full with materials. This will allow me to provide the required supplies to students that otherwise would not have them. I will also purchase copy paper to ensure that I can provide my students with high quality learning materials, whether that is exit tickets, independent activities, or homework. Here is a complete list of the materials that your generous investment will help provide for the students of my very first classroom: 2 Boxes of Paper (10 Reams) - $50 Kleenex (18 Pack) - $36 2 Boxes of Pencils (288 Count) - $32 Paper Towels (12 Rolls) - $28 Anchor Chart Paper (2 Pack) - $27 2 Packs of Dry Erase Markers (32 Count) - $22 Hand Sanitizer (Pack of 2) - $20 3 Packs of Erasers (36 Count) - $18 2 Packs of Ballpoint Pens (48 Count) - $15 Clorox Disinfecting Wipes (3 Pack) - $12 Grading Pens (12 Count) - $12 3x5 Index Cards (10 Packs) - $12 Pack of Highlighters (50 Count) - $10 Post-it Notes (24 Pads) - $9 Sharpie Chart Markers (8 Count) - $9 Sharpie Permanent Markers (12 Count) - $7 Paper Clips (Assorted 450 Count) - $6 Binder Clips (30 Count) - $3 If we do not meet our goal... If I do not meet my goal, I will purchase as many materials as possible. I will prioritize the materials that are most essential to students (pencils, paper, etc.) as they are the most important to ensuring that students can participate in daily lessons.
Tifanie Pierce
Assistant Principal - Student Supports
Assistant Principal of Student Supports @ Mastery Charter Lenfest Campus - I taught special education for five years in the School District of Philadelphia before focusing on developing specialized programming and supports for students within Mastery Charter Schools' network.
Special Education Teacher
Nicole Jokola
7th/8th grade teacher
7th and 8th grade writing teacher in West Philly.
Lauren Kelly
ArtistYear Fellow
ARTISTYEAR FELLOW
Mike Deegan
Middle School Physical Education
I'm a physical education teacher and athletic director at a charter middle school in Philadelphia.
Jason Wise
8th Grade Science Teacher
I am a teacher.
Laura Agosto
Case Manager and Replacement Composition Teacher
Case Manager and Composition Teacher at Mastery Charter Lenfest Campus.

Jenna Lubas
K-3 Music Teacher
I am an elementary music teacher at an urban school in Philadelphia, PA motivated to provide students with the education they need to succeed in higher education, compete in the global economy and pursue their dreams.
Caitlin Ruiz
Harrity Upper Intervention Math
Teacher at Harrity Upper
Rob Grega
8th math
8th Grade Math Teacher at Harrity Upper
Miranda Schuhle
Special Education Teacher
Special Education Teacher/Case Manager
Lea Kleinman
middle school special ed teacher
im a teacher

Shanna Teschner
6th Grade Literacy Teacher
I am currently a sixth grade literacy teacher in an urban school. Our school's focus this year is authentic and joyful independent reading. We want our students to love books that they choose and to be able to ready them comfortably.

Christopher Jackson
6th Grade Reading
Penn State and City Year alumni teaching 6th grade reading in the day and teaching drum line for after-school. In need of drums and equipment. I love music! My students love music! I want to teach them this craft that will make them more creative and more academically bound for college.
Anastasia Riley
Administrator
Mastery Charter Schools
Morgan Heryla
Coach and Teacher
I am a middle school coach and teacher.
Rob Miller
AP
I'm an Assistant Principal at Mastery Charter - Harrity Upper. I love helping students unlock their full potential.
Kara Stevenson
8th grade English teacher
I have been teaching middle school English in Philadelphia for the past ten years. During this time, I have served the communities of Kensington and South Philadelphia. My goal is to develop students' reading skills and joy for reading by offering quality literary selections that appeal to all students' interests.
Jennifer Cush
French Teacher 1-8
Hi! My name is Madame Cush and I am an elementary school French teacher in Camden, NJ. This is our school's first year offering French, and the students are excited to explore the Francophone world and its rich cultural and linguistic legacy!
Jennifer Reiser
Assistant Principal of Instruction
I am an Assistant Principal of Instruction with a passion for literacy. As an educator with 15 years of experience I know the power that literacy brings to the school community. My goal is to support the young learners in my building so that they can become lifelong learners who love reading!

Jennifer McAnany
6th Grade Teacher, Cheerleading Coach
As teachers at Hardy Williams Academy Mastery Charter School, a Title I elementary school in Southwest Philadelphia, part of our mission includes doing whatever possible to ensure educational equity for our students. This mission does not cease at the end of the school day. Our children deserve extra-curricular opportunities that promote values of teamwork, motivation, and responsibility, as well as ensure a safe space for our children to be after school. Therefore, we have started a cheerleading team for 26 of our young ladies to participate in twice a week after school. This is the first athletic team for females at Hardy Williams, and the majority of the team has never been a part of a cheerleading team before. Since our start in October, we have seen these young ladies come together as a team and accomplish great improvements in their cheerleading abilities, as well as their behaviors in school. We would love to enter our team in a cheerleading competition, as well as other school events to showcase their hard work and skills. Unfortunately, the cost of proper uniforms, pom-poms, sneakers, bows, etc. is far too high to ask our girls to pay, or for school fundraisers to cover in its entirety. Sneakers are a major need, considering the safety of the girls when performing certain tricks and stunts. We are asking for any type of donation or monetary assistance/discounts you could provide to support the first ever Hardy Williams Academy Mastery Charter School Cheerleaders. Anything helps!
Nicole McCreight
Emotional Support Teacher
Working with a large Special Education population in a low income areas.

Linda Donatoni
College Advisor
Mastery Charter Shoemaker Campus is a neighborhood school located in West Philadelphia. We serve 750 low income students and families each academic year ranging from grades 7th through 12th grade. Shoemaker was historically known as a failing school and the 2nd most violent middle school in Philadelphia before it was converted to a charter school in 2006 by Mastery Charter Schools. Since the conversion, Shoemaker has had significant success in math scores, with an increase of 56 points in 8th grade and 71 points in 7th grade and reading scores have increased 41 points in 8th grade and 51 points in 7th grade. Additionally, violent incidences have dropped 90% and attendance and retention are above 90%. Most importantly, Shoemaker is producing high school graduates with 100% acceptance rates into institutions of higher learning and over 83% of those students have officially transitioned into those programs.
Heather Sapelbweyar
Middle School Special Educator
I am a Special Educator in Philadelphia serving students whose needs vary from a daily high-five to get her day started on the right foot, to recreated lessons one-on-one so that he can better understand math concepts. Special education is about taking the time to KNOW each student for the PERSON they ARE, and committing to teach him or her in whatever way is best for them.
Aiesha Gary
Library Committee
n

Simon Gratz Staff
Secondary Education Teachers
Hello! We are a group of passionate educators in North Philadelphia, who want to instill a love of learning in our students through access to top technology, books, and opportunities!
Phillip Smith
Lead Case Manager
Lead Case Manager Simon Gratz
Kayann Chisholm
Administrator
My name is Kayann and I have worked with the Mastery Charter Schools since 2010. I have also been a Girl Scout Leader for over 30 years. I love working with children and will do whatever I can to make sure that every child has the tools to make it in this World. I am a Parelegal by Profession, but chose to work with the Parents and Children to help remove the barriers that the Urban Youth may encounter to gaining an education. I work closely with the District Attorney's office to find resources to help families in Crisis eliminate the barriers that would prohibit their children from attending school daily.
Lila Corgan
10th grade Literature teacher, QSA advisor
I began teaching in the 2006 Teach for America Baltimore Corps and fell in love our youth right away - as much as they drove me nuts at times, I remember telling my family, "Every single day, I belly laugh at least once." And ten years later I'm still laughing the creativity, humor, joy, and authenticity that our children and young adults offer. I moved from Baltimore to Philadelphia, to be with my now-husband, and although I missed Bmore's kids (shout out to Mount Royal Middle School!!) I've fallen in love with teaching in Philadelphia. Currently, I teach 10th grade Literature, after having spent nine years in the 7th grade. I'm loving the change, and especially the fact that I get to re-teach the kids I taught just a few years ago. It has taught me to respect and honor every child's potential; some kids that struggled immensely in the 7th grade are now positively thriving. I've haven't yet tried raising money for my students through investors, but I'm grateful for the opportunity to connect with folks who aren't in schools every day but still believe in and support our youth. Our children are not only the future- they are our present!
Amy Zeigler
I am a special education teacher working at Mastery Charter Smedley Elementary School located in the Frankford section of Philadelphia. I am collaborating with a colleague to create a functional life skills program to teach and practice in real time the following domains: reading, writing, math, social studies, art, music, and social skills. Over the past 2 months, our students created a restaurant, B Avenue Café, and successfully ran 2 openings for a self-contained classroom and for the school leadership team. Through the journey, they learned about restaurant hierarchy, their contact information, applying for a job, making decorations, writing a menu, calculating change, food safety/hygiene, confirming reservations, making no-bake bakery items, serving food, cleaning up, and calculating profits. My colleague and I have funded the project on our own, but would like to expand next year with a culminating visit to a restaurant.
Avril Takiff-Weiner
School Social Worker
My name is Avril Takiff-Weiner and I am a clinical social worker who has been working in urban education for several years. There is a famous quote that defines the reason why many of the staff here work with the students. "A hundred years from now it will not matter what my bank account was, the sort of house I lived in, or the kind of car I drove... but the world may be different because I was important in the life of a child." About 70% of the children at my school, Pastorius Mastery Charter School K-8, have experienced at least one or two traumatic events. Our school is working to become more trauma informed to help support the large percentage of kids who have experienced trauma. Research has shown that placing a "calming corner" in the classroom can provide a space for a student to de escalate in the moment and reintegrate themselves back into the learning environment. We are hoping to put a calming corner in every classroom to help these students who have extreme trauma responses, de escalate in the moment and then feel safe to rejoin the classroom. This pledge cents is to raise enough money to provide a safe space in the classroom for every student who needs a few minutes to calm down, as well as a sensory room to help the students who have extreme sensory needs have support and to be used as a therapeutic tool to help the children who need additional sensory support.
Jessica Petrillo
3rd Grade Teacher & Director of Extended Learning
I am a career changer who is passionate about teaching. I have been teaching in urban Philadelphia since I started teaching in 2012. I love what I do and the students that I do it for.
Justin King
Director of Enrichment
I serve as Director of Enrichment at Simon Gratz Mastery Charter High School in Philadelphia PA. We are working to build a vibrant and impactful Music and Art Program that provides students with opportunities to explore and develop skills that connect with their passion.

Chloe Brown
Lower School Special Education Case Manager at MC Shoemaker
Special Educator in Philadelphia, PA.

Megan Zor
Teacher
Education is one of the greatest civil rights issues of today, and I am committed to ensuring that my students develop their reading identity and accelerate their reading growth. I'm a reading specialist and have been teaching middle and high school students since 2004. I love young people and reading!

Gerald Dessus
Reading & Mindset Teacher Leader
A native of Philadelphia, Pennsylvania, Gerald Dessus has dedicated his career as an educator to serving historically under-represented youth in Philadelphia. After graduating from The Lincoln University with a Bachelor of Science degree in English Education, he began teaching at Alliance for Progress Charter School where he assisted in the development of a quality middle school experience for over 100 students. In 2013, he went on to serve as a founding middle school teacher at Francis D. Pastorius Mastery Charter School. Since joining Mastery, he has extended his role as an educator outside of the classroom by serving as a Writing Teacher Leader, Grade Team Leader, Cultural Context Facilitator, and a Summer Mentor Teacher for Teach for America. Now serving as a Social Justice teacher at Mastery Charter Schools – Shoemaker Campus, Gerald Dessus is committed to helping his students take action in their communities. In addition to teaching, Gerald has continued his academic studies at the University of Kansas - receiving a Master of Education degree in Curriculum and Teaching in Fall 2016.
Zachary Wright
12th Grade & AP Literature Teacher
I am a 9th year 12th grade English/AP Literature teach at Mastery Charter Schools in Philadelphia. I am constantly reflecting on my practices as a teacher with the goal of continuous improvement.
Michelle Price
Spanish Teacher
I teach Spanish II and III and have done so for the past ten years. My love for students and seeing them grow in language is what has sustained me in this profession.

Krystian-nicole Nuble
3rd Grade Teacher
I am a 3rd grade teacher in the inner city.

Michele Haughey
Director of Operations
My name is Michele Haughey and I am the Assistant Principal of Operations at Grover Cleveland Mastery Charter School which is located in North Philadelphia. Our school consists of 750 students from grades K-8. We are a public charter school that serves students who live in our neighborhood. I have held various roles in my 7 years at Cleveland which started with special education. In this current role I am able to support and make decisions that will provide our students with a word class education. I have created these fundraising pages based on needs I see throughout our building.Thank you for visiting our fundraising pages and we hope you can support our students at Grover Cleveland!

Lauren Irby
3rd grade teacher
My name is Lauren Irby. I have been a teacher with Mastery Charter Schools since 2012 in which I have served as a 1st and 3rd grade teacher. Prior to Mastery, I worked in Special education and am dual certified as an Elementary and Special Education Teacher. In 2015, I received my Reading Specialist Certification and am gearing towards graduation from Neumann University with a Masters in Education, Principal Certification and Autism Endorsement. I take much pride in being an advocate for our youth and helping build their mindset to be the future leaders I know one day they will be.

Jared Moskowitz
Music / Performing Arts Teacher
Music and Performing arts instructor at MCSC

Shemi Edwards
Science Teacher
I am a 3rd and 4th grade science teacher who believe that hands on interaction with the lesson is the best way for students to learn!
Susan Lapacinski
6th Grade Teacher
I have been teach for over 10 years, all in the city of Philadelphia- where I have lived all of my life. I love my city and everything it has to offer. I am a mother to 3, in addition to my students. I enjoy reading, Disney World, and anything that gets you out of the house.

shavon jordan
4-5 Emotional Support Teacher
I teach at Mastery Charter Douglass Campus.My classroom is home to the 4-5 Emotional Support Anchor program, some amazingly resilient children.
Kenneth Watson
4th grade math teacher
I am a 4th grade math teacher in a Title 1 Elementary School in Philadelphia where all students receive free breakfast and lunch. I retired from the Army in 2003 and received my BA in Education from Temple University. I have been teaching for 11 years.
Jessica McCreary
APSC
Love serving children and families through education. Knowledge is Power!
Carrie Stoltzfus
Transition Coordinator
I am the transition coordinator a high school in North Philadelphia. My job is to ensure that all students who receive special education services are prepared for their post-secondary lives!
Tonya Howard
Assistant Principal of Instruction
This is my first year as Assistant Principal of Instruction at Mastery Charter Schools of Camden), (Cramer Hill Upper Elementary campus). Also, our building is a brand new construction that just opened up in August of 2017! We serve over 700 students from the city of Camden, and love what we do!
Danielle Swiggett
3rd Grade Teacher,Bully Prevention Coordinator
I'm a third grade teacher and Bully Prevention Coordinator at Mastery Charter-Harrity Elementary School.
Katie Lushi
3rd and 4th Grade Writing Teacher
I am a 3rd and 4th grade writing teacher at Pastorius Elementary School.
Kendell Coleman
Assistant Principal of School Culture
Hello, My name is Kendell Coleman and I am the assistant principal of school culture at Hardy Williams High School in Philadelphia PA. Our mission here is to ensure that all student will learn the academic and social skills they need to be truly prepared for postsecondary success and able to pursue their dream.
Nikki Thiemann
High School Math and Engineering teacher
I am a high school math and engineering teacher. I love to design and build things and enjoy fostering the same passion in my students!
Christen Sanderson
Art Teacher
I am an art teacher at Mastery Charter-Thomas Campus in South Philadelphia. It is my goal to provide the best art education that is possible to my students.
James Vonholtz
Reading Teacher
Thank you for taking time to read my post. I work at Smedley Elementary School. In 2010, Mastery took over Smedley, which was formally known as the most dangerous elementary school in the state. As a founding Smedley teacher this is my 8th year teaching at our school. I began as a K-6 music teacher and eventually transitioned to teaching reading in third grade and now fourth grade. I am incredibly passionate about closing the achievement gap and supporting a love of reading within my students. I am also eager to develop a classroom environment that supports varying learning styles and interests.

Lauren Kleinz
Asst. Director of Low Incidence
I am the Assistant Director of Low Incidence. I support our network schools Life Skills, Multiple Disability and Autistic Support programs. We work to provide strong curriculum that develops well rounded and contributing members of society. We integrate social skills, self- help, vocational/ pre-vocational, functional academics, daily living, self advocacy and internship experiences for all students with higher needs.

DeShanti' Jones
Teacher
I am excited to be a part of the TFA family and join the movement to solve education inequity in this country and provide all students with a quality education. I'm fortunate enough to be selected from a nationwide talent applicant pool to join a teacher corps comprised of leaders who commit a minimum of two years to teach in high need public schools. This summer I will be participating in an intensive skill and knowledge development program aiming to increase student achievement as well as a comprehensive professional development program including seminars, discussion groups, workshops, and content and professional learning communities specific to teaching license areas. I can't wait for my first year with Teach for America.

Nick Hunter
Counselor, Coach
I'm a certified strength & conditioning specialist building a school/community rugby project in North Philadelphia. Rugby took me around the world and changed my life, and I love to teach and promote the best version of the game to our kids so they can build their own club and their own sporting community.

Samantha Solomon
11th Grade Low-Incidence Special Education Teacher
I am the 11th grade Low-Incidence Special Education Teacher at Mastery High School of Camden. I am entering my third year of teaching and recently graduated as top of my class from the Urban Teacher Residency Master's program at the University of Pennsylvania.
Callan Sturgis
Biology Teacher
As a 10th grade biology teacher and grade level lead in West Philadelphia, it is my honor and privilege to provide experiences that enrich and empower my students, our future. Thank you for considering to join me on this journey!

Veronica Williams
Assistant Director of ESL
Director of ESL Programming at Mastery Charter Thomas Elementary School in Philadelphia, PA.

Josh Bargiband
Teacher
Hello! I am a high school Geometry teacher at Mastery Charter School - Shoemaker Campus in West Philadelphia. I have been here for 6 years now and strive to be a better teacher every day. Geometry lends itself to some of the most hands-on learning opportunities in all of the high school math curriculum. My goal is to create one major hands-on project for each of the four report periods and with your help, this will be number three! So far we have created and used clinometers to study trigonometry; we have also built multi-sided picture frames to study regular polygons; and now we would like to study the geometry of bridges. I have implemented this bridge project in the past, but unfortunately we do not have enough funding anymore :( My students study various bridge structures in the classroom, go on a field trip to see the different structures in person to learn how they hold a load, and ultimately build their own bridges to compete in a competition! We are in need of funding for busses and building materials. The students I teach come from very low income backgrounds, so we try our hardest to not pass along costs to them. We need your help!
Tianna Kilgore
tianna.kilgore@masterycharter.org
My name is Tianna Kilgore. I am currently a school administrator at an elementary school in Camden.

Vincent Garrett
vincent.garrett@masterycharter.org
Well I'm known by many as Mr.G, Mr.Garrett, or G. At the beginning of 2017 in the classroom, I remember assigning two of my black male students lunch detention to have a conversation about their missing homework. I saw myself in these two young men and was frustrated that they were so talented yet so unfocused on their studies. Throughout the conversation, I reminded them how talented they were and that the opportunities in life would be endless if they continuously strive for excellence. One of those students told me at the end of the year that that conversation let him know that I was someone who had his best interests in mind and that he wanted to make me proud. That moment lead to the start of "Mentor Leaders Produce Mentor Leaders" a nonprofit organization that provides mentoring programs for middle and high school young men in the Philadelphia area. Mentor Leaders goal is to foster a commitment to young people that will promote pro-social friendships, strong interpersonal skills, and reassert a sense of hope in the future. Mentor Leaders produce Mentor Leaders will focus primarily on middle school youths. It is projected that within three years, 50% of the system's students will be in middle school. This age group is particularly problematic and a perfect time for mentoring to be effective. Mentor Leaders Produce Mentor Leaders mentoring programs will pair a youth with mentor for 10 months. During that time the two will participate in weekly planned activities to strengthen the relationship between the two and improve the young person's confidence and hopefulness. NEXT LEVEL....."Mentors Leaders Produce Mentor Leaders" and "All the Kings Men" joined forces to create "KINGS UNIVERSITY" We are gearing up to launch an 8-week leadership academy program that will engage 40 young men across the city and we need your help to make it happen. We are soliciting sponsorship for boys ($200/boy) in order to accomplish our goal of funding the project. Sponsorship grants them uniforms shirts/blazer, program supplies and food (snacks/lunch).  With your support, we can guarantee successful programming for every boy who participates.
Charmaine Giles
Principal
Charmaine Giles is proud to serve as Principal of McGraw Elementary in Camden, NJ. Camden has become her home away from home, and she cherishes each and every moment she shares with McGraw students, families, staff, and the surrounding community. As an avid reader, Mrs. Giles has a passion for learning and loves sharing that love with her students. While quarantined, her goal is to read at least one book a week. With your contribution, McGraw students can also embark on a similar reading journey! Please follow us on instagram @mastery_mcgraw or on facebook @masterymcgraw

Evangeline Berube
Family and Community Engagement Liaison
I'm a special education program director at Simon Gratz Mastery Charter High School.
Erica Smith
Assistant Principal of Specialized Services
Mastery Charter John Wister Elementary is a K-5 school in the Germantown section of Philadelphia, PA.
Jen Lee
Teacher
Hi! My name is Jennifer Lee and I teach some of the best 3rd graders in Philadelphia. Thank you so much for being here and considering funding this mini project!

Jennifer Falcone
When in doubt, we cheer our hearts out!
I am a teacher by day, cheerleading coach by night. I live in Philadelphia, and have been working with my school in urban Philadelphia for 7 years. I am passionate about giving my students every tool to succeed, especially through extra-curricular and afterschool activities. It feels great to make them included in something bigger.
Alexandra Schreiber
Social Work Intern
School Social Work Intern at John Wister Elementary
Saroya Royster
Dean of Student & Community Support
Educator.
Brynn Dixon
Assistant Principal of Specialized Services
At John Wister Elementary we are passionate about equity in education. All students deserve to have everything that they need to succeed in pursuit of their dreams. We are fighting alongside students and families to make this vision a reality in the Germantown community of North Philadelphia.
Chanelle Baylor
Assistant Principal of Operations
We are Mastery Charter Thomas High School - a school in South Philadelphia that serves students in grades 7-12.

Katarina Akridge
Spanish Teacher
¡Hola! My name is Profe Akridge and I teach high school Spanish 1 at Mastery Charter Pickett Campus, a Title 1 school in Philadelphia, PA. I am passionate about educational equity and aim to provide as many opportunities for my students as possible.