Chromebooks Are The Future

Verified Non-Profit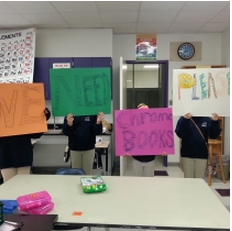 The Description
 Most of my students come from households where either they don't have access to computers, or are limited in their computer literacy.
As a seventh grader, it is usually my students' early attempt at using computers to do Internet-based classroom projects and increase their familiarity of the modern day tool. I teach in an urban Title I school in the state of Texas, which means most of my students are below the poverty line. Normally they don't have access to computers at home or very limited access at best. I have 150 students who need to learn how to use the modern day technology to bring them up to date with the outside world.
My Project: My students will really benefit from having 2 Chromebooks in the classroom. They will use the Chromebooks to do their Internet searches, use Web 2.0 tools, access Google docs to learn their projects, submit the completed ones, share and collaborate with fellow students or the teacher, and more importantly, get them to familiarize with the tools of today and tomorrow. They will be more skilled and prepared to take the challenges of high school and college, and the future workforce in the nation.
 The students will be better equipped to use computers for their projects involving Internet-based research. They will learn how to share and collaborate with one another in a small group/team environment, which will enhance their learning and sharing skills. This will prepare them for the work environment of the future, whether it is high school, college or work place. It is both the technical and social skills that are required of students to excel now as well as in the future.
http://www.amazon.com/ASUS-Chromebook-12-Inch-Gigabit-Storage/dp/B00KD5RUN2/ref=sr_1_1?s=pc&ie=UTF8&qid=1431442890&sr=1-1&keywords=chromebooks.
Back Up Plan
If I do not meet my goal I will purchase... only 1 chromebook instead of 2 chromebooks.
Fundraiser Updates (1)
Chromebooks Are The Future
May 12, 2015
Chromebooks Are The Future
About the Creator
I am a 7th grade Science teacher in a Title I public school in Houston.
Investments (8)
$50
Dena J Shugart
6 years ago
$100
Schacht McCollum
7 years ago
$20
Farkhunda Azeem
7 years ago
$86
Farkhunda Azeem
7 years ago
$100
Rachel Barnes
7 years ago