No One Wants to Hitchhike in Dress Clothes

Verified Non-Profit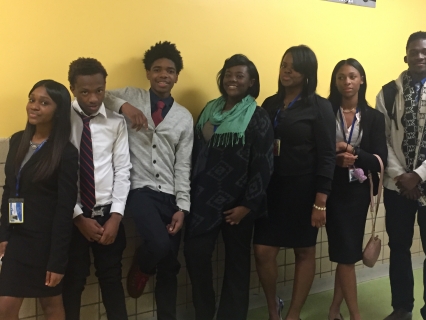 The Description
My students need tokens to travel to and from their internships.
My Students
Most of the skills that I use at work weren't taught in a classroom. The bulk of learning occurs through real life experience, on the job training or trial and error. As educators, it is imperative to create authentic opportunities for our kids.
Currently, our sophomores have internship placements all over the city.
One hundred and twenty teenagers leave our building every Wednesday and head to universities, law offices, hotels, science labs, restaurants, after school programs, architecture firms, day cares and even City Hall. They have the chance to develop real life work skills in real life work environments. They sit in on planning meetings, write memos, participate in interviews, assist with customers, devise schedules, write thousands of e-mails and make even more copies. They have the opportunity to see life outside of their community. These sophomores put the skills that we teach in the classroom to use at their internships. It doesn't stop there. Through these internships, doors will be opened. They will make connections for potential summer jobs, pad their work resumes and make themselves stand out among their peers in college applications
My Project
All this will happen unless, that is, they can't get there. Our school district is hundreds of millions of dollars in debt. We are struggling to find the money in our budget to transport our kids to internships set up all throughout the city. The distance from our school to downtown, where many of these apprenticeships are located is almost seven miles. With transfers and some students needing up to 6 tokens to make it round trip, our token budget starts to add up. Frankly, we don't have enough money in our budget to pay for all of our students to get to internships. My students need 500 tokens to make it to and from their internships.
Your support is essential.
Without it, our kids will miss out on genuine learning and job opportunities. Your donation could literally allow our sophomores to go places they would otherwise never go. The internships are set up. The kids are ready to work. All they need is a ride.
Back Up Plan
If I do not meet my goal, the money received will be used to purchase as many tokens as I can for my students.
No Updates
About the Creator
Internship Coordinator at Mastery Charter School Shoemaker Campus.
Investments (34)
$26
Jenna Connell
4 years ago
$10
Alison Celello
4 years ago
$15
Tracy Thorpe Scott
4 years ago
$5
Luana Goncalves
5 years ago
$21
Alexandria Moser
5 years ago
$10
Kelly McDevitt
5 years ago
$26
Stephanie Stroman
5 years ago
$31
Claudia L Stringham
5 years ago
$103
Kimberlee R Molineax
5 years ago
$10
Julie M Pacaro
5 years ago
$26
Kelly and Dan Callahan
5 years ago
$26
Abigail Rocktashel
5 years ago
$25
Rose Dickerson
5 years ago