Support 6th Grade Movers & Shakers

Verified Non-Profit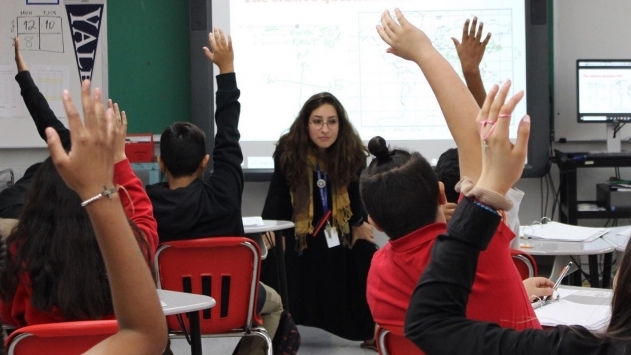 The Description
2020 has been a whirlwind.
It has made us realize the importance of education, while also exposing the inherent inequities of our broken system. Now, more than ever, it's crucial for our students to have the resources for a strong, safe, and challenging learning environment.

It is my honor to be teaching 6th grade social studies at the Tulsa School of Arts and Sciences (TSAS) this year. We will be learning about ourselves, our community, and our world through an activism and social justice lens. I am more energized than ever for the new school year.
Considering what I've needed in past years, I have budgeted that it will take about $600 for the whole school year (besides special projects that may arise), so the closest we can get to that number the better.

As always, I appreciate any and all support! I look forward to sharing the year with you.
Much love,

Ms. Barros
If we reach our goal I will purchase...
Binder dividers
Notebooks
Boxes of pencils
Electric pencil sharpeners
Desk labels with accountable talk move sentence stems
Cleaning supplies
Class set of books
Back Up Plan
If we do not reach our goal I will prioritize...
Notebooks
Cleaning supplies
Pencils
No Updates
About the Creator
I am so lucky and privileged to say that I've had incredible educational role models in my family. Both of my parents attended university in Brazil, and brought my siblings and I to the United States in order to give us every opportunity to achieve our dreams through great schools. Because of this, I deeply believe that education is the key to fulfillment and success. But historically this American Dream hasn't been accessible to all people. There are systems in place that restrict access to appropriate education for entire groups of people, and these gatekeeping systems are rooted in the very beginnings of this country.

Because of this, I am so grateful for the values instilled in me by my parents and family to fight for equitable opportunity and access. I, like they, am grateful for my education, recognize my privilege to be where I am now, and am humbled by our story and our beginnings. Following my graduation from Yale in May, I joined Teach For America in the fight for equitable education for ALL children. This fall, I will be joining East Central Junior High in Tulsa, OK, teaching 7th grade Geography to hundreds of brilliant and capable students who just need that one teacher to remind them, "yes you can — échale ganas." I hope to leverage my experience to encourage and empower my students of mostly marginalized identities and backgrounds so that they, too, can write their own stories and continue to change the system that limits our collective progress.
Investments (14)
$15
Evelyn Fleider
2 months ago
$50
Claudia Pape
2 months ago
$15
1171 24th St
2 months ago
$50
Karl Marback
2 months ago
$50
Gabrielle Roberts
2 months ago
$25
Rachel Klein
2 months ago
$20
Khazia De Los Santos
2 months ago
$50
Miles Woodhull
2 months ago
$15
Matthew Stock
2 months ago
$50
David M Tramonte
2 months ago
$25
Ashley Anderson
2 months ago