About
East Central Junior High provides a unique experience for its students. From rigorous academics and competitive athletics to special interest clubs and community service, ECJH is determined to create lifelong learners on a path of success.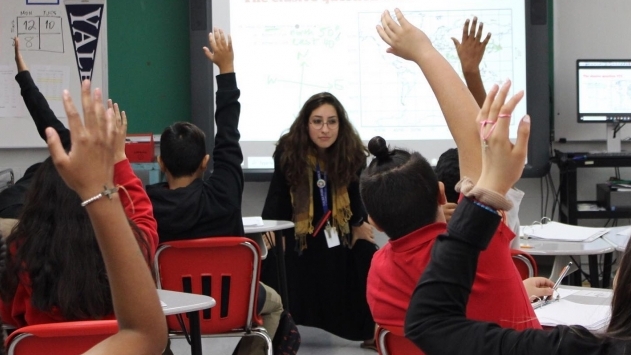 Ana Barros
7th and 8th grade teacher
I am so lucky and privileged to say that I've had incredible educational role models in my family. Both of my parents attended university in Brazil, and brought my siblings and I to the United States in order to give us every opportunity to achieve our dreams through great schools. Because of this, I deeply believe that education is the key to fulfillment and success. But historically this American Dream hasn't been accessible to all people. There are systems in place that restrict access to appropriate education for entire groups of people, and these gatekeeping systems are rooted in the very beginnings of this country. Because of this, I am so grateful for the values instilled in me by my parents and family to fight for equitable opportunity and access. I, like they, am grateful for my education, recognize my privilege to be where I am now, and am humbled by our story and our beginnings. Following my graduation from Yale in May, I joined Teach For America in the fight for equitable education for ALL children. This fall, I will be joining East Central Junior High in Tulsa, OK, teaching 7th grade Geography to hundreds of brilliant and capable students who just need that one teacher to remind them, "yes you can — échale ganas." I hope to leverage my experience to encourage and empower my students of mostly marginalized identities and backgrounds so that they, too, can write their own stories and continue to change the system that limits our collective progress.