Katy ISD Food for Families

Verified Non-Profit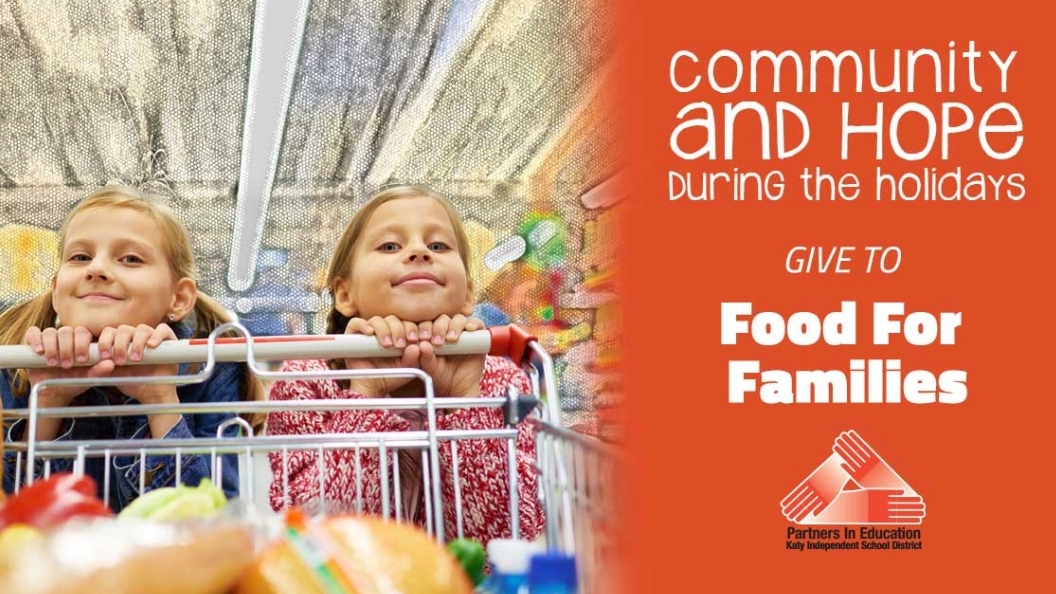 The Description
Through Food for Families, our community's support of Katy ISD students transcends the classroom and related academic performance, extending to their family's health hope and security encouragement during the holidays.
Katy ISD campuses identify students for the program and Partners in Education collects individual and corporate donations. Grocery gift cards valued at $50, along with a note of support from the Katy ISD community, are then delivered to each student by a campus staff member.
What started as a simple concept has since grown to a successful community campaign that has donated nearly $200,000 to over 4,000 families in the past 15 years. Such is the character of our community: combining the individual contributions of many to help others - one Katy ISD family at a time.
Back Up Plan
If we do not reach our goal...we will use however much is raised to purchase gift cards for our families.
No Updates
About the Creator

Leading this initiative with Katy ISD Partners in Education is one of my most valued roles.
Investments (377)
$10
Victor Graziani
2 years ago
$25
Kathlee Paulson
2 years ago
$25
Olimpia Olaiz
2 years ago
$90
Matthew & Maria Romero
2 years ago
$50
Katherine Warms
2 years ago
$25
MIGUEL BRIGANTE
2 years ago
$25
Luciano fORTES
2 years ago
$50
Caroline Wentzler
2 years ago
$50
Jennifer Courts
2 years ago
$25
Catherine C Bisby
2 years ago
$50
MICHELLE POWERS
2 years ago
$50
Crystal Clark
2 years ago
$20
Ronnetta Fagan Scott
2 years ago
$100
J. Ryan Jones
2 years ago
$100
Karen Wiebelhaus
2 years ago
$100
Kolliyil Kumar
2 years ago
$25
Kathryn James
2 years ago
$10
Meimei Schuyler
2 years ago
$110
Janos E Janossy
2 years ago
$25
Veronica Williams
2 years ago
$25
Marianne Walker
2 years ago
$50
Darlene Rankin
2 years ago
$50
Lisa Schoenemann
2 years ago
$100
Efstathios N Rigatos
2 years ago
$20
Adriana Gonzalez
2 years ago
$25
Savitri Savitri
2 years ago
$100
Aderson Santos
2 years ago
$50
Cara S. Riccetti
2 years ago
$50
sherry D Thompson
2 years ago
$100
Mandy L Harris
2 years ago
$100
Sreedhar Mallu
2 years ago
$25
Walter Sansom
2 years ago
$91
Natalie Sandberg
2 years ago
$10
Lisa Minjares
2 years ago
$50
Jessica K Scheele
2 years ago
$50
Kim Guillaume
2 years ago
$100
Brian Tuccillo
2 years ago
$100
Chris Crockett
2 years ago
$25
Livingston Variganji
2 years ago
$25
Albena Mateeva
2 years ago
$50
LAN ANH THI NHAN
2 years ago
$10
Denise Markota
2 years ago
$100
Ribu Matthews
2 years ago
$50
Matthew Playford
2 years ago
$1,000
D Landon Weiler
2 years ago
$50
Melba Swapana
2 years ago
$25
Holly Crocker
2 years ago
$50
Christina Sutherland
2 years ago
$50
Shaundra Kiser
2 years ago
$100
Jennifer Lasida
2 years ago
$50
Gary Galloway
2 years ago
$25
Blythe Johnson
2 years ago
$200
Saurabh Choudhary
2 years ago
$20
Miguel Vargas
2 years ago
$50
Lawrence Nguyen
2 years ago
$5
Shadearia Colvin
2 years ago
$50
Sreedhar Muthuramalingam
2 years ago
$10
Emi Kohayakawa
2 years ago
$10
DENICE ZABOROSKI
2 years ago
$20
Christine Clark
2 years ago
$200
Frederico Pereira
2 years ago
$50
Hussein Aldhaaeemah
2 years ago
$50
Christy Willhite
2 years ago
$25
Cecilia Ladron de Guevara
2 years ago
$15
Ana Gimenez Viloria
2 years ago
$50
Robert H McAuliffe
2 years ago
$50
Yamitha Sequeira
2 years ago
$50
Lindsey sauvageau
2 years ago
$100
Criss Scruggs
2 years ago
$25
Heather L. Davila
2 years ago
$100
Michelle Pittenger
2 years ago
$20
Rachell M Gautz
2 years ago
$50
Michelle Cordle
2 years ago
$50
Feroze Family
2 years ago
$50
Christian Rom
2 years ago
$50
Robbin Antono
2 years ago
$20
Astra s Jenkins
2 years ago
$5
Melissa Froehlich
2 years ago
$50
Suzanne David
2 years ago
$10
Luciano fORTES
2 years ago
$25
Laura Mueller
3 years ago
$100
Darren and Cris Bowden
3 years ago
$50
Kristen A Coleman
3 years ago
$100
Heather Sanders
3 years ago
$200
Rip and Tammy Stringer
3 years ago
$25
Connie Weaver
3 years ago
$100
Eileen Pavlovich
3 years ago
$50
Stephanie Manko
3 years ago
$200
Jan Whitehead
3 years ago
$25
joselyn perez
3 years ago
$100
Jennifer Anderson
3 years ago
$100
Wendy Borchert
3 years ago
$50
Aleksandra Siggers
3 years ago
$50
Kecia Noelle Anderson
3 years ago
$50
Wendy Crawford
3 years ago
$100
Chris Crockett
3 years ago
$25
Janice M Romero
3 years ago
$50
Rebecca Rae Day
3 years ago
$100
Andrea Altemus
3 years ago
$50
Jennifer Finger
3 years ago
$50
Christopher Price
3 years ago
$25
Maria zambrano
3 years ago
$100
Airchek A/C & Heating
3 years ago
$150
Leanne Raterman
3 years ago
$100
Pilar G. Sampson
3 years ago
$100
EMG Electric Llc
3 years ago
$25
Jennifer Lettow
3 years ago
$250
Gina Teafatiller
3 years ago
$50
Suzanne B Birkholz
3 years ago
$25
Erica A Dickson
3 years ago
$50
Venkata Lanka
3 years ago
$100
Bryan, Vicki and Skylar Wiggins
3 years ago
$50
Jimmy Griffin
3 years ago
$100
Mark & Brenda Shaver
3 years ago
$50
Stephanie L Sears
3 years ago
$100
Kindra and Kevin Ota
3 years ago
$10
Sabaina Bukhari
3 years ago
$25
Denise Tobolka
3 years ago
$30
Kristen Coles
3 years ago
$50
Curtis G Sager
3 years ago
$500
Steven Predmore
3 years ago
$100
Chris Crockett
3 years ago
$50
Srilakshmi Yalamanchili
3 years ago
$25
Amy Bomar-Hart
3 years ago
$500
Elizabeth Hebert
3 years ago
$25
Wendy E. Pierson
3 years ago
$250
Catherine Schleimer
3 years ago
$100
Courtney Diezi
3 years ago
$25
Tony Sesayyan
3 years ago
$100
SARAH BROUSSARD
3 years ago
$25
Felici Tadlock
3 years ago
$50
Ricardo Vilalta
3 years ago
$20
Jennifer Simoneaux
3 years ago
$50
Frances McTigrit
3 years ago
$25
Katrina Harwell
3 years ago
$50
Jose Gilarranz
3 years ago
$100
Laura Beth jackson
3 years ago
$100
Tonya Binkley
3 years ago
$100
Catherine Lusby
3 years ago
$100
Charles Weidig
3 years ago
$100
Kenneth W. Janda
3 years ago
$25
Juan M Holmquist
3 years ago
$50
Christin Newell
3 years ago
$100
John and Annette Parnell
3 years ago
$100
Derek Hemperley
3 years ago
$25
Linda Fairchild
3 years ago
$50
Gina J. Scherwitz
3 years ago
$120
Steven Elliott
3 years ago
$50
Jennifer Seckinger
3 years ago
$100
Amanda L Verell
3 years ago
$50
Candice Vieira
3 years ago
$30
Dana Hurowitz
3 years ago
$200
Karen Counter
3 years ago
$50
Mandy L Harris
3 years ago
$25
Nolan Robinson
3 years ago
$10
Amanda Gunter
3 years ago
$200
ANDREW GARNETT
3 years ago
$25
Christopher E Colman
3 years ago
$25
Hamilton Loomis
3 years ago
$25
Elizabeth Hoover
3 years ago