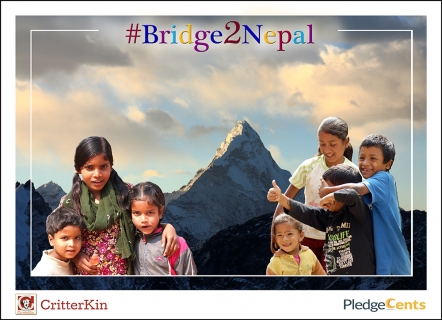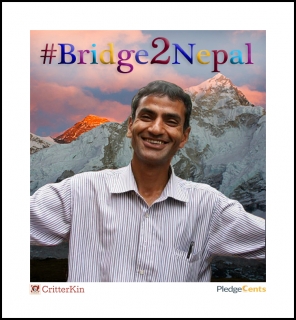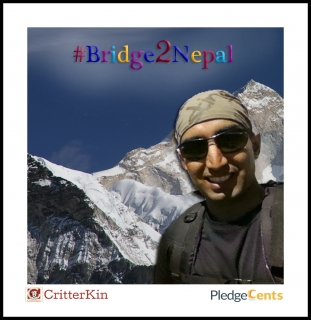 The Description
Watch "Bridge2Nepal" on TouchCast here for an interactive experience.
Help CritterKin and PledgeCents Rebuild Nepali Schools One Brick at a Time
When the devastating 7.8 earthquake hit Nepal on April 25, 2015, it did more than kill and injure. It destroyed or badly damaged more than 5,000 of the country's schools, and left more than 1.7 million children in need of assistance.
This means that in addition to worrying about how to bring basic supplies and medical aid to earthquake survivors, educators are also faced with the daunting prospect of having to rebuild the school system. Failure to do so could have serious, long-term effects on the children's futures and Nepal's economy.
This is why CritterKin and PledgeCents are working hand in hand with two of Nepal's leading connected educators - Sunny Thakral and Govinda Panthy - to create a crowdfunding effort that will directly benefit their students and schools.
The money we raise will be used to not only rebuild the walls of the schools, brick-by-brick, but to provide basic supplies like desks, paper and writing utensils. In addition, we will be using this campaign to build stronger ties with and to our global community of educators.
Make your contribution today and you will have your name added to our contributors' wall and will automatically receive email updates as we post the latest news on the rebuilding efforts, stories and photos from Sunny, Govinda and their students, and letters and videos of support being sent by other educators.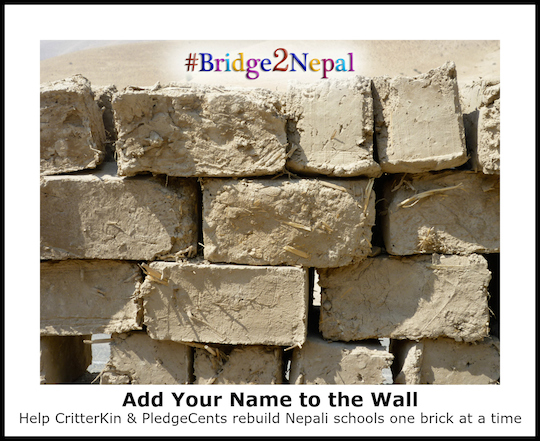 We have set a very modest goal of $1,000, but we are hoping to quickly reach and exceed that goal so we can continue to be part of their ongoing efforts to not only rebuild but enhance and expand their education resources as well.
Please share links to any letters, photos or videos you and your students are creating to send to Nepal so we can share and help spread the word across our global community.
Back Up Plan
All the money raised will be used to support the schools in Nepal. The more we raise, the more support we will be able to provide. 
About the Creator
CritterKin and PledgeCents are teaming up to support global educators!

At the simplest level CritterKin is a series of children's books written and illustrated by Jena Ball. the books are designed to teach children that animals (critters) are family (kin). Fundamental to the CritterKin mission is the belief that emotional education is as important as any intellectual skills we can teach. Children need opportunities to experience and practice empathy, compassion and respect in order to develop into caring, responsible adults.

PledgeCents is the crowdfunding platform working to expand opportunities for teachers and students and bringing a voice to classrooms around the country and world.
Investments (13)
$50
Kevin Honeycutt
8 years ago
$25
Jonathan Keltz
8 years ago
$92
Anne Marie Glawe
8 years ago
$185
The Phoenix School
8 years ago
$50
Ian S Caldwell
8 years ago
$20
George C. Kemper
8 years ago
$50
Toni Olivieri-Barton
8 years ago
$25
Cheryl Kemper
8 years ago
$10
Ester R Pedigo
8 years ago