5th Grade Class 2016 T-Shirts

Verified Non-Profit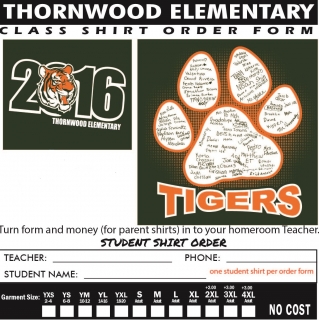 The Description
With these funds I will buy 5th grade end of the year Class T-Shirts. Every year our 5th graders are given a Class T-Shirt with all the 5th graders signatures as a gift for all their hard work and effort during the school year. Our students look forward to receiving this T-Shirt as it's been a tradition and they have heard about it from other students and we don't want to disappoint them by not providing them with it. T-Shirts have been a donation in years past but this year the company wasn't able to provide them due to financial difficulties. The cost per T-shirt is approximately $10.00 each and would like to purchase 1 for each graduating student.
Back Up Plan
If I do not meet my goal we will have to ask each of our students to cover the cost of the T-Shirt, being a Title 1 school our parents usually can't afford the cost of extra items.
Fundraiser Updates (1)
5th Grade T-Shirts
May 23, 2016
Thank you to everyone that helped meet our needs. Our 5th graders are so blessed to have such an amazing community to help them out and they will be so excited to receive them next week. The extra funds will be used to fund the celebration treats, we will be able to purchase 3 cakes one for each 5th grade class, along with drinks, utensils, and decorations. We know thank you is not enough but Thank you all again so much!!! I will make sure to post pictures to show what your generosity has done for our school.
About the Creator
Administrative Assistant at Thornwood Elementary. I want to be able to help provide our students with items needed for school events since we don't have a PTA.
Investments (14)
$100
Jennifer Cartwright
6 years ago
$21
Maria Rinehart
6 years ago