Creekview High School Chevals

Verified Non-Profit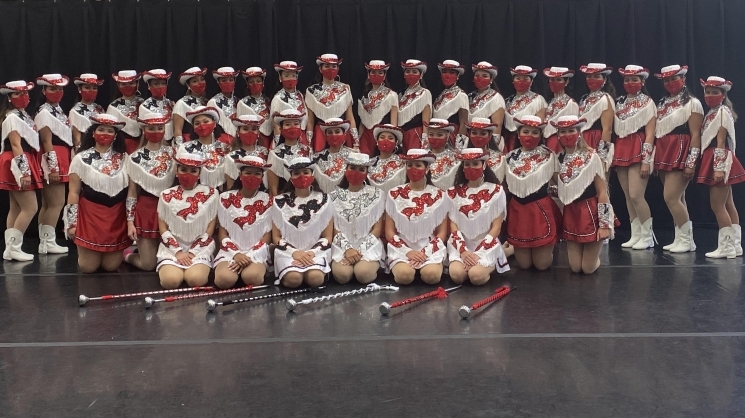 The Description
With these funds we pledge to use them for competition fees, costumes, new field sign, Cheval equipment, productions, and everything we need for the year. The extra funds will be saved for the preparation of our 25th Cheval anniversary next school year.
Back Up Plan
If we do not reach our goal we will pay for the items and events most needed to allow students the opportunity to engage and interact with everyone around them regardless of the challenges they may encounter.
No Updates
About the Creator

The Creekview Chevals Drill Team program's mission is to promote school and community spirit by supporting athletic and academic functions and other events as approved by the Director and Administration; to instill the qualities of leadership, scholarship, sportsmanship, citizenship, and self-discipline, while maintaining a high sense of responsibility and moral character when working with others; to develop and maintain a high level of precision dance.

Investments (139)
$25
Enriqueta Young Burn
12 hours ago
$20
Julia Gonzales
15 hours ago
$46
Tarrynce Robinson
1 day ago
$100
Courtni Hitzeman
1 day ago
$10
Amy Ruppersberg
1 day ago
$100
Philippe Etienne
1 day ago
$50
Maria and Juvenal Padron
1 day ago
$10
Sofia Rodriguez
1 day ago
$15
Christian Lofton
1 day ago
$20
Sammy & Emmy We r Cheering For You!
2 days ago
$25
Heather Sawicki
2 days ago
$30
Francisco Rocha
2 days ago
$100
Shirley Harris
2 days ago
$20
Melissa Reyes (Elle Pham)
2 days ago
$25
Janeth Alvarez
2 days ago
$50
Nelli & Victor Rodriguez
2 days ago
$280
Leslie Mitchell
2 days ago
$100
Mariella Naugher
2 days ago
$50
Trista Anderson
2 days ago
$20
Eleonor Nelson
2 days ago
$10
Frida Aguilera
2 days ago
$100
Libby Melendez
3 days ago
$20
Isabella Moncada
3 days ago
$20
Christina Thompson
3 days ago
$20
Adina Thompson
4 days ago
$25
Katherine Brown
5 days ago
$20
Allison & Cesar Lopez
5 days ago
$200
Pauline Guerra
6 days ago
$10
Brian Anderson
6 days ago
$20
Alejandra Tristan Lopez
1 week ago
$25
Stephenie Lynde
1 week ago
$20
Diane Faulkner
1 week ago
$40
Darnell & Natasha (For Tamia)
1 week ago
$20
Veronica Lopez
1 week ago
$50
Chris & Richard Sanders
1 week ago
$20
Myriam Thompson
1 week ago
$50
Rocio and Armando ALCARAZ
1 week ago
$15
Clarissa Arellano
1 week ago
$40
Yolanda McCormick
1 week ago
$60
Allison & Cesar Lopez
1 week ago
$100
Bernadette & David Rodriguez
1 week ago
$20
BETTY (go Tamia we love you) Brew
1 week ago
$20
ERIN (We love you Tamia) Klawiter
1 week ago
$40
Wilma (Tamia's Grandma) Edward
1 week ago
$20
Tamirra Dewitt
1 week ago
$40
Kimberly White
1 week ago
$25
Camila Vasquez
1 week ago
$20
Maritza Abonza
1 week ago
$20
Lindsay Neybert
1 week ago
$25
Mary Lou Corona
1 week ago
$100
Suzanne McKown
1 week ago
$20
Presleigh Parker
1 week ago
$20
Tamirra Dewitt
1 week ago
$10
Cathyzia Jones
1 week ago
$25
Zeydi Rodriguez
1 week ago
$25
Alyssa Bradford
1 week ago
$500
Brighton Butler
2 weeks ago
$20
Kerstin Brandemuhl
2 weeks ago
$25
Patricia DeMarco
2 weeks ago
$100
Karla Hardaway
2 weeks ago