Sit, Relax, Read, Grow

Verified Non-Profit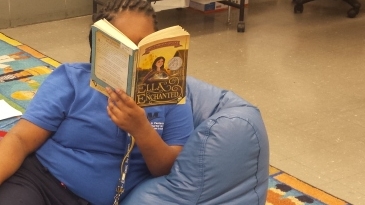 The Description
I would like to purchase small, travel work stations for my students. This would allow them to travel around the room when needed, and even work in groups with ease. The desks would also give students that independent space they sometimes need, and not lose an ounce of instructional time. I would also like to increase the amount of comfortable spots for working inside of my classroom. I would like for students to be able to complete their assignment in a beach bag chair, or wobble chair, or even on a floor cushion. Again, it gives students a little more comfort and freedom inside of the classroom, and takes the rigidness away- allowing for more of a "positive" vibe from all.
These materials will allow students the ability to have a comfortable reading and learning environment. Many of my students enjoy their own personal space during reading, listening, and working time. If these items were in my classroom many students would be able to do all of their work in their own little "personal bubble"
I can see my students taking one of the big pillows and finding a corner in the room to work on their portfolio prompt. I can see another student take a chair, plop it under my desk and dive into their favorite book during independent reading.
These items make the classroom feel like something my students only see on TV- it CAN be their classroom- and with your help it will be
Back Up Plan
If we do not reach our goal I will purchase as many of the materials as I can. Increasing the amount of chairs, pillows, independent spaces in the classroom- even one at a time can have an impact on the success of a student.
No Updates
About the Creator
I have been teach for over 10 years, all in the city of Philadelphia- where I have lived all of my life. I love my city and everything it has to offer. I am a mother to 3, in addition to my students. I enjoy reading, Disney World, and anything that gets you out of the house.
Investments (0)
This Fundraiser Has Ended