Senior Trip to Visit Three Louisiana Universities that have strong French programs.

Verified Non-Profit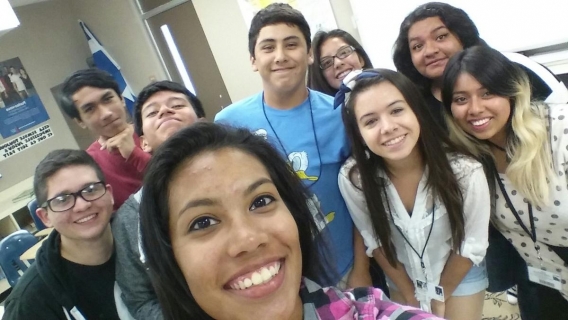 The Description
With these funds I will create a trip, to take place over spring break 2015 (March 14-21) to show our students, many of whom are underprivileged, three universities, as well as a number of French and Cajun historical and cultural events in Louisiana.  
You can view our full itinerary in the \"Updates" tab.
We will use the funds to pay for a bus, gas, driver, lodging costs and possibly some entry fees associated with some of the events.  Students will be asked to pay for their own food and drink at local eateries.  
My students come from a school where over 70% qualify as underprivileged and receive some form of free or reduced lunch.  I believe strongly in college visits and most of our kids never get to go outside of the city to see colleges with different offerings.  I want to show them ULL, LSU and Tulane, a trio of colleges, each a tier above the last, to showcase to them the variety of education and options available for language study.  
We would limit the attendees to 20 students, from the district at large, to join us on the trip, reserving spaces for seniors first, then to interested juniors if we have space leftover.  
Back Up Plan
If we don't reach our entire goal we will resort to fundraising in the form of car washes, candy sales, etc and perhaps have to put off thee trip until next year.  
Fundraiser Updates (1)
Here's our rough draft itinerary
September 12, 2014
Preliminary Draft of Louisiana Tour - Spring Break 2015 or Summer 2015
6 days total - three cities and three college with cultural events all mixed in.
Day 1-2, Lafayette Day 3-4, Baton Rouge and Days 5-6 New Orleans
No more than 20-25 students – mostly limited to juniors, seniors and kids who think they may major in French
Three cities, three colleges of different calibers, all with strong and known French programs within a days drive of Houston. (Texas does not offer many reputable programs for French)
We checked and NONE of these schools have spring break or midterms while we would be there so we would not be disturbing the students there. If possible, we may even be able to arrange kids to stay overnight in a dorm with a student (as some colleges invite kids to stay a weekend as a "prospective" student) thus saving them money but that's a long shot and I don't know the rules on what's ok and not. Once we have an idea if we can make this happen, we can look into the options and discounts.
Day One – Leave am from SWHS, drive 3.5 hours to Lafayette and see Vermillionville, http://www.vermilionville.org/ a historical village in which people wear period clothes, in period homes and speak authentic period French. A good place to see some of the Cajun history, especially the early arrival, set up of the communities and families and the French Triangle region of the state. This is a few hour activity. They offer demonstrations there, a movie of the history of the Cajuns and a restaurant and the kids could eat there.
Tour Enhancement

Time Allotment

Additional Cost

Dance lessons

30 minutes

$3 per student

Cooking demonstrations

30 minutes

$3 per student

Rag doll classes

30 minutes

$3 per student

Plate or bag lunches

30 minutes - 45 minutes

starting at $7.50 per student

Boat tours

options for 30, 45 or 90 minutes
(+15 minutes for loading)

$3, $3.50, or $4 per student, respectively

Watershed

30 minutes

FREE

Enviroscape Water Quality

30 minutes

FREE

Gift Shop

15 minutes

FREE

Orientation

15 minutes

Obligatory
Each group is limited to 25 warm bodies per group (including adults and students). This is because of fire marshal codes and to insure the protection of our artifacts.
That evening we would find a "cercle Francais" or French circle where the kids can go talk about French, in French to speakers of French and Cajun French. Or, a trip to a restaurant for Cajun food, music and a little Cajun dancing. Several restaurants I know of in various price ranges with great and authentic Cajun food and music. Currently researching options and can cater according to group desires for activities/certain foods. (example, trying crawfish)
Day Two - spend the am touring University of Lafayette Louisiana, http://www.louisiana.edu/ a very reasonable priced state college, even for out of state students. Tour the campus, the French house (where all French majors live and only speak French) and the Center for Louisiana Studies. Perhaps have a professor give us a talk, depending on who is available. (I have a few contacts at the University and the local radio station). That night if available, see a Cajun band or concert. The French Campus group, Les Francofous, are already in touch with me and want to host us for an activity.
OR On Day Two, after the tour in the evening, we'd leave for Baton Rouge in the evening and just get to the hotel in Baton Rouge. Perhaps arrange an evening activity in a hotel conference room if available and do something about Cajun French, Music, maybe a project or something. Group Activity.
Day Three - Tour LSU, http://www.lsu.edu/ a second tier state school also with a good French program. Larger school, more comparable in size to UT. Arrange to meet with someone at the Law School and look at Napoleonic code and how it differs from our system of law, and how did it survive? Meet with the exchange students who are on campus and talk with them. Perhaps discuss study abroad options and experiences.
Need to find another activity for BR – discuss with Elizabeth and research
Day Four – Tour River Road, http://www.louisianatravel.com/articles/river-road-plantations a road known for its plethora of plantations and history, old cemeteries and churches. Great place to learn about the colonial history of Louisiana, the Cajun people, the remnants of slavery and the structure of the plantation industry as it pertains to US history, and the civil war as well. Probably eat at the "slave cabin' restaurant. http://www.thecabinrestaurant.com/menu/ . Those two events make for a nice paced day with plenty of time for group discussion and reflection. $10-30 dollars per person if we choose this place.
Day Five – drive into New Orleans. We plan to stay (for safety's sake) away from the French quarter but visit in the DAY TIME ONLY. We plan to walk the French quarter, visit the Cabildo museum (the LA museum of history) the Cathedral of Jackson Square, Café du Monde, perhaps a river cruise on the Mississippi, a visit to a NOLA cemetery, ride on the streetcar, eat some crawfish and visit the Lycée Française, the only Public French Language Immersion High School in the US (I helped them with their initial grant paperwork and know the former director of the board). Hopefully we can tire them out walking and there are a few options we can give, such as a side trip to the D-Day Museum for those interested, a haunted history tour, the aquarium, or a garden district tour. We can spend most of our daylight hours on foot there and see 90% of what the city has to offer.
Day Six - Visit Tulane, a top tier private school with an excellent reputation. We will arrange tours for all these schools with either students or tour guides. Again, visit the French department, the French section of the library and any additional resources, perhaps find some time to speak with a professor about being a language major in college.
When the tour is over, we leave NOLA. We only want to spend one night there and head back. Its about six hours straight from there, so if we left by 4 we could have the kids home at a reasonable hour that Saturday night before break ended and they would have Sunday to recover and do any assignment we may assign for development, for the kids own assessment of the trip. What did you like, not like, how can we make it better, what do you want to see on a college tour, etc?
We are not sure of the pricing for any of it yet but college tours are free, city walks are too so the cost to kids would be minimal. There are student prices for Vermillionville and the plantations as well as a few other attractions on the trip. The most expensive parts would be funding the bus/gas/driver and the lodging. Sharing rooms when possible also cuts costs, depending on what kind of numbers of each gender we have.
Developments Project Ideas: Ties into AP US History, French History, Cajun Culture, Colonialism, Slavery, Law and Language Studies/Linguistics.
Create a Video Tour – this could be a group project or solo annotated. Film as you go, create a five to seven minute presentation on what you saw, and what you learned. You may not just record the guides and professors, you will need to tell the story of your experience in your own words. IF done in French, must have English subtitles (or a version with them) so we can show this at school, potentially.
Create an 'authentic' Cajun video, performing a piece of classic French literature for example, telling a Cajun Folk Tale in a Cajun accent, or performing some (clean) Cajun jokes.
Write a poem in Cajun French, on the theme of your choice.
Create a variety of audio and visual presentations – must contain both elements and be MORE Than a poster. For example, an éxposé on Slavery in Louisiana, Plantation Architecture, Napoleonic Code of Law, Immersion Schools and the Immersion Experience, Cajun Music/Musicians, the History of French in Louisiana…just off the top of my head. Others would come from what interests the students. Let them choose what they liked best and dig in. Minimum of ten slides/images/examples etc. Remember, this is AP college level work.
For the musicians, play a piece of Cajun music or prepare an audio presentation on Cajun music and its evolution. Write your own!
Create a piece of art/sculpture/music inspired by the trip/landscape/language etc.
Collect and catalogue your experience in a scrapbook, real or digital. Save paper items as you go, document places and dates, and arrange in a way that shows what you learned about the chosen theme. Pick up pamphlets and brochures, save receipts and add pictures, etc. Your creativity is the limit!
Interview someone from the trip, an exchange student, a tour guide, a French speaker, a professor or even people in restaurants locally will be more than happy to share with you their stories of French and introduce you to others who do. Many of these people will be older, so be very polite when speaking with them and ask lots of questions. Have questions prepared BEFORE HARD – and French Questions!!
About the Creator

Lead teacher at SWHS, native speaker of French, 9 years in current position, helped write curriculum for all levels of French this year.
Liaison to French club, French National Honor Society and Texas French Symposium.
Investments (33)
$220
DOMINIC A CROWE
7 years ago
$20
Jessica Acord
7 years ago
$20
Mckenzie Britt
7 years ago
$20
Parker Burkett
7 years ago
$20
Maegan Cardenas
7 years ago
$20
Catherine M Loth
7 years ago
$20
Christine Galib
7 years ago
$20
Natalie Pappas
7 years ago
$40
Yvonne M. Breaux
7 years ago
$200
DOMINIC A CROWE
7 years ago
$20
Joseph Bejjani
7 years ago
$20
Erwin Nicholas
7 years ago
$25
Elise Rambaud Marrion
7 years ago
$50
David J Cheramie
7 years ago
$100
Anakaren Diaz
7 years ago
$25
Deborah Wilkes
7 years ago
$20
Chantal Rambaud
7 years ago
$50
Michelle B Andrus
7 years ago
$100
Yvonne M. Breaux
7 years ago
$100
Katharine Breaux
7 years ago