Science Study Trip for International Students – Downtown Aquarium

Verified Non-Profit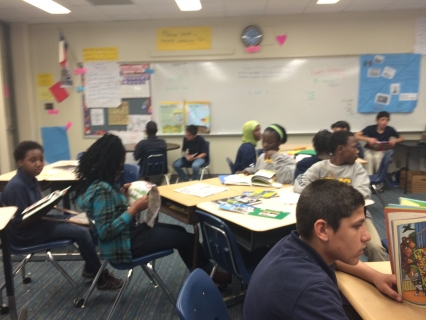 The Description
With these funds, we will take our 31 international students to the Downtown Aquarium for a day of experiential learning following a rich science unit over animals and sea life.  Most of these students are missing years of formal science instruction but they are catching up VERY quickly!  With the right activities we are able to teach grade-level content WHILE we are building basic English reading and speaking skills.  Most of them do not have a Science class so without a lab environment it is difficult for us to help them connect to hands-on Science concepts.  
With the right activities, we are able to teach grade-level content at the same time we are building basic English reading and speaking skills.  We will do an extensive Animal Kingdom and Aquatic Science unit prior to visiting the Aquarium.  Students will report learning upon returning so as to have more language practice and concept reinforcement.
The funds will pay for each child to have an all-access pass to the Aquarium Adventure Exhibit!  None of our international students have ever been to the aquarium and their lives prior to coming to America 5 months ago, did not afford them this type of opportunity.  We are excited about the fact that the Aquarium will also allow us to have lunch there and to ride rides after our morning tour.  This is an added bonus for these very hard-working children.
This video is an example of how they will work to acquire language when they are motivated. bit.ly/ChoralReading
That boy did not even realize that he could read yet.  He is so proud.  We know we can get a lot of motivation out of this trip!
The funds pay $10 per child (32 students) and the bus which will be $35 round trip.  We will take a sack lunch.
This tour will reinforce the grade-level learning standards outlined below plus MANY standards for English Language Proficiency (ELPS).   These standards will be covered well before and after the trip.  
Grade 6 Science: 1A, 2C, 4A, 4B; Grade 7: Science: 1A, 2A, 2C, 4A, 4B, 12A; Grade 8: Science: 1A, 2A, 2C, 4A, 4B
Grade 7: Science: 1A, 2A, 2C, 4A, 4B, 12A; Grade 8: Science: 1A, 2A, 2C, 4A, 4B
Grade 8: Science: 1A, 2A, 2C, 4A, 4B
Thank you for considering this cause!
Back Up Plan
If I do not meet my goal I will purchase materials for the classroom that should contribute to a virtual experience for the students.   We will buy science supplies to have something hands-on depending on how much we do raise.  A few funds will go toward consumables  and science games.  If there are more than $250 in funds, we will do the trip without the rides.
Fundraiser Updates (2)
WE DID IT!!
March 19, 2016
Many thanks to you wonderful investors and all of our friends on social media!! We just met our goal with only 8 hours left to raise funds in this cause.
I just know there will be a movie about these kids and this will be one of the BEST PARTS!
We are busy building Science units around all the things we can experience at the Aquarium. We will share classroom and study trip photos through this cause page.
We appreciate everyone so much.
My Best,
Carol Salva
&
Kathryn Dierschke
Number of students - 31
March 13, 2016
We have some mobility so we are raising funds for 32 students. We actually have 31 as of last week. We have stayed around 30-32 students all year.
Funds raised will pay admission for all students and our transportation costs. Any extra funds will buy bottled waters, snacks for this or other study trips we are able to take.
Thank you to everyone who is supporting us!
Carol Salva
About the Creator

I am a newcomer and ESL education specialist. I currently teach a group of refugee students who have a strong appreciation for education and desire to learn. They are contributing to our community in many ways! I'm blessed to be involved in our learning.
Investments (12)
$52
John Seidlitz
6 years ago
$120
Lindsey Lewis
6 years ago
$7
Mari Nicholson
6 years ago
$10
Rebecca Roberts
6 years ago