Violins to Expand Learning Horizons

Verified Non-Profit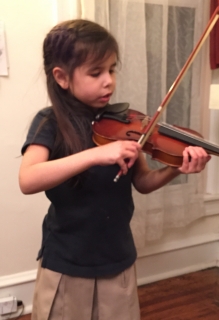 The Description
Music instruction in the classroom is one of the several subjects at risk in today's climate of shrinking school budgets, and significant classroom emphasis on excelling in the core subjects found on standardized tests like English language arts and math. However, there is a significant amount of research that shows music instruction and exposure to music provides significant benefits to students and is essential to creating well-rounded adults. 
Music instruction should be open to all students because it encourages creativity, positively affects their self-image, fosters positive social interaction, provides a medium in which they can express and feel emotions, and sets the stage for life-long music appreciation.  
Bache-Martin places a high value on music for its students for these very reasons and is one of the few Philadelphia elementary public schools that aside from a full-time music teacher, offers violin instruction to students starting in Kindergarten. The demand and interest for violin instruction by our students is evidenced by the fact that the school does not have enough instruments to offer to students who are interested. For those not selected by lottery to get a violin from the school, the student's family must rent or buy an instrument for them to be able to participate. 
With a student population where over 90% of students are from low-income families, the ability to rent/buy a violin is not feasible for most of our families. Through this campaign, we are seeking to purchase 5 quarter-size violins to add to the school's inventory so that every student who is interested in playing violin can play. This purchase will benefit students for many years to come as these violins will be available to students every school year. 
In the words of Aaron Hoke, the itinerant strings teacher at Bache-Martin, "Music is a subject worth learning within itself because it teaches kids the value of hard work and is a tangible way to apply critical thinking skills.  Most importantly, music can give a child a chance to excel at something when they may not do that in the classroom necessarily."
Back Up Plan
If we do not meet our goal, we will purchase as many quarter-size violins as possible with the funds available. Any remaining funds will be used to purchase replacement bows for the existing violins so that our students have functioning equipment for violin lessons.
Fundraiser Updates (1)
Our First Purchase Made!
September 23, 2016
Hello supporters,
On behalf of the school and Friends of Bache-Martin, I want to thank you for your support of the strings program at Bache-Martin. We have exceeded our goal and are now going to be able to do great things with the funds raised.
We are going to be closing this fundraiser early since we have exceeded our goal. This will enable us to access the funds sooner than later. We could always use more funding to pay for other strings accessories like replacement bow and replacement strings, or possibly more violins. If you would like, please share this fundraiser with others you think may be interested. We will close this fundraiser on Monday, September 26th.
In anticipation of the funds being available shortly, we have made our first purchase! In consultation with the violin teacher, Mr. Aaron Hoke, we have purchased 2 quarter-size violins, 4 replacement bows, and 16 replacement strings sets. He started pulling students this Wednesday, and believes that this will meet his immediate needs and allow for all interested students to play violin this school year.
With the remaining funds, we will reserve those funds to purchase additional violins, bows, and strings sets as requested by the strings teacher this year and future years to ensure the program this year runs smoothly and the students have all of the equipment needed.
Many thanks again for your support of our school and the violin program. Our violin teacher is floored by the level of support, as are we, and we can't thank you enough for investing in our school!
Best, Nina
About the Creator

I am currently the parent of a 4th grader at Bache-Martin, and I was the President of the Home and School Association for 4 years. With having 2 children that previously/currently attend Bache-Martin, I am deeply invested in seeing my neighborhood public school succeed and offer as many opportunities as possible to our students. I am also the Treasurer of the Friends of Bache-Martin.
Investments (13)
$50
Angelica Jaszek
2 years ago
$103
Helen & Gordon Keit
2 years ago
$100
Angelica Jaszek
2 years ago
$216
Jerilyn Dressler
2 years ago
$50
Jennifer & Christopher Storb
2 years ago