Help Send us to the Soapbox Derby!

Verified Non-Profit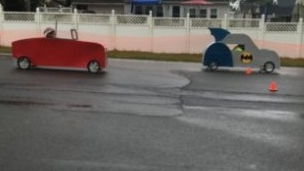 The Description
Last year, MCTC engineering students competed in the Bucks County Soap box derby for the first time. We have a new group of engineering students that would like to attend this year but we need to raise enough funds to purchase more tools and raw materials for building our cars. We also need to pay our registration fees. This particular project is the main focus of our Engineering 2 elective and uses a five- step engineering and design process and collaborative problem solving to help students design and build a soapbox derby car. Additionally, students learn real world skills such as how to read a ruler and proper power tool usage throughout out this course.
Back Up Plan
If we do not raise enough funds through PledgeCents, we will conduct other fundraisers such as bake sales to help us reach our fundraising goal.
No Updates
About the Creator
I am a high school math and engineering teacher. I love to design and build things and enjoy fostering the same passion in my students!
Investments (19)
$25
Max, Teddy Penny
3 years ago
$50
Dale Thiemann
3 years ago
$35
Rebecca Lewandowski
3 years ago
$30
Lauren Spitzinger
3 years ago
$100
Pauline C Scalvino
3 years ago
$50
Shannon Hodge
3 years ago
$250
AMC Engineers
3 years ago
$35
Gabrielle Smarr
3 years ago