Give to Families in Need this Season

Verified Non-Profit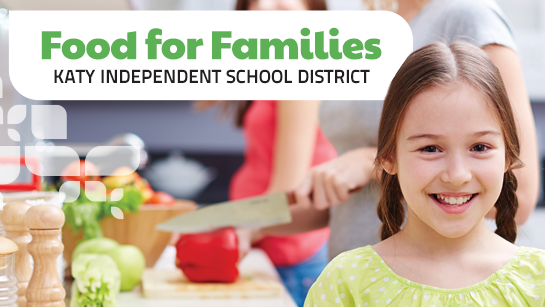 The Description
Please click here to watch a short message from our team.
Through Food for Families, our community's support of Katy ISD students transcends the classroom and related academic performance, by planting seeds of hope during the holidays.
Katy ISD campuses identify students for the program and Partners in Education collects individual and corporate donations.  Grocery gift cards valued at $50 along with a note of support from the Katy ISD community, are then delivered to each student by a campus staff member.
What started as a simple concept has since grown to a successful community campaign that has donated nearly $228,000 to over 4,800 families in the past 16 years.  Such is the character of our community: combining the individual contributions of many to help others – one Katy ISD family at a time.
Back Up Plan
Every dollar raised through Food for Families goes to a Katy ISD family.
Fundraiser Updates (1)
Deadline Extended!
December 9, 2019
We want to thank everyone who has financially supported us. We are extending our deadline to December 20th to ensure we hit our goal! We still have over 200 families to assist and provide some extra holiday cheer. Please continue sharing our page with friends, family and co-workers! We'll update you again soon.
About the Creator

Leading this initiative with Katy ISD Partners in Education is one of my most valued roles.
Investments (304)
$100
Catherine Schleimer
1 year ago
$25
Reema MirjePatel
1 year ago
$50
Erica A Dickson
1 year ago
$100
Pilar G. Sampson
1 year ago
$100
Benjamim R Rolens
1 year ago
$100
Darren and Cris Bowden
1 year ago
$100
Patti and Kenny Cryar
1 year ago
$75
Christy Maeker
1 year ago
$50
Cheryl Glasser
1 year ago
$100
WILLIAM MORGAN
1 year ago
$100
Laura Beth jackson
1 year ago
$25
Bonnie Cantrell
1 year ago
$25
Cynthia Juntti
1 year ago
$50
Joseph Longacre
1 year ago
$50
Janet Pankratz
1 year ago
$25
Jennifer L. Jones
1 year ago
$5
Ryan Wilshusen
1 year ago
$200
Elizabeth Bindi
1 year ago
$50
Erin Silkenson
1 year ago
$50
William Rhodes
1 year ago
$25
Jennifer Coleman
1 year ago
$50
Jennifer P Belcik
1 year ago
$25
Savitri Savitri
1 year ago
$20
Cynthia P Villegas
1 year ago
$100
Les and Kristi Strech
1 year ago
$100
Rachel Stifter
1 year ago
$50
Beesan Barghouti
1 year ago
$50
Kolliyil Kumar
1 year ago
$13
Luciano fORTES
1 year ago
$50
Lindsey sauvageau
1 year ago
$50
Heather Turner
1 year ago
$25
Katherine Warms
1 year ago
$100
Kim and Jim Kelly
1 year ago
$25
Marianne Walker
1 year ago
$100
Scott & Melisa LaMarr
1 year ago
$200
Patrick Henney
1 year ago
$20
Amanda Boteler
1 year ago
$25
Holly Meredith
1 year ago
$50
sherry D Thompson
1 year ago
$100
The Henkes Clan
1 year ago
$50
Carmelita Villaloboz
1 year ago
$50
Kristin Murzyn
1 year ago
$100
Wendy Borchert
1 year ago
$50
Kristy Vanzine
1 year ago
$100
Sankarappan Periyasamy
1 year ago
$50
Jennifer Finger
1 year ago
$10
Nolan Robinson
1 year ago
$100
Isabel Hernandez
1 year ago
$20
Patricia K Bentley
1 year ago
$100
Catherine Schleimer
1 year ago
$50
MICHELLE POWERS
1 year ago
$25
Brittany Cureno
1 year ago
$25
lannie christensen
1 year ago
$25
Katrina Harwell
1 year ago
$100
Rhonda Henderson
1 year ago
$100
Tammy Stringer
1 year ago
$50
Sherri M Sceroler
1 year ago
$25
Kristi Floyd-Hargrove
1 year ago
$90
Catherine Lusby
2 years ago
$50
Maryam Mortezaei
2 years ago
$500
Yuni Paufiques
2 years ago
$100
Kimberly Meyers
2 years ago
$50
Rachell M Gautz
2 years ago
$100
Brian Tuccillo
2 years ago
$150
Steven Elliott
2 years ago
$25
Bonnie Holland
2 years ago
$50
Martha Nelson
2 years ago
$100
Dawn Carlson-Scruggs
2 years ago
$25
Kerry Rampelli
2 years ago
$15
Christine Caskey
2 years ago
$100
Donna Stafford
2 years ago
$50
Haldi Shannon
2 years ago
$50
Kristine Carter
2 years ago
$50
Kecia Noelle Anderson
2 years ago
$45
Kaylyn Elissa
2 years ago
$50
Chris Crockett
2 years ago
$100
Jennifer Anderson
2 years ago
$50
Jamie and Ray Wolman
2 years ago
$50
Ken and Tracy Janda
2 years ago
$50
Veronica Williams
2 years ago
$50
Mark & Brenda Shaver
2 years ago
$100
Clarence and Harriet Grier
2 years ago
$15
Michelle Sullivan
2 years ago
$25
Alma Zertuche
2 years ago
$100
Aleksandra Siggers
2 years ago
$20
Patricia Loewenstein
2 years ago
$50
Cheryl Glasser
2 years ago
$50
Charlotte Goeters
2 years ago
$100
Juana Almaguer
2 years ago
$200
Erin Beltramini
2 years ago
$20
joselyn perez
2 years ago
$25
Amanda Kleinman
2 years ago
$100
Bharati Venkitaraman
2 years ago
$18
Matye Lewis-Hubbard
2 years ago
$50
Balasundaram Muthurathinam
2 years ago
$50
Samantha Johnson
2 years ago
$25
Theodore S. Hupp
2 years ago
$87
Nina Stofberg
2 years ago
$25
Hamilton Loomis
2 years ago
$50
Hebatalla Abdelnaim
2 years ago
$200
EMG Electric Llc
2 years ago
$50
Susan Carlson
2 years ago
$20
TAMARA MCFARLANE
2 years ago
$25
Jennifer Heitmann
2 years ago
$50
Heidi Linhart
2 years ago
$50
Sabaina Bukhari
2 years ago
$10
Shirlee Keddington
2 years ago
$50
Angela Gabler
2 years ago
$200
Jan Whitehead
2 years ago
$50
Frances L McTigrit
2 years ago
$50
Jessica Dyson
2 years ago