Putting the "T" in STEM

Verified Non-Profit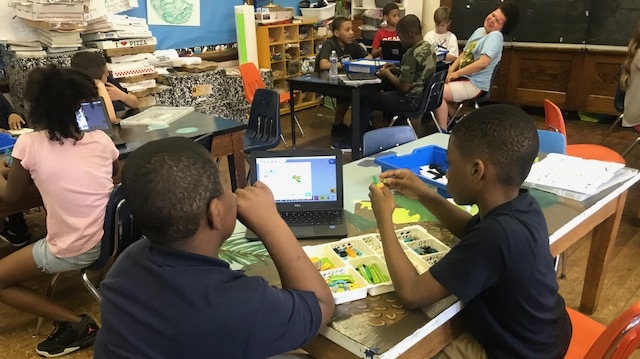 The Description
Bache-Martin has been lucky enough to receive LEGO Education WeDo robots for science class. Unfortunatly, we are limited in how to use them in the science classroom due to lack of updated and functional laptops for the students to program the robots that they build. I would love for the students to be able to use the WeDo bots the way they are intended, and to be able to incorporate the standards aligned LEGO Education lessons that go along with them. The WeDo kits allow even the youngest engineers and special education students to build and learn simple programing code. This past year, I was able to use the kits with our 4th grade/AS Inclusion class and am proud to say that all students were actively engaged and challenged in the lessons. I would love to be able to give that experience to all of our scientists here at Bache as we work to provide more STEM opportunities for them in their K-4 Science special.
With Chromebooks in our classroom, my students will have access to the WeDo app, as well as other science websites that will be incorporated into the curriculum. Through the generosity of Bache-Martin parents, and friends we were able to purchase a school wide Mystery Science curriculum for the 2018-2019 year. The Chromebooks can be used for individual Mystery Science activities and lessons as well.
Through Best Buy Education I can purchase Chromebooks for students at a discounted rate and also receive free shipping. Your generous investment to our fundraiser will open a world of opportunities for my students that they will not soon forget. If you are not able to make an investment today, please still consider sharing this through your social media channels as it increases the likelihood that we reach our goal.
Here is the breakdown of our goal of $2,730.93 for Best Buy
| Best Buy Samsung Chromebook (x15) | $2,649.00 |
| --- | --- |
| WePay payment processing fee | $81.93 |
| Total goal amount | $2,730.93 |
Back Up Plan
If we do not reach our goal I will purchase as many Chromebooks as possible for the science room. 
Fundraiser Updates (2)
THANK YOU!!!
November 8, 2018
Thank you to everyone who invested in "Putting the T in STEM". I was able to raise enough funds for 5 science Chrome Books. These Chrome Books will allow classes to use the LEGO WE DO Robots in Science class. I am grateful to the Bache-Martin community, friends and family for helping me purchase these resources for my classroom.
Getting excited!
August 15, 2018
Thank you everyone who has donated so far! I'm getting really excited for this project and using the WeDo bots with my scientists this year. I'm also currently in a PD at UPENN for more LEGO Education kits! Bache will also be getting 16 simple machine and mechanisms kits for 4th and 5th grade students to use in their science classes. Mr. Hennigan and I are learning how to incorporate these hands on kits with the School District's curriculum. We're both really excited to get these into the classrooms.
Thank you again for all of your support with science at Bache-Martin as we work to incorporate STEM and engineering into our lessons.
About the Creator
I am a 3rd year teacher in the School District of Philadelphia. I teach science to K-4 students in a diverse neighborhood school in the Fairmount neighborhood of Philadelphia
Investments (19)
$200
Soma Banik Banerjee
1 year ago
$50
Nissa Eisenberg
1 year ago
$25
TJ and Nicole Ginieczki
1 year ago
$75
Johanna Isaacs
1 year ago
$50
Joanne Hurchla
1 year ago
$100
Kathryn Hurchla
1 year ago
$100
Nissa Eisenberg
1 year ago
$100
Jerilyn Dressler
1 year ago
$10
Ali Van Norden
1 year ago
$100
Angelica Jaszek
1 year ago
$30
Jennifer & Christopher Storb
1 year ago