A Cause for Cheerleading

Verified Non-Profit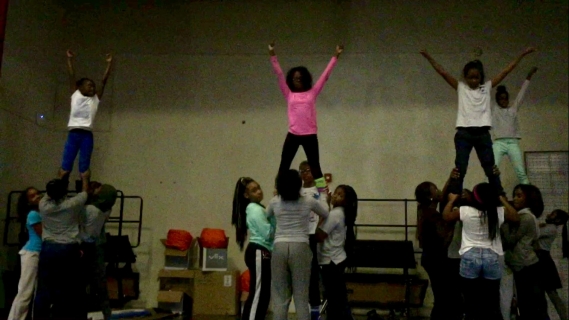 The Description
With these funds I will...
buy uniforms, proper shoes, and accessories for students to compete in cheerleading competitions and showcases to represent our school. The money will also be used to provide transportation for the girls to these events as well as the fees that come with the sport!
My students/cheerleaders deserve these resources because they will represent the first Cheerleading Squad at Hardy Williams Elementary Mastery Charter. We are from a Title 1 School with minimum resources and we cannot ask the girls to cover the costs. Without these materials, the girls will not be able to perform. They also need these resources for safety in the sport. Last, they deserve this experience because it keeps them in school for an activity after the school day is over. We have watched them grow as a team and they deserve to look forward to something weekly. 
We will be purchasing uniforms (omnicheer.com - about $1,100), shoes (proper shoes so they don't get hurt- Dicks Sporting goods- about $20 per girl, 30 girls), materials for ribbons to make the girls bows, and if we have enough money, we will use that for the buses to transport them to competition. If we have left over funds, we will by the girls warm-up jackets to represent their school!
Back Up Plan
If I do not meet my goal I will purchase whatever the funds allow me to purchase. Any money will assist us in getting something that these girls desperately need. Whether is just covers the bus, or just allows us to get matching shirts for the girls, we will allocate the money straight to the team with whatever we can get for them. 
No Updates
About the Creator

As teachers at Hardy Williams Academy Mastery Charter School, a Title I elementary school in Southwest Philadelphia, part of our mission includes doing whatever possible to ensure educational equity for our students. This mission does not cease at the end of the school day. Our children deserve extra-curricular opportunities that promote values of teamwork, motivation, and responsibility, as well as ensure a safe space for our children to be after school. Therefore, we have started a cheerleading team for 26 of our young ladies to participate in twice a week after school. This is the first athletic team for females at Hardy Williams, and the majority of the team has never been a part of a cheerleading team before. Since our start in October, we have seen these young ladies come together as a team and accomplish great improvements in their cheerleading abilities, as well as their behaviors in school. We would love to enter our team in a cheerleading competition, as well as other school events to showcase their hard work and skills.
Unfortunately, the cost of proper uniforms, pom-poms, sneakers, bows, etc. is far too high to ask our girls to pay, or for school fundraisers to cover in its entirety. Sneakers are a major need, considering the safety of the girls when performing certain tricks and stunts. We are asking for any type of donation or monetary assistance/discounts you could provide to support the first ever Hardy Williams Academy Mastery Charter School Cheerleaders. Anything helps!