THS Color Guard Equipment Fundraiser

Verified Non-Profit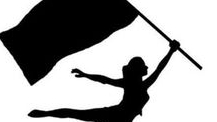 The Description
With these funds I will purchase...
8 6-foot flags
15 Black Hoops
15 Gold Hoops
15 Silks
2 Equipment Bags
5 Rifles
5 Sabres
15 sets of pompoms
15 sets of flash gloves
Back Up Plan
If we do not reach our goal I will continue to fundraise with local businesses. 
Fundraiser Updates (2)
gigsteadj@turnerusd202.org
June 7, 2021
For the last two years I have watched my school and its community of students learn and grow while struggling since we are a small community. I want to help them build more success in college and career readiness, provide opportunities for students to feel included, relevant and seen.
I have the privilege of coaching this year's Color Guard, providing an opportunity for students in a high need low income area, to participate in an activity that is rewarding, athletic, and competitive. By joining Color Guard, they can qualify for up to $10,000 in scholarships. Most of our students can not contemplate attending any college due to lack of funds. For them to achieve this, they need equipment. We are fundraising to help meet that need because we are launching the Color Guard anew. The last two years the Color Guard has had two members and lacked a coach that was interested in helping them grow. This year, we have had 17 students sign up and we do not have enough equipment to outfit them. We need poles, silks, hoops, poms, gloves, rifles and sabres.
Please consider donating or sharing so we can spread the word!
Thank you so much for your donations! We appreciate every one.
gigsteadj@turnerusd202.org
May 27, 2021
The THS Color Guard is starting a new program and needs the equipment to outfit the Team. Including Silks, Poles and Hoops for their Fall performance of Bruno Mars. Let's help them become a success.
About the Creator
I am a high school business teacher, color guard sponsor and drill team sponsor. We are in need of funds for new equipment.
Investments (10)
$50
Christina Scott
1 month ago
$25
Kerri MacWherter-Webb
1 month ago
$50
Shannon Haney
1 month ago
$30
CHRISTINA KESLER
1 month ago