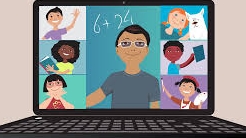 The Description
With these funds I will cultivate the technology needed to continue simulcasting lessons, including a document camera, a large TV screen for projection for in person students, and a small laptop for live broadcasting of virtual lessons. Presently, the physical space students will be returning to does not include the technology needed to support virtual learning, though it has been shown to be a great fit for some students. As families determine what learning format is best for their child, I hope to raise funds that will be directly purchase the technology needed to help all students be successful, regardless of their physical proximity to the lesson.
The required materials would be purchased from Amazon, and are as follows: 
Document Camera for viewing of materials to in person students
Large Screen TV (we do not have a SMART board) for projection to in person students
Laptop for virtual broadcasting
Back Up Plan
All funds raised will go toward the purchase of the needed technology items in order of urgency: 1. Document Camera, Laptop, TV/Wall Mount. 
If we do not reach our goal I will match the donated funds with my personal funds to purchase as much technology as possible. Until we are able to obtain all materials, I will continue to use my personal computer to stream live lessons and use my personal phone in place of an actual document camera. Without a TV, in person students will not be able to see virtual students and virtual students will only be able to view the teacher. 
No Updates
About the Creator

Kristina has been an public school educator exclusively in Title 1 schools for 14 years. She is presently working to bring learning beyond a traditional class setting by including creative experiences such as Maker's Spaces as well as the regular use of painting and other artistic techniques in education.
Investments (1)
$100
Jen & Fred Probst
3 weeks ago