Today's Readers, Tomorrow's Leaders!

Verified Non-Profit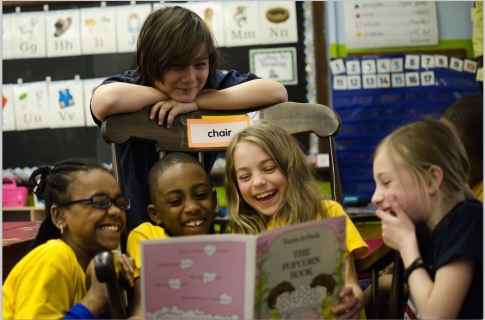 The Description
Do you love to read? How many times have you "lost" yourself in a book being transported to another place or time? Or learned something new and fascinating about the world or people around you?
Reading is not only is a fundamental skill that underscores every activity we do in our daily lives - from checking out the latest headlines to knowing how to make our favorite recipe - it is also an essential skill for a lifetime of learning and achievement.
From the first steps of sounding out a new word, to moving on to early readers, to chapter books, and eventually to more complex texts of fiction and non-fiction, reading broadens our horizons, stimulates our imagination, and opens up a world of unlimited possibilities. 
Five years ago, the Bache-Martin school library was shuttered due to district-wide budget cuts, eliminating a tremendous resource to our 450+ K-8th grade students. Since then, the school has been providing students as much of a library experience as they could on a piecemeal basis. Through this campaign - "Today's Readers, Tomorrow's Leaders!" - the school is seeking to provide students with a more holistic set of tools needed to become great readers today, and the roots needed to be the leaders of tomorrow. This goal will be achieved by giving students access to a diverse range of age-appropriate reading and literacy materials at school, at home, and everywhere they go by:
• Refurbishing the school's library with supplies, technology, and updated age-appropriate reading materials that can be used by classrooms in the interim while a permanent librarian is sought;
• Enhancing existing in-classroom libraries with additional books geared towards student interests; and
• Providing access to online resources to augment the library experience. 
All materials to be acquired are aligned with the School District of Philadelphia and Commonwealth of Pennsylvania library guidelines.
Back Up Plan
If we do not reach our goal, we will use any funds raised to purchase as much material as we can to support reading opportunities and growth for our students.
Fundraiser Updates (3)
We did it! But there's still time for the match!
October 20, 2017
WOW! A huge ginormous thank you to all who helped us achieve (and exceed!) our goal for our library campaign! We still have 18 hours to go, and Nina is still matching donations through the end, so final numbers with the match will be coming soon!
Jerilyn
We have a match!
October 18, 2017
Hi all! Did you know that in honor of her birthday last week, Nina Liou is matching all contributions that come in now through the end of the campaign? So your donation will now be worth double! We are actually much closer to our goal that stated on the Pledge Cents site due to her matching campaign, so please help spread the word about the match, and let's bring this home!
3 days to go!
Thanks!
Jerilyn
On our way!
October 4, 2017
Hello!
We are about one third of the way to our goal with just over two weeks to go! Thank you so much to those that have contributed so generously. Please continue to share our campaign on social media as they translate into $$ for our case!
Thanks!
Jerilyn Dressler,
Board President, Friends of Bache-Martin
About the Creator

I am currently the parent of a 4th grader at Bache-Martin, and I was the President of the Home and School Association for 4 years. With having 2 children that previously/currently attend Bache-Martin, I am deeply invested in seeing my neighborhood public school succeed and offer as many opportunities as possible to our students. I am also the Treasurer of the Friends of Bache-Martin.
Investments (110)
$50
Jerilyn Dressler
11 months ago
$150
Jeremy Eshelman
11 months ago
$200
Greg Vincent
11 months ago
$25
Carita Geib
11 months ago
$25
Donna M. Cunniam
11 months ago
$250
Marissa O'Connell
11 months ago
$25
Lilia Wilson Dugas
11 months ago
$50
Aaron Olson
11 months ago
$50
Katherine Spellissy
11 months ago
$50
Michelle Wetzel
11 months ago
$200
Nissa Eisenberg
11 months ago
$100
Caoimhe Beil
11 months ago
$25
Phoebe Sutherland Kaufman
11 months ago
$50
Fran Denekas
11 months ago
$100
Patricia Cruz
11 months ago
$20
Ryan Donnon
11 months ago
$50
Kathryn Shovlin
11 months ago
$50
Kathleen Conlon
11 months ago
$150
Victor Petry
11 months ago
$100
Chrissy Quisenberry
11 months ago
$100
Stewart Umphrey
11 months ago
$50
Noah Raskin
11 months ago
$25
Barbara Epstein
11 months ago
$25
Amanda Schwinn
11 months ago
$350
Barbara O'Connell
11 months ago
$100
Sarah Singer Quast
11 months ago
$50
Patricia Cruz
11 months ago
$500
Katharine Nelson
11 months ago
$200
Tara Desmond
11 months ago
$20
Brittany Mondrinos
11 months ago
$25
Muriel Kirkpatrick
11 months ago
$25
DD Eisenberg
11 months ago
$50
Denise Sedlak
11 months ago
$50
Bob Choules
11 months ago
$200
Rosalie Woodside
11 months ago
$200
Wendy Sedlak
11 months ago
$50
Soma Banik Banerjee
11 months ago
$50
Katherine Spellissy
11 months ago
$20
Janice Ryan
11 months ago
$200
Angelica Jaszek
11 months ago
$25
Marion Williams
11 months ago
$100
Johann Sarmiento
11 months ago
$50
Megan Vetri
11 months ago
$25
Rosemarie D'Alba Cipriano
11 months ago
$100
Tracey L McVeigh
11 months ago
$50
Sharon Tice DelCotto
11 months ago
$100
Kira Strong
11 months ago
$25
Amy Choules
11 months ago
$150
Luke Warwick
11 months ago
$50
Larry Davis
11 months ago
$40
Sarah Landis
11 months ago
$50
Hektor and Carolina Montano
11 months ago
$200
janice hunt
11 months ago
$100
Susan Lowry
11 months ago
$25
Ruth Goltzer
11 months ago
$100
Scott Keith
11 months ago
$50
Lacey Kohlmoos
11 months ago
$250
Steve Fischer
11 months ago
$50
Rebecca Cashman
11 months ago
$25
Emily O'Rourke
11 months ago
$10
Samantha Matlin
11 months ago
$100
Clement DaVinci
11 months ago
$50
Nicole Kahn
11 months ago
$100
Martha Desmond
11 months ago
$100
Tatiana Granoff
11 months ago
$50
George Squires
11 months ago
$100
Wendy Sedlak
11 months ago
$25
Ryan Jackson
11 months ago
$250
Jerilyn Dressler
11 months ago
$15
martin woodside
11 months ago
$100
Kelly Kutchinsky
11 months ago
$100
Noam Kugelmass
11 months ago
$25
Amy Choules
11 months ago
$100
Ceili Cascarano
11 months ago
$25
christine lejeune
11 months ago
$50
Donna Zinni
11 months ago
$25
Anthony Mauro
11 months ago
$500
Chas Kutchinsky
11 months ago
$100
Johanna Isaacs
11 months ago
$50
Jennifer & Christopher Storb
11 months ago
$10
Lisa Feinman
11 months ago
$25
Timothy Creamer
11 months ago
$50
Kathleen Klemm
1 year ago
$75
Shannon Cleary
1 year ago