Hurricane Harvey Relief & Support

Verified Non-Profit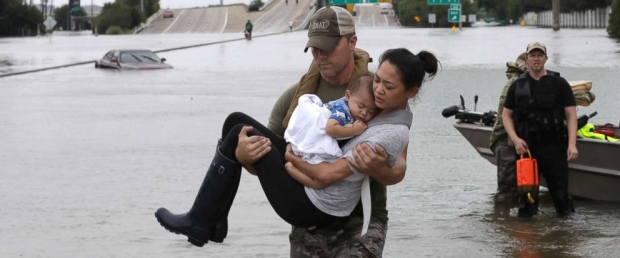 The Description
With these funds I will...
Since Friday, the attention of the entire country has been focused on the impact Hurricane Harvey has had on Houston, Corpus Christi, Rockport and numerous other communities in Southeast Texas. As the news coverage has shown, Hurricane Harvey has brought record-breaking rain which has resulted in catastrophic damage to homes, city infrastructure, and schools across the state.
I was born and raised in Houston. My family and my friends all live in Houston. This flood has been awful and as you know, it has left a huge mark on my city. Many of my friends and my own family have flooding in their homes and lost electricity and at the very least, my team and I want to help our hometown community in any way we possibly can.
Ricky and I started PledgeCents in Houston so we can make a direct impact for our local students and our schools. We want to do our part to help the people in our community that have been negatively affected. We are continuously inspired by the stories illustrating the strength that Texans are showing in the face of adversity and we will be joining in the support of Houston by leveraging our platform to raise funds for those that have been evacuated or lost their homes, cars, and belongings in an effort to help get them back on their feet.
We know many of our school and non-profit partners have students and their families who are greatly impacted by this tragedy. We will use 100% of the funds (PledgeCents will cover all fees) to help our students and their families in the city that we call home. We will work closely with our partners at KIPP Houston Public Schools, YES Prep Public Schools, Spring Branch ISD, and others to make sure all funds will help their students.
*All contributions will be tax deductible and you will receive a tax receipt when you make your contribution.*
Here are some awful pictures on the devastation that Hurricane Harvey has left behind so far: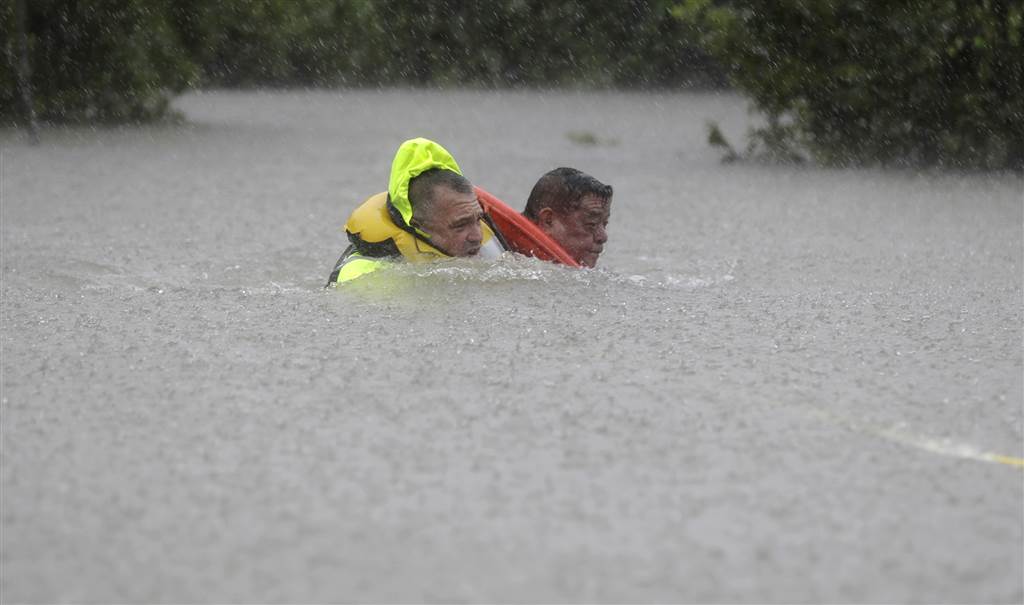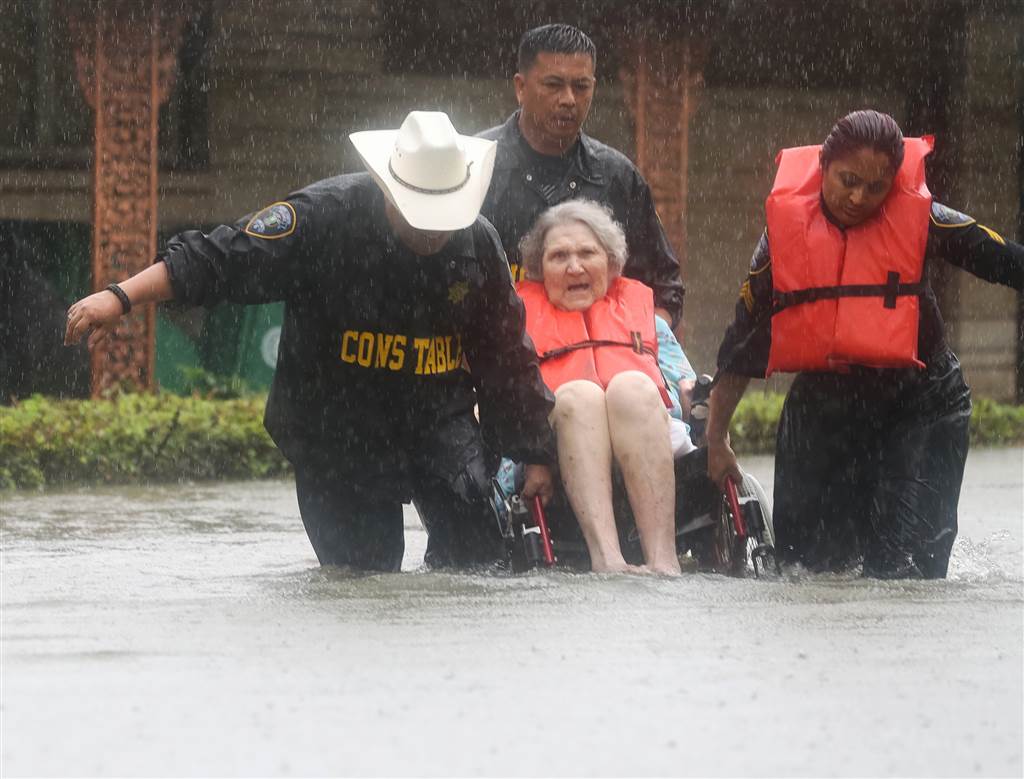 Back Up Plan
If we do not reach our goal...all funds will go to directly helping Houston families during this tragedy. Our city will come together and support each other through highs and lows.
Fundraiser Updates (8)
KIPP Houston Schools Update Video
March 8, 2018
We just received a video from KIPP Houston to share with y'all so you can see how your contributions went directly to help purchasing supplies, clothes, food, etc. for the KIPP families: https://vimeo.com/253654270
I was back in Houston recently and many neighborhoods are still ghost towns and homes vacated. Others are just starting the rebuilding process in their homes. It's going to be a long process for many but every thought and prayer will help. #HoustonStrong
Funds In Use!
November 8, 2017
Ricky, my Co-Founder, was able to go by KIPP Houston Schools recently and drop off a nice check thanks to your support! KIPP has been doing amazing work in helping rebuild their team and families' community.
Ricky with an amazing KIPP School Leader: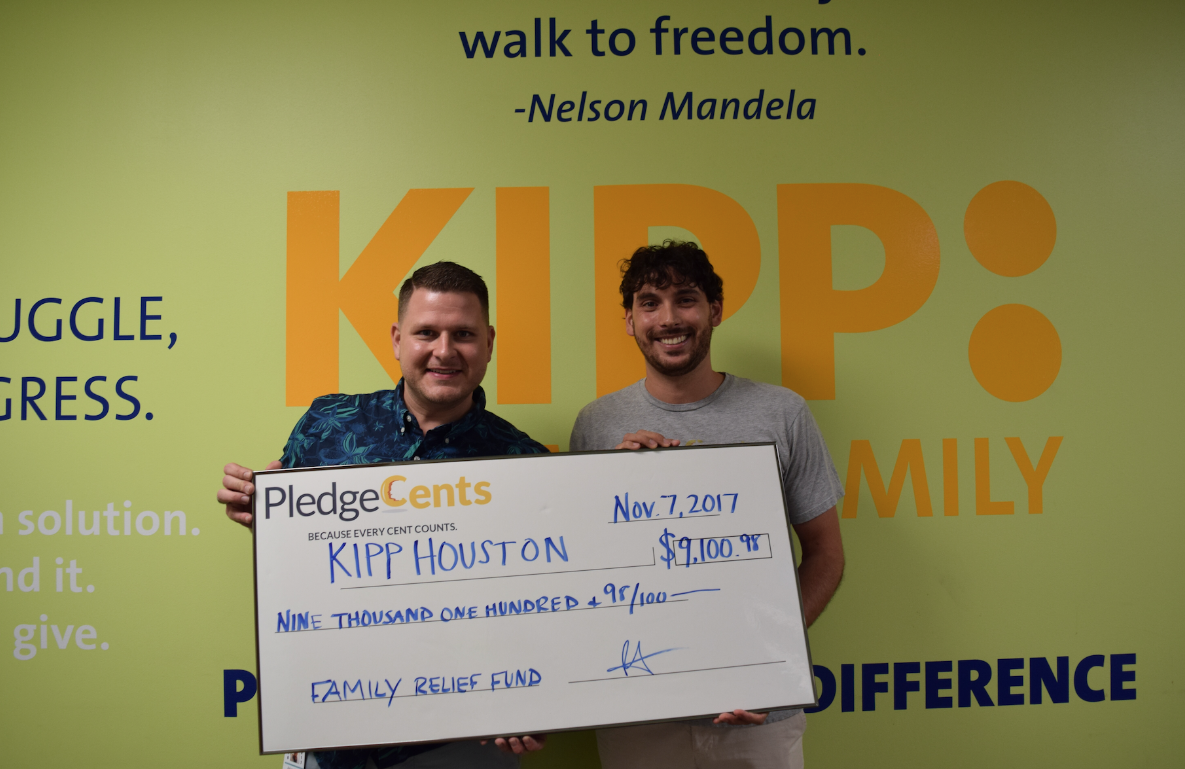 Students at KIPP Houston schools showing their appreciation for your support: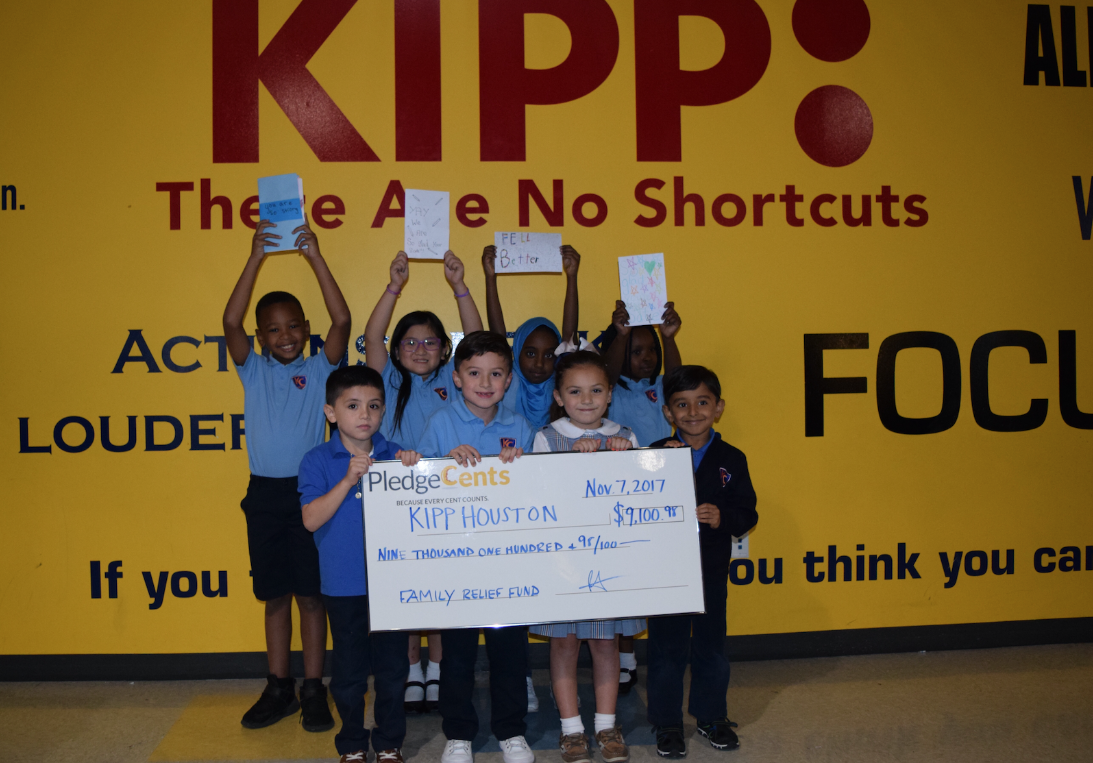 Students at Mount Vernon Presbyterian (in Atlanta, GA) wrote hand written letters of support and encouragement for the students at KIPP Houston: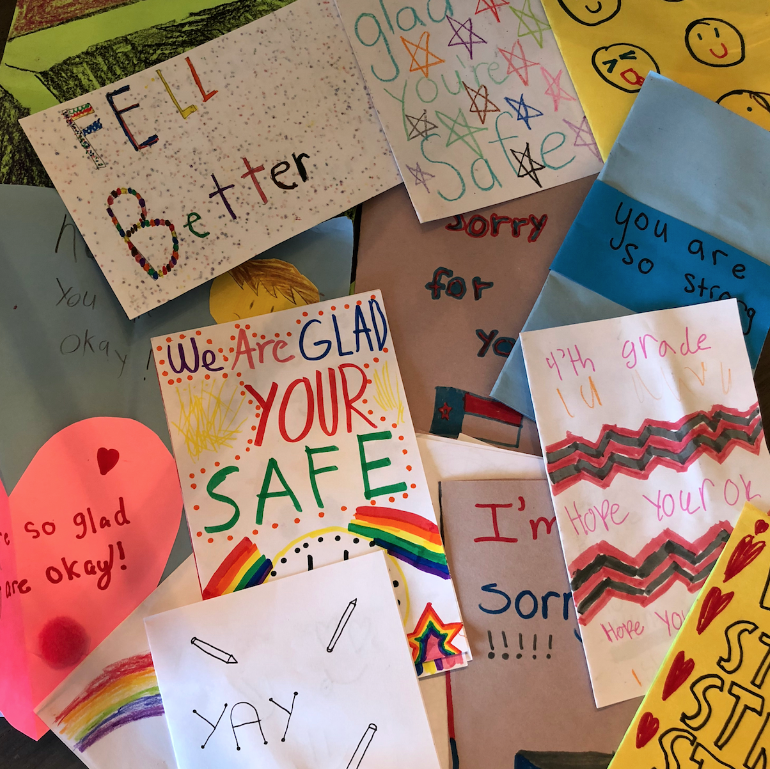 We also have distributed the remainder of the funds to Spring Branch ISD and will post an update from them as we hear back. Thank you again for your continued support, thoughts, and prayers to our families still recovering. Just because the news left town does not mean everything is back to normal...for many, it's just starting.
Ending Tomorrow!
October 4, 2017
Hey Everyone - just wanted to send a quick note to let everyone know that our page ends tomorrow! We have already been in touch with Houston area KIPP Schools network and Spring Branch ISD. We will be distributing the funds to them by the end of this week (or early next week). Right now, we are finalizing how the funds will be utilized by the networks. Once we figure this out, I'll be sure to post an update to keep you in loop with the progress.
If you can do one last push for us so we can raise the final $2,000 towards our increased goal, that would be amazing. Thank you for your support, help, prayers, and thoughts.
Our thoughts continue to stay with everyone impacted by these awful natural disasters and those apart of the horrific devastation in Las Vegas.
Only $2,000 Away!!!
September 18, 2017
Another continued THANK YOU to everyone who has contributed, shared, and sent well wishes. We are only $2,000 away from our update goal of $15,000!!!
I was able to visit Houston for nearly 2 weeks and spent most of every day outside with friends trying to help in any way we can. We volunteered with Habitat for Humanity one day and were able to visit an entire community that was completely damaged. All of their furniture, walls, cabinets, clothes were on their front yards. Homes had 2 feet of insulation that were molded and the smell was not the best.
The weather is better but the hurt is still real. People are trying to rebuild everyday and our school partners got back into session a week ago. One of our school district partners has over 2,000 families displaced because their home is gone and they had no flood insurance so they have to go elsewhere to live with family/friends until things get better.
Thank you for your support! Please continue to share our page so we can continue to make a larger impact.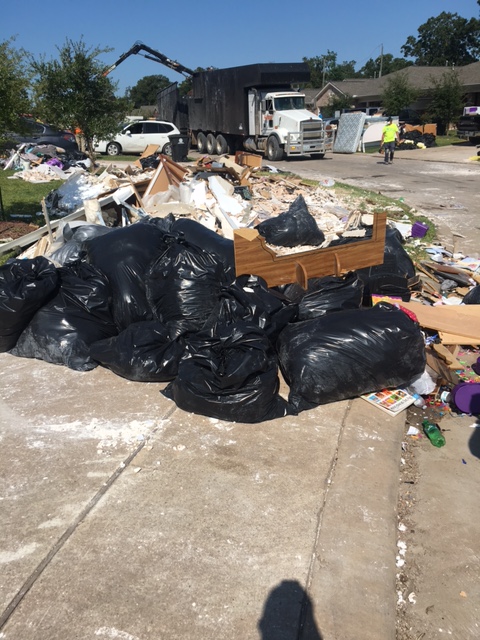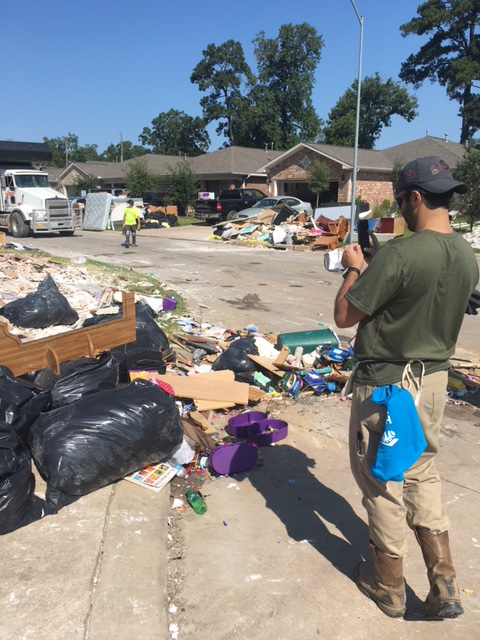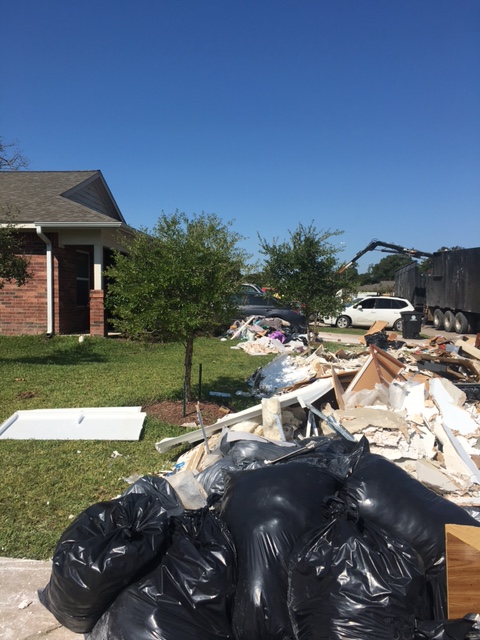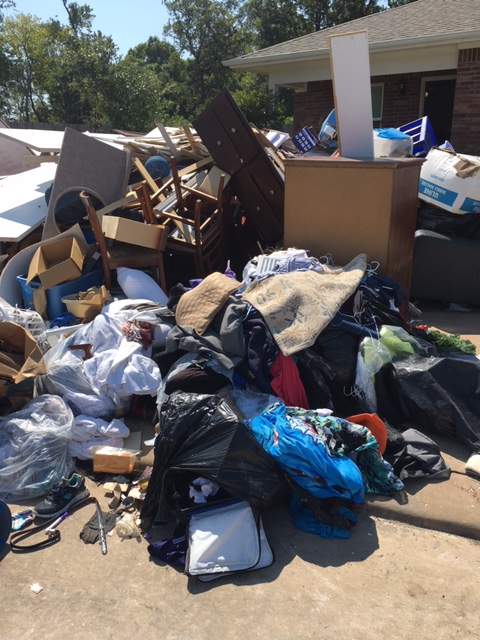 Updated Houston Pictures
September 7, 2017
First, thank you for supporting this relief effort and helping us raise close to $13,000 in just 10 days!!! Our team is humbled by the support and will ensure that 100% of the funds are utilized to help rebuild the communities of our school partners. Please continue to share with co-workers and friends so we can continue to raise more awarness and funds.
We have been in Houston for a few days now and it's a surreal scene. You drive to some streets and it's like there was never a drop of rain, then you go a few streets over and people's couches and walls and belongings are on their front lawn. Some people still have 2 feet of water in their home and it's not supposed to go down for a few more weeks. The traffic is even worse because many streets are closed and lights don't work. You can look up and see coast guard planes fly by throughout the day and feel a sense of relief knowing that someone is receiving help. I will continue to post more updates, but here are some pictures as promised.
A friend carrying his wife across the street and the inside of their home: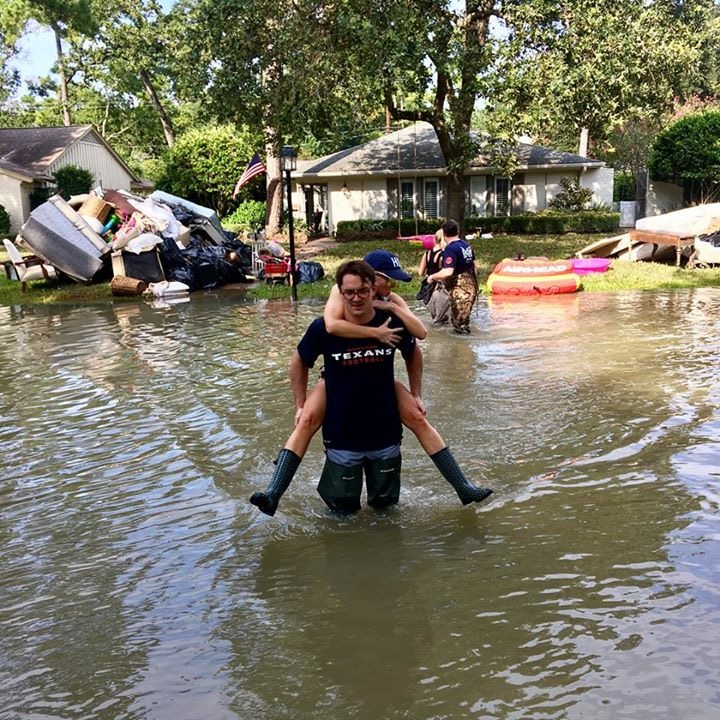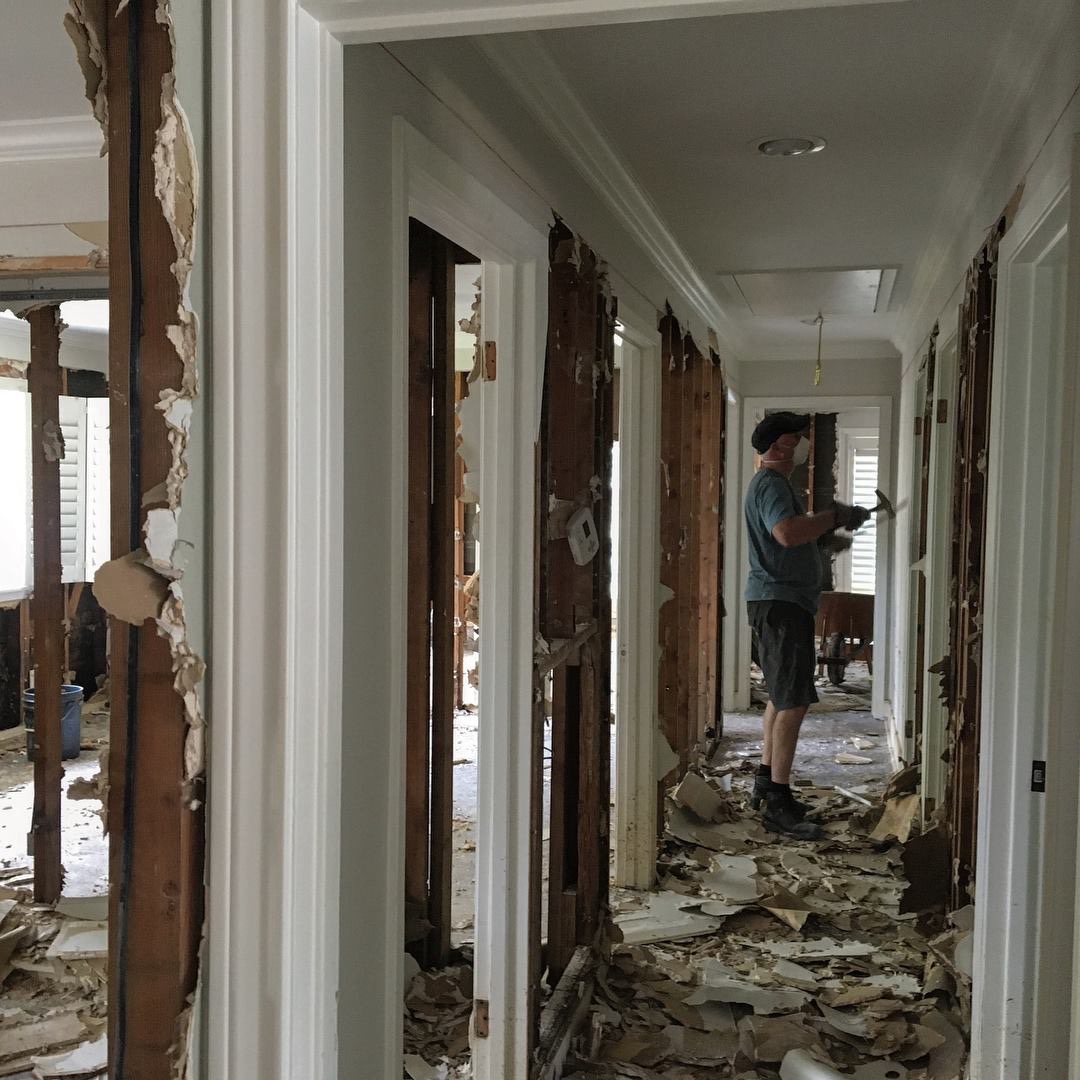 The inside of another friend's home: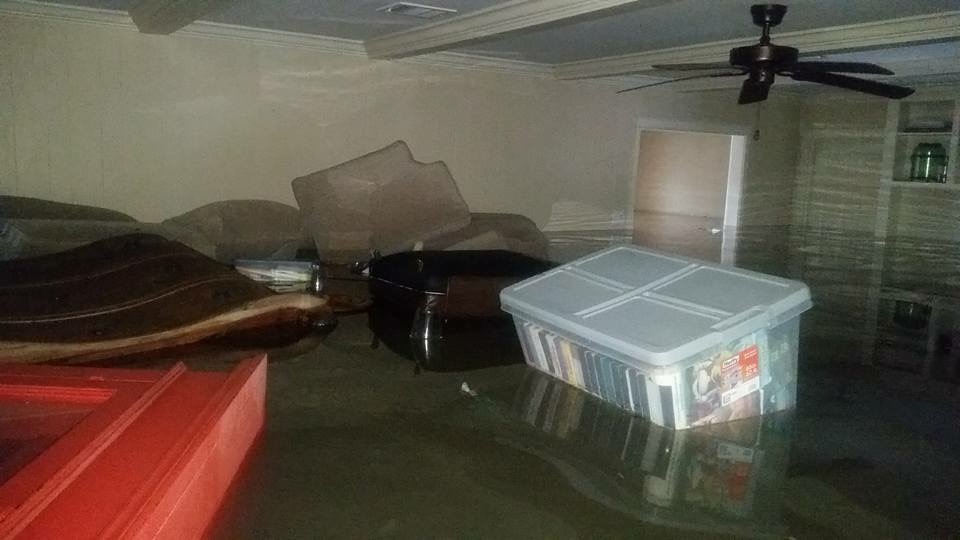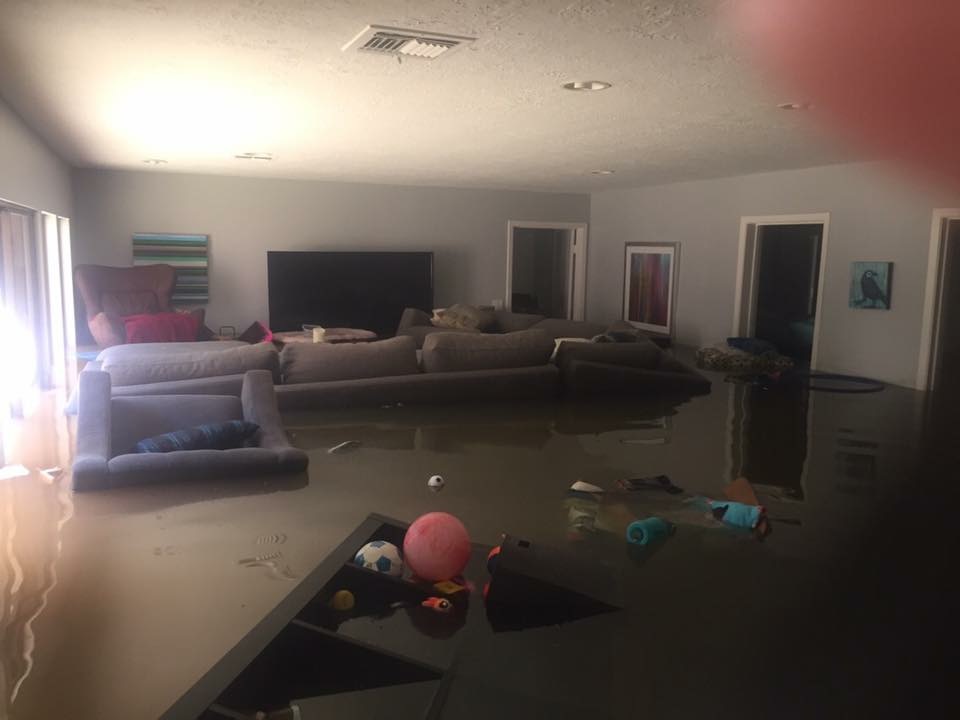 We have received some great support from people around the country. Here is a school in Atlanta that reached out to us and is currently holding their own fundraiser to help our students' families: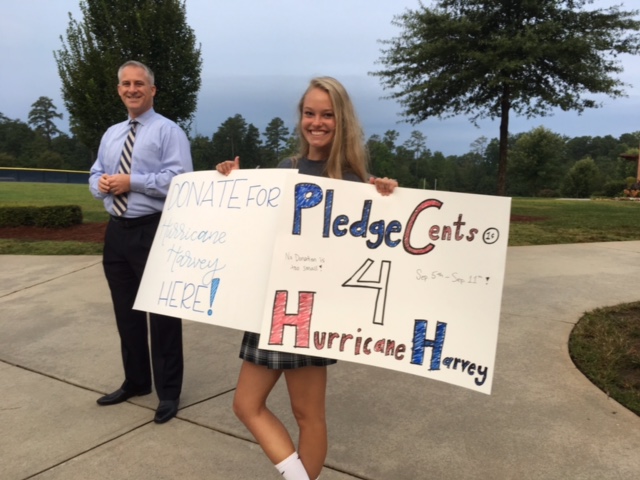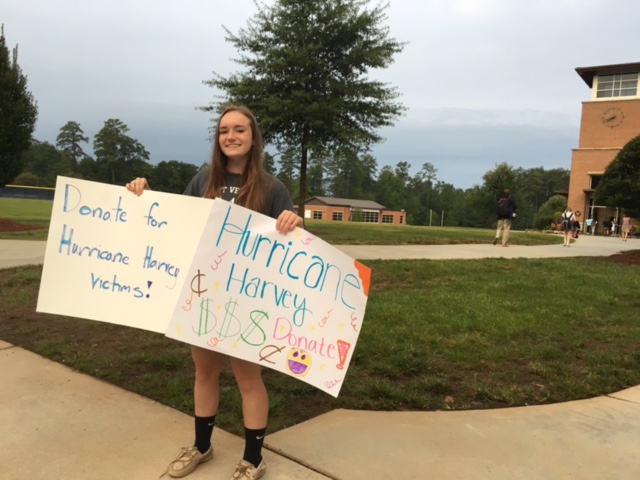 $10,000 raised in 4 days!!!
September 1, 2017
This is awesome! Thank you to everyone who has contributed to our relief fund to help rebuild our hometown! We beat our goal of $10k and it's all because of the amazing geneoristy and selflessness that you have shown.
We are not JJ Watt (we look better) and we are not raising $15million anytime soon, but our motto 'Every Cent Counts' means more now than ever, especially with this circumstance. We have increased our goal now to $15,000 so we can continue to raise more funds and make a larger impact. On our site there has been close to $80,000 raised in the past 4 days for Hurricane Harvey Relief Efforts by other school/district partners. Please continue to share and tag a friend. No amount is too small or too large.
On behalf of our team, Ricky and I are honored to have your support and will make sure that your funds are used appropriately to positively impact the students and the families who have been devastated with this tragedy. We will spend all next week volunteering with our city and school partners, and we will post pictures and updates then.
For now, please continue to spread the word. Just because the rain has stopped doesn't mean the pain has. It's just now hitting people that their homes are gone and they have to start all over. CNN said over 80% of households in Harris County (in Houston) have no flood insurance which can be scary. Together, we are playing a small role in taking that pain and scare away.
Have a safe and dry Labor Day holiday weekend.
Close to $7,000 raised in 24 hours!
August 29, 2017
Thanks to everyone who has taken time to share this page and to those who have been able to contribute! We really appreciate your support and investments! I am traveling home this weekend and will be updating pictures as I go out and volunteer. I have been told that there are over 10,000 people in shelters back home and there are still thousands on top of their roofs. I think the bulk of the rain is over for now but the flooding is not going anywhere anytime soon unfortunately.
I ask that you continue to share the page because this is just the start and our work is just getting started! Our neighbors, our friends, our families need our support in every way. If you share on Facebook, you can tag 5 people on the post to share and contribute and that can trickle the domino effect to raising more awareness and funds.
Let's try to get to $10,000 in the next few days...or earlier!
Here are some updated pictures from friends back home: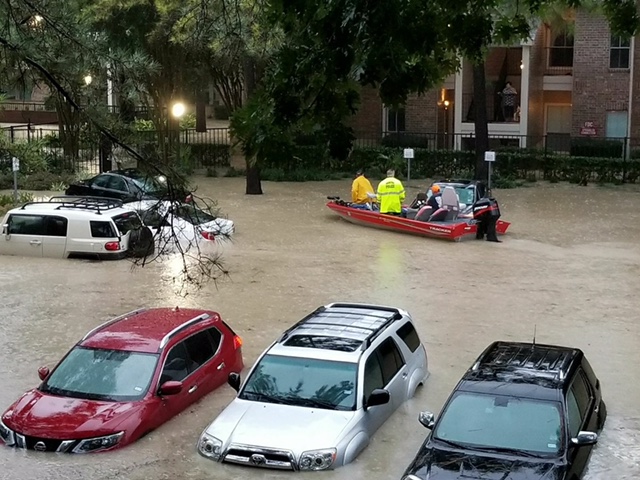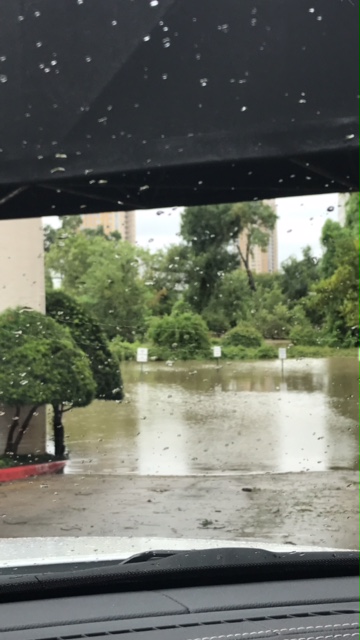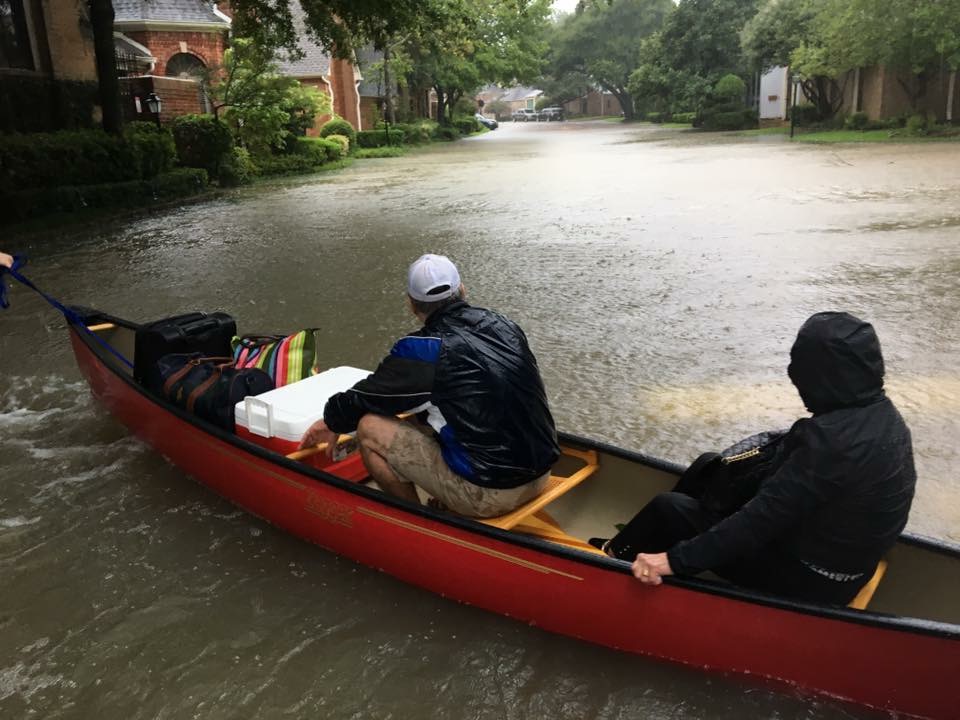 Unbelievable start!!!
August 28, 2017
Thank you everyone for the support so far. We only had the page up a few hours and have raised close to $2,500 so far!!! This is great news. I am contacting our school partners to begin coordinating our efforts with them. I will continuously keep you posted on any updates I receive. For now, please understand this is not a sprint, this is a marathon. We need you to continue to share and raise more awareness.
Here are some pictures I received from family and friends so far: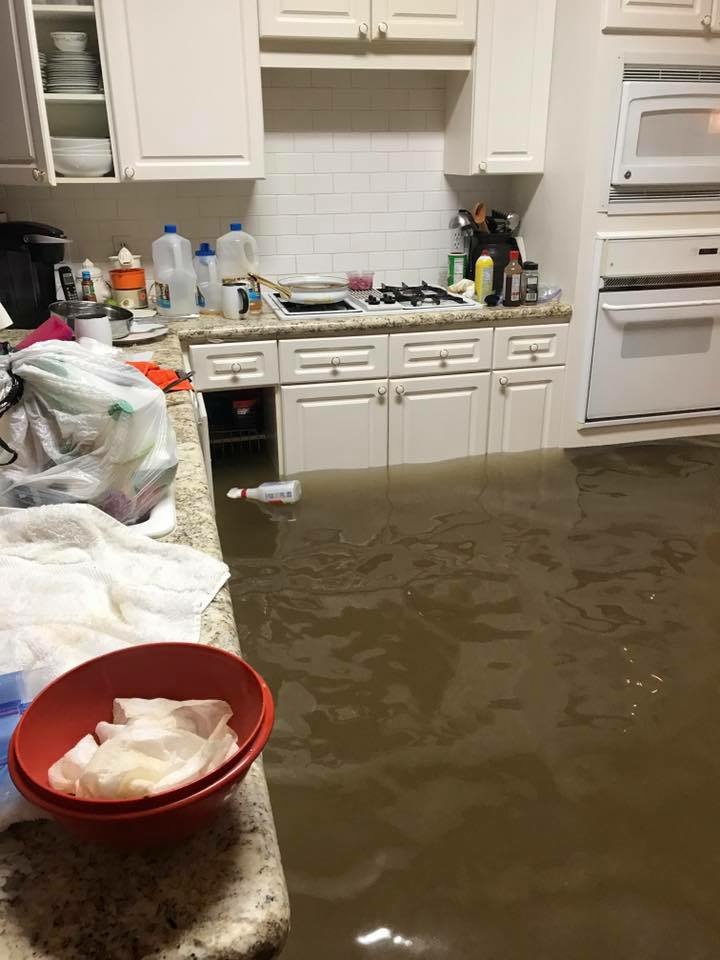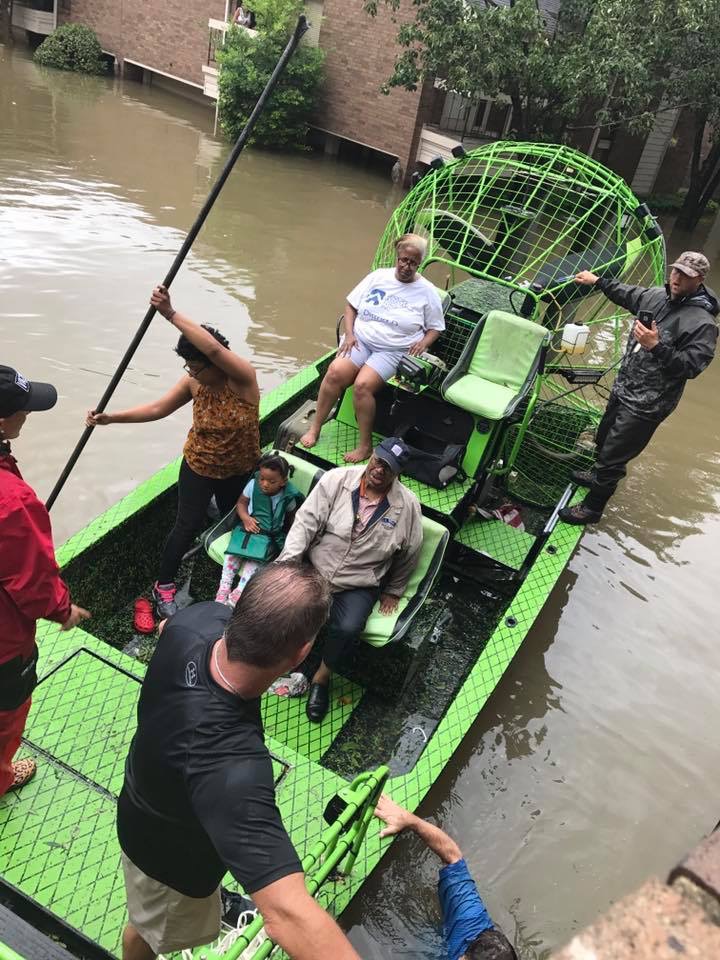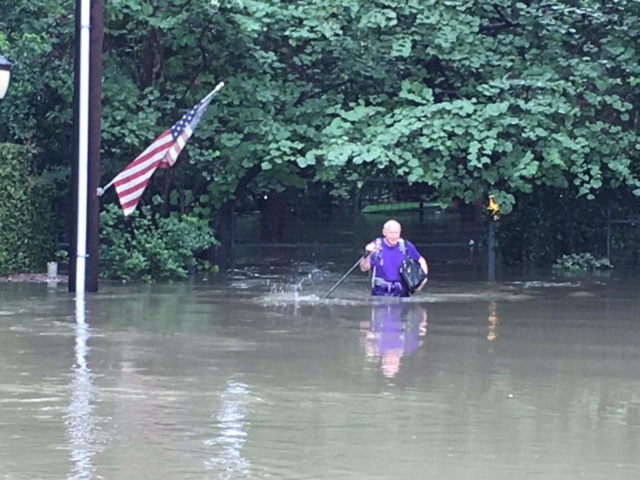 About the Creator

I am born and raised in Houston and am a social entrepreneur who has one mission: live to make a difference.
Investments (111)
$500
Brett Jacobsen
2 years ago
$250
Stephen R Guerguy
2 years ago
$26
Donna Goodman
2 years ago
$103
Janet Busillo
2 years ago
$50
Cynthia Turino
2 years ago
$250
Mark Mitchell
2 years ago
$500
Gene Percudani
2 years ago
$103
John & Patty DeBonville
2 years ago
$515
Beth Lawrence
2 years ago
$309
Beth Lawrence
2 years ago
$155
Beth Lawrence
2 years ago
$100
Beth Lawrence
2 years ago
$103
David M Wakefield
2 years ago
$100
Alex Goldberg
2 years ago
$515
Bowie capital management - employee match
2 years ago
$361
Michael Pettitt
2 years ago
$200
David Matthews
2 years ago
$100
Anthony Van't westeinde
2 years ago
$103
Patricia Garcia
2 years ago
$103
Matthew Bagell
2 years ago
$100
Linda P Volpe
2 years ago
$50
william isecke
2 years ago
$21
Michael DeBonville
2 years ago
$103
chelsea sloan
2 years ago
$52
Maria e febles
2 years ago
$103
Brooke Levister
2 years ago
$50
Andrew Sillyman
2 years ago
$15
Jordan Ramsey
2 years ago
$50
Christian J Eberle
2 years ago
$75
Andrew Calkins
2 years ago
$26
Jeffrey L Ricker
2 years ago
$10
Victoria Storm
2 years ago
$361
Carolyn Matthews
2 years ago
$100
Mark McKnight
2 years ago
$155
Michael Pettitt
2 years ago
$258
Jeff Blumenthal
2 years ago
$100
Krystin Rodriguez
2 years ago
$309
Ope & Janelle Amosu
2 years ago
$20
Sarah Cassidy
2 years ago
$250
Stuart Gibson
2 years ago
$20
Timothy Walker
2 years ago
$150
Kristopher Kepler
2 years ago
$5
musiteli mubuso
2 years ago
$52
Elizabeth Nell
2 years ago
$300
Myra & Gerald Marsh
2 years ago
$30
Leandra Robinson
2 years ago
$103
LeeAnn Coburn
2 years ago
$26
Deena Seifert
2 years ago
$50
Austin carswell
2 years ago
$50
Joanna Van Raden
2 years ago
$21
Arielle Catron
2 years ago
$100
Jayda Batchelder
2 years ago
$100
Mitchell McKnight
2 years ago
$15
Phoebe Claggett
2 years ago
$25
Caroline Brookshire
2 years ago
$50
Philip Cutler
2 years ago
$26
Lourdes Vazquez
2 years ago
$26
Robert Litterst
2 years ago
$300
Matt McKnight
2 years ago
$100
Kathy and Steve Hendrickson
2 years ago
$103
Goli Parvizian
2 years ago