This Cause Has Ended
| | |
| --- | --- |
| Launched | Oct 20, 2016 |
| Ends | Dec 18, 2016 |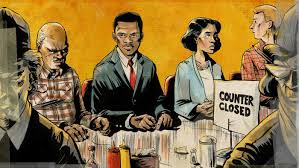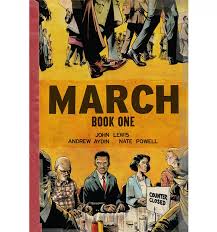 This Cause Has Ended
| | |
| --- | --- |
| Launched | Oct 20, 2016 |
| Ends | Dec 18, 2016 |
$440
     With these funds I will be able to purchase a class set (33 copies) of the critically acclaimed graphic novel March, Book I. Georgia Congressman and legendary Civil Rights warrior, John Lewis, collaborated on this graphic novel with Andrew Aydin and Nate Powell to tell the story of his own  life and struggle through the Civil Rights Movement. A graphic novel is particularly useful for many of my students as an additional resource that supplements the articles that we read. I work in a high poverty school and  teach students with reading levels that range from 3rd to 10th grade, deaf and hard-of hearing students, students with special learning needs, and English Language learners: graphic novels enable all my diverse students to enjoy grade-level themes and ideas. As young people growing up in a diverse yet stress-filled world, it is crucial that all our students learn about the history of struggle and freedom in our country. Reading and understanding past events empowers them to take the reigns in forming their own future.
I will purchase 33 copies of the Graphic novel March, Book I for about $10.00 a piece
https://www.amazon.com/March-Book-One-John-Lewis/dp/1603093001
If we do not meet our goal...
If I do not meet my goal I will purchase enough copies of the book to use for small group reading with my students.
Suggested Investments
20
Two Books!
Fund books for two students!
Invest $20
Kristin Luebbert
7th & 8th Grade Reading, Writing & Literature, Bache Martin Elementary School
I am an educator who believes that education is revolutionary as well as practical. I infuse my reading classroom with relevant current and historical texts (visual as well as written) that empower students to know, understand, and direct their path.

Bache Martin Elementary School View All Causes
Philadelphia, Pennsylvania
Bache-Martin is a K-8 school with 460 students. Bache-Martin is located in the Fairmount section of Philadelphia. Bache-Martin serves portions of the Fairmount, Francisville, and Spring Garden communities. Our school is 65% African American, 13.6% white, 8.2% Latino and 12.5% other. The vision of the Bache Martin School community is that every child will learn to his/her full potential. This will be an ongoing process with continuous feedback using the results of various and numerous assessment tools. Quality instructional practices will be utilized and appropriate adjustments made in instruction in order to provide the best education possible for every student in our school community. Ongoing professional development will take place to strengthen instruction in the standards where standardized test data reveals weaknesses in the students' knowledge. The mission of the Bache Martin School is to develop knowledgeable lifelong learners who are challenged to meet their individual potential and who can effectively communicate, express themselves creatively, use technology appropriately, solve problems using higher order thinking skills, work cooperatively, understand and respect cultural diversity,adapt to change, and be responsible and productive in society.

Joanne Hart

Blanche Harman

Jean Luebbert

Eileen Duffey

Kimberly A Stevens

Laura Ellis

kathleen sanuck

Stephen F Zane

Eileen Byrne

Victoria Zalenski

Karel Kilimnik