KISD Food for Families Holiday 2021

Verified Non-Profit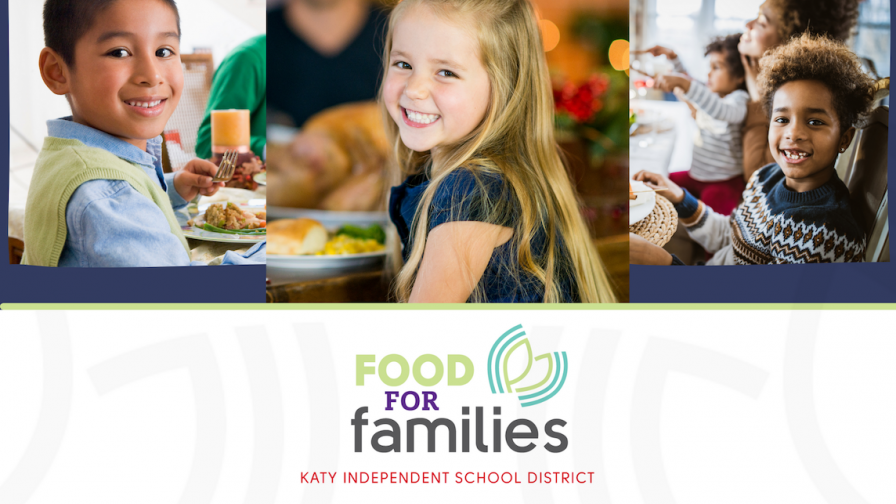 The Description
Through Food for Families, our community's support of Katy ISD students transcends the
classroom and related academic performance.
Katy ISD campuses identify students for the program and Partners in Education collects
individual and corporate donations. Grocery gift cards valued at $50 along with a note of
support from the Katy ISD community are then delivered to each student by a campus staff member.
What started as a simple concept has since grown to a successful community campaign
that has donated over $312,000 to more than 6,500 families in the past 18 years.
Such is the character of our community: combining the individual contributions of many to
help others – one Katy ISD family at a time.
Back Up Plan
If we do not reach our goal we will purchase...as many gift cards with the funds raised for
our families.
No Updates
About the Creator

Leading this initiative with Katy ISD Partners in Education is one of my most valued roles.
Investments (495)
$40
Everett Bregenzer
1 year ago
$3,000
Tiffani and Tim Harrington
1 year ago
$150
Claudina Lo Valvo
1 year ago
$250
Matthew Taylor
1 year ago
$50
Margaret Valli
1 year ago
$50
Shanon Gonzales
1 year ago
$25
Bernard Tolosa
1 year ago
$18
Matye Lewis-Hubbard
1 year ago
$50
Sandip & Poulami Bhattacharya
1 year ago
$50
Rene & Jessica Garza
1 year ago
$50
Tracy Southwick
1 year ago
$50
Savitri Savitri
1 year ago
$20
Agnetha Harish
1 year ago
$200
Dawn Carlson-Scruggs
1 year ago
$25
Ashok Thirunavukkarasu
1 year ago
$50
Cristina Alawad
1 year ago
$100
Scott Brimhall
1 year ago
$100
Rosely Matheus
1 year ago
$50
Susan Reynolds
1 year ago
$25
ARTHUR & HENRIQUE CARNEIRO
1 year ago
$50
Maria O'Connor
1 year ago
$100
Brandon Kinard
1 year ago
$100
Kumar Peddibhotla
1 year ago
$50
Kolliyil Kumar
1 year ago
$100
Fernando Narvaez
1 year ago
$50
Georgia Gaines
1 year ago
$25
Jaclyn O'Connell
1 year ago
$20
Nolan Robinson
1 year ago
$25
Leslie Britton
1 year ago
$100
Jennifer Lasida
1 year ago
$100
Aadhira Srinivasa
1 year ago
$25
Nigar Hajiyeva
1 year ago
$25
Amisha Agrawal
1 year ago
$100
Bryan, Vicki and Skylar Wiggins
1 year ago
$126
Steven Elliott
1 year ago
$250
Shaye Anderson
1 year ago
$50
MICHELLE POWERS
1 year ago
$25
Cesar Villegas
1 year ago
$100
Isabel Hernandez
1 year ago
$100
The Henkes Clan
1 year ago
$1,000
Annette Park Baker
1 year ago
$25
Susan Reynolds
1 year ago
$25
sowjanya grandhi
1 year ago
$25
Elizabeth Leigh Ishee
1 year ago
$50
Cara S. Riccetti
1 year ago
$25
Clare Brouillette
1 year ago
$50
Benjamin Gonzalez
1 year ago
$500
D Landon Weiler
1 year ago
$500
D Landon Weiler
1 year ago
$25
Mariana Guimaraes
1 year ago
$25
Denis Akhiyarov
1 year ago
$100
Roopashree Srikanth
1 year ago
$50
John and Annette Parnell
1 year ago
$24
Patricia van Ee
1 year ago
$100
Ashutosh Dwivedi
1 year ago
$25
Jason and Melissa Wheeler
1 year ago
$10
Cherie Duddridge
1 year ago
$100
Catherine Schleimer
1 year ago
$5,000
Gateway Church Houston
1 year ago
$100
Mohammad Umer Ansari
1 year ago
$50
Kathleen Irving
1 year ago
$50
Frances L McTigrit
1 year ago
$50
Jessica Hiarmes
1 year ago
$100
Keshari Kumbhare
1 year ago
$100
Venkateshappa Dunnara
1 year ago
$100
Scott & Karen Remlinger
1 year ago
$100
Véronique DeRouselle
1 year ago
$100
Jim and Sissy Black
1 year ago
$25
Anthony Sprague
1 year ago
$150
Erick Peterson
1 year ago
$25
Renee Thompson
1 year ago
$25
Gretchen Smith
1 year ago
$25
Nolan Robinson
1 year ago
$50
Dennis Doherty
1 year ago
$50
Sanjuana Valdez
1 year ago
$100
Evelyn Carlson
1 year ago
$50
Kristy Vanzine
1 year ago
$50
Melanie Stilwell
1 year ago
$20
Kelly, Liam, Macy & Beau Clarke
1 year ago
$100
Ken and Tracy Janda
1 year ago
$50
Emma Moctezuma
1 year ago
$50
Lina Fernandes
1 year ago
$10
Adorian Pearson
1 year ago
$10
Adorian Pearson
1 year ago
$50
Elizabeth Bindi
1 year ago
$20
Gabriela Urquiza
1 year ago
$90
Olayinka Adeleye
1 year ago
$25
Saki Krishnamurthy
1 year ago
$50
Mrunalini Ramalingam
1 year ago
$25
naveen srirangam
1 year ago
$50
Narayanan Mangalath
1 year ago
$35
Catherine Lusby
1 year ago
$50
Aderson Santos
1 year ago
$50
Kiran Pesaladinne
1 year ago
$25
Jennifer Jackson
1 year ago
$100
Ling-Yuan Kong
1 year ago
$100
Bennett and Jacob Huynh
1 year ago
$50
Juli Molecavage
1 year ago
$25
Prachi Patwatdhan
1 year ago
$25
Cynthia Rivera
1 year ago
$100
Michelle Cordle
1 year ago
$50
Chris Crockett
1 year ago
$50
JENNIFER FINGER
1 year ago
$50
Joseph Edwards
1 year ago
$25
gareth williams
1 year ago
$50
Laura Bohuslav
1 year ago
$25
Donna Pittenger
1 year ago
$100
Ashley Homrighaus
1 year ago
$250
Clarence and Harriet Grier
1 year ago
$25
Kelley O'Brien
1 year ago
$50
Jennifer Lettow
1 year ago
$50
Shana Peterson
1 year ago
$1,000
Mathew Timmons
1 year ago
$91
Charles Radley
1 year ago
$25
Lauren LeCompte
1 year ago
$50
Melissa Forrester
1 year ago
$20
Nolan Robinson
1 year ago
$50
Kristy Vanzine
1 year ago
$100
Stacie Guttery
1 year ago
$50
Yuly Kwenandar
1 year ago
$100
Leanne Raterman
1 year ago
$50
Parisa Mehdi Gholampour
1 year ago
$50
Keshari Kumbhare
1 year ago
$100
Destiny Bernal
1 year ago
$100
Sanket Warudkar
1 year ago
$20
Janiene Du Plessis
1 year ago
$100
Lauren Fernandes
1 year ago
$15
Jennifer Walsdorf
1 year ago
$100
Prince Elangiyil
1 year ago
$50
Stephanie Manko
1 year ago
$25
Michelle Gaskamp
1 year ago
$50
Pilar G. Sampson
1 year ago
$20
Charlotte Allsop
1 year ago
$100
Debabrata Mishra
1 year ago
$25
Gregory Niellez
1 year ago
$25
Taylor Antwine
1 year ago
$25
Connie Dowling
1 year ago
$500
Gina Teafatiller
1 year ago
$43
ENGIE NORTH AMERICA
1 year ago
$50
Suzanne Birkholz
1 year ago
$20
Nolan Robinson
1 year ago
$50
Mariah Collier
1 year ago
$50
Jamie and Ray Wolman
1 year ago
$50
Tianxiao Jiang
1 year ago
$10
Rajesh Surendran
1 year ago