This Cause Has Ended
| | |
| --- | --- |
| Launched | Aug 21, 2016 |
| Ends | Dec 09, 2016 |
This Cause Has Ended
| | |
| --- | --- |
| Launched | Aug 21, 2016 |
| Ends | Dec 09, 2016 |
$7,487
With these funds, we will invest in our most precious resource: the children we serve. While schools in more affluent areas enjoy a range of extra-curricular opportunities, our students have limited or no access to sports and the arts. This money will allow us to offer a range of competitive sports that will teach our students the value of commitment, hard work, and camaraderie. Currently, we have a per-pupil budget of $96 per student for an entire year for everything related to enrichment: art, theater, music, dance, with no specific budget for athletics. This severe financial limitation means that we cannot afford high quality coaching or equipment, both of which are necessary. Additionally, over 96% of our students qualify for free/reduced lunch. Many of our families are not in the position to contribute financially to our programming. If we were to receive these funds for athletics, our normal extra-curricular money would go even further to invest in extra-curricular opportunity for our students.
Below is a breakdown of the costs, as well as links to the various items (some of which some of which will depend on the number of student participants):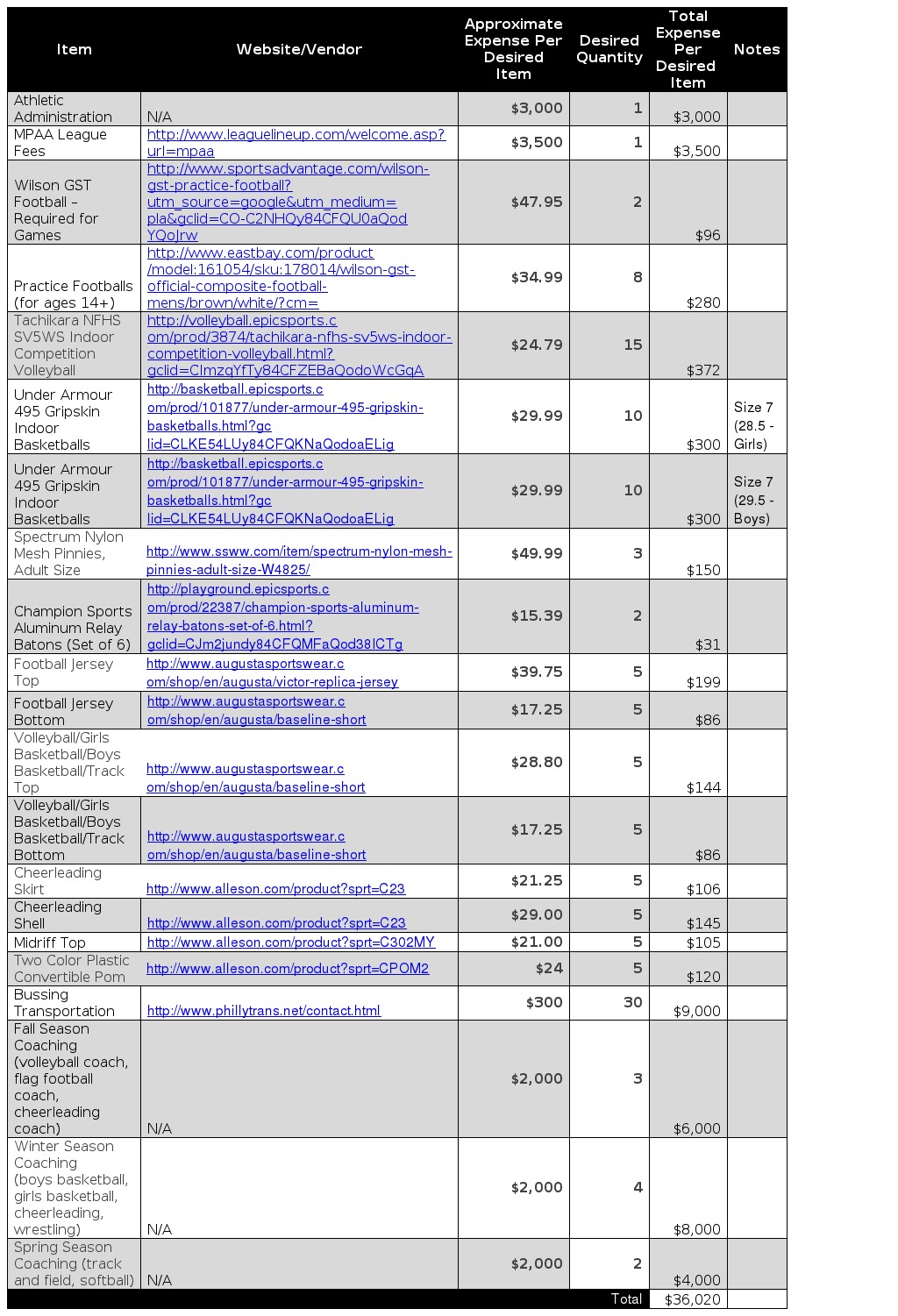 If we do not meet our goal...
If we do not meet our goal, we will downsize our vision and field the teams that have the most student interest.
Suggested Investments
10
Fund a Coach!
A $10 pledge will, on average, pay for the coaching fee for one student on one sports team for one full season.
Invest $10
35
Sponsor a Student Athlete
A $35 investment will entirely fund the equipment, coaching, league and transportation fees for one student for one full sports season.
Invest $35
70
Sponsor Two Student Athletes
A $35 investment will entirely fund the equipment, coaching, league and transportation fees for TWO students for one full sports season.
Invest $70

Stu Warshawer
Principal , Mastery Charter Schools Foundation
I am the principal at Mastery Charter Harrity Upper School - a public, neighborhood middle school in Southwest Philadelphia that serves approximately 300 students in our catchment area. As a staff, student and family community, our mascot is the "West Philly Wolf Pack." Due to mandatory budget cuts, we can no longer afford a sports program at our school. We are seeking partners to help us raise the money to give our students the athletic opportunities they deserve.

Mastery Charter Schools Foundation View All Causes
Philadelphia, Pennsylvania
Mastery Charter Schools and Mastery Schools of Camden form a non-profit school network of 21 schools in Philadelphia, PA and Camden, NJ serving approximately 12,000 students in grades K-12. Our mission is to ensure that all students learn the academic and personal skills they need to succeed in higher education, compete in the global economy and pursue their dreams.

At the core of every Mastery school is a set of values that guides all of our actions. Mastery's values are infused in the everyday life of the organization -- in the recruitment criteria for new staff, in staff evaluation and promotion decisions, in the organization's growth strategy, and in the way staff interact with each other and the parents and students we serve.
Track Championships
June 8, 2017
Dear Wolf Pack Family,
Yesterday, multiple athletes on our track team won medals at our league championship meet. I wanted to write to you all to remind you that you made this possible. See pics below!
Thanks for your support.
Best,
Stu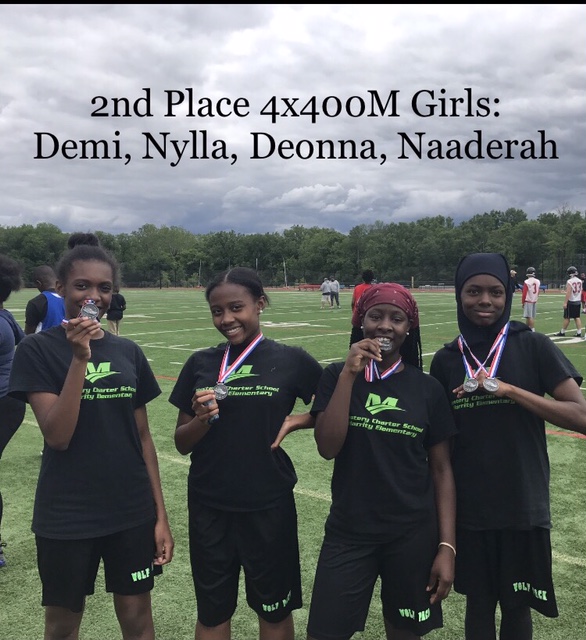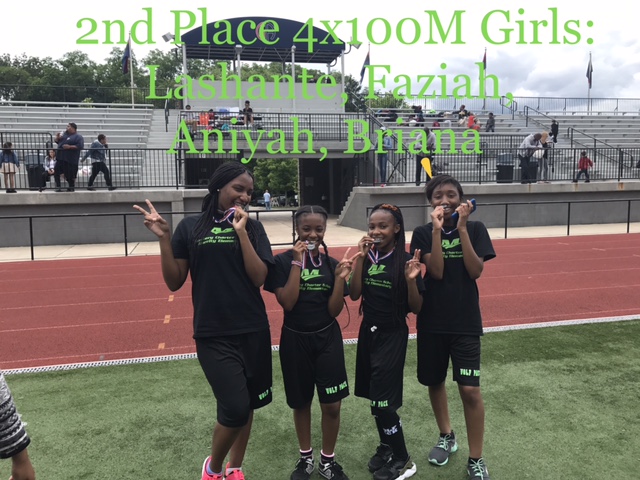 Boys Basketball Schedule
February 8, 2017
Wolf Pack Family,
I wanted to include the schedule for our boys basketball team, which just began their competitive season last week. Here are the upcoming "regular season" games and locations. We hope to see you there!
DATE

TIME

OPPONENT

LOCATION

2/24/2017

4:15

Aspira Hostos

Aspira Hostos

6301 N 2nd St, Philadelphia, PA 19120

2/27/2017

4:15

Aspira Pantoja

Aspira Pantoja

4101 N American St, Philadelphia, PA 19140

3/1/2017

3:00

Mastery Prep

Pickett

5700 Wayne Ave, Philadelphia, PA 19144

3/1/2017

4:00

Mastery Pickett

Pickett

5700 Wayne Ave, Philadelphia, PA 19144

3/7/2017

4:00

Esperanza

HARRITY

5601 Christian Street, Philadelphia, PA, 19143

3/9/2017

4:00

Daroff

HARRITY

5601 Christian Street, Philadelphia, PA, 19143
B'ball supplies :)
January 6, 2017
Wolf Pack Extended Family,
Your donation continues to support our students. Check out our exciting new gear below!!!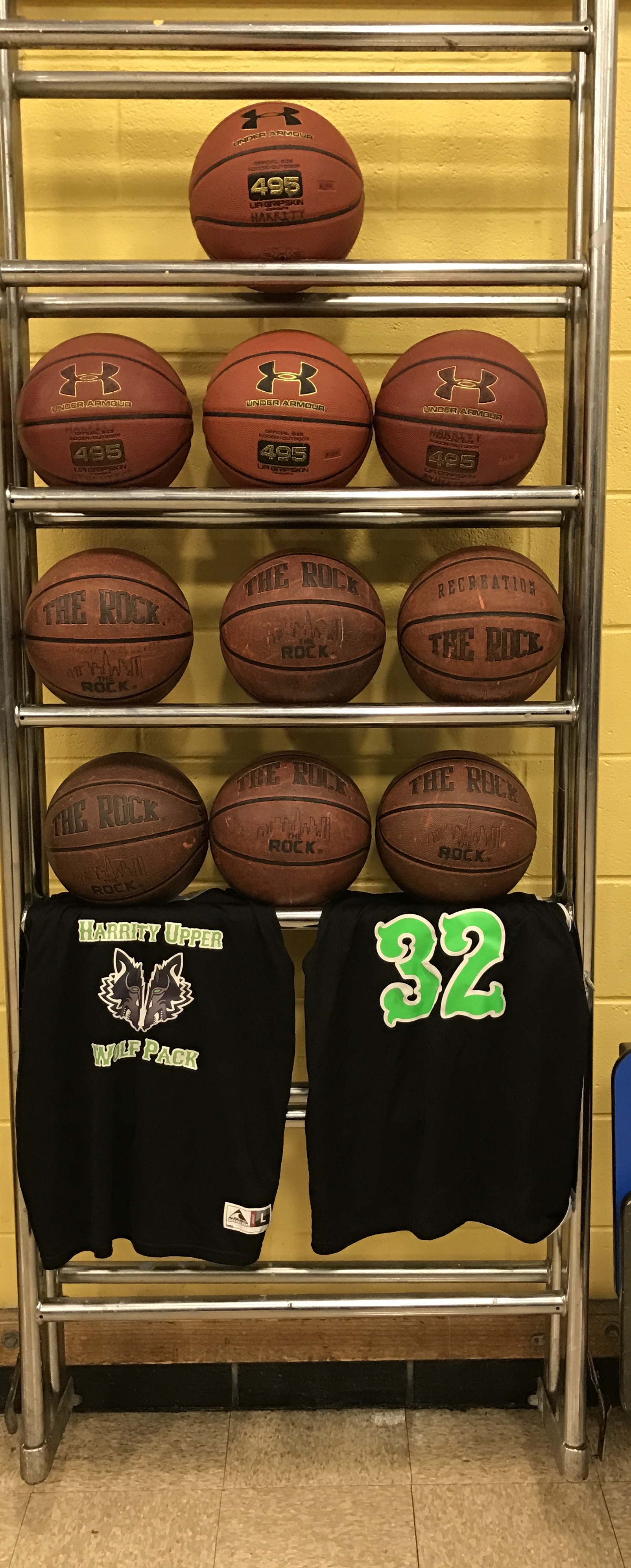 Wolf Pack Sports Update
December 31, 2016
Happy New Years to all of our supporters! I hope you and your families are healthy and happy as we prepare to ring in 2017.
I'm proud to announce that our Girls' Basketball team went undefeated in regular season games. Unfortunately, we did not advance in the playoffs, but the girls learned an immense amount about teamwork, responsibility and sportsmanship.
The money we have raised has gone to fund our league fees, coaching, and transportation costs for away games. With this money, we will also be able to pay all those same expenses for Boys' Basketball and Track.
Below - Janaye and Mylan from our team. Both serious players and serious students. (The pictures may end up sideways - not sure what's wrong with my formatting!)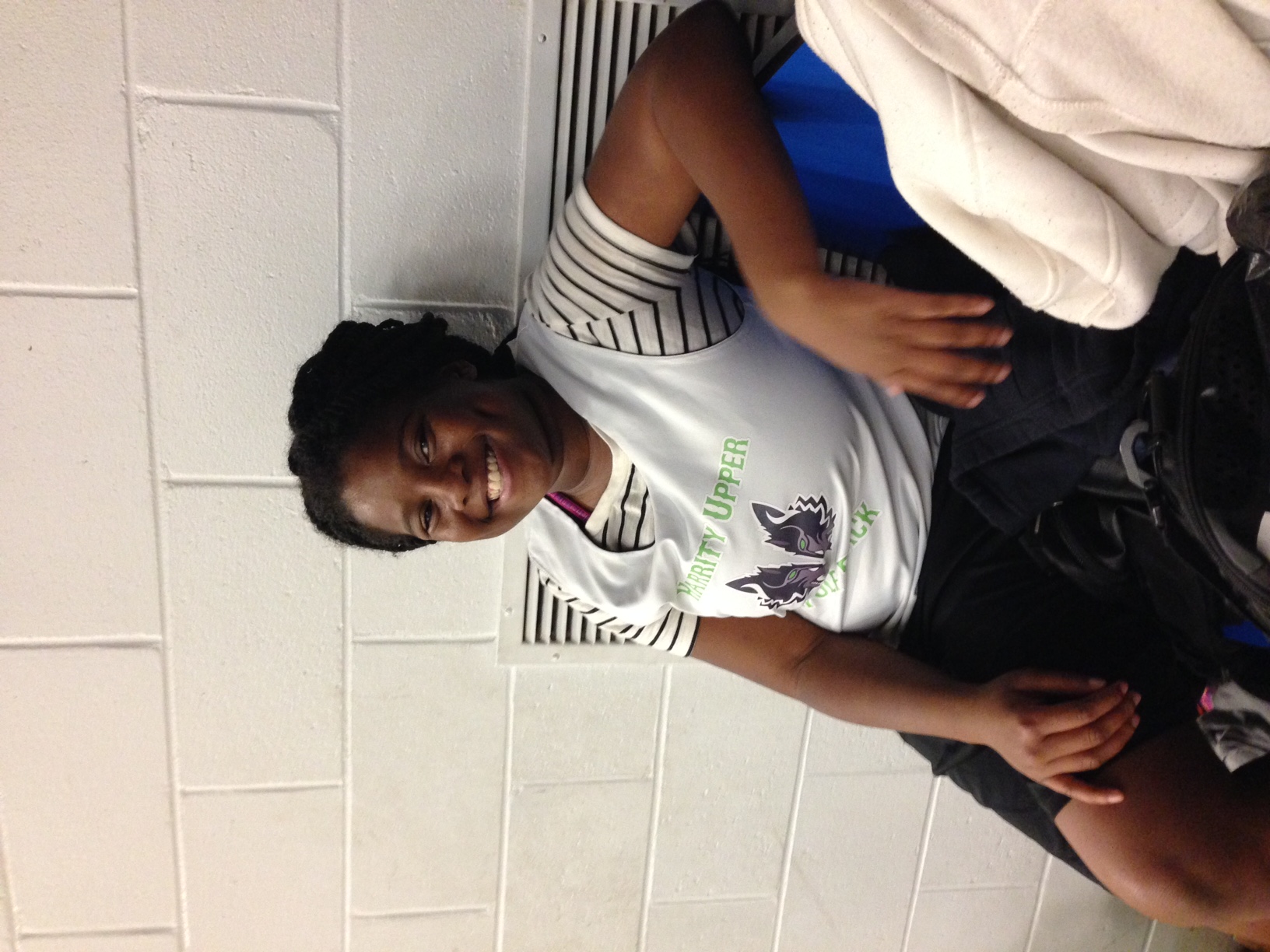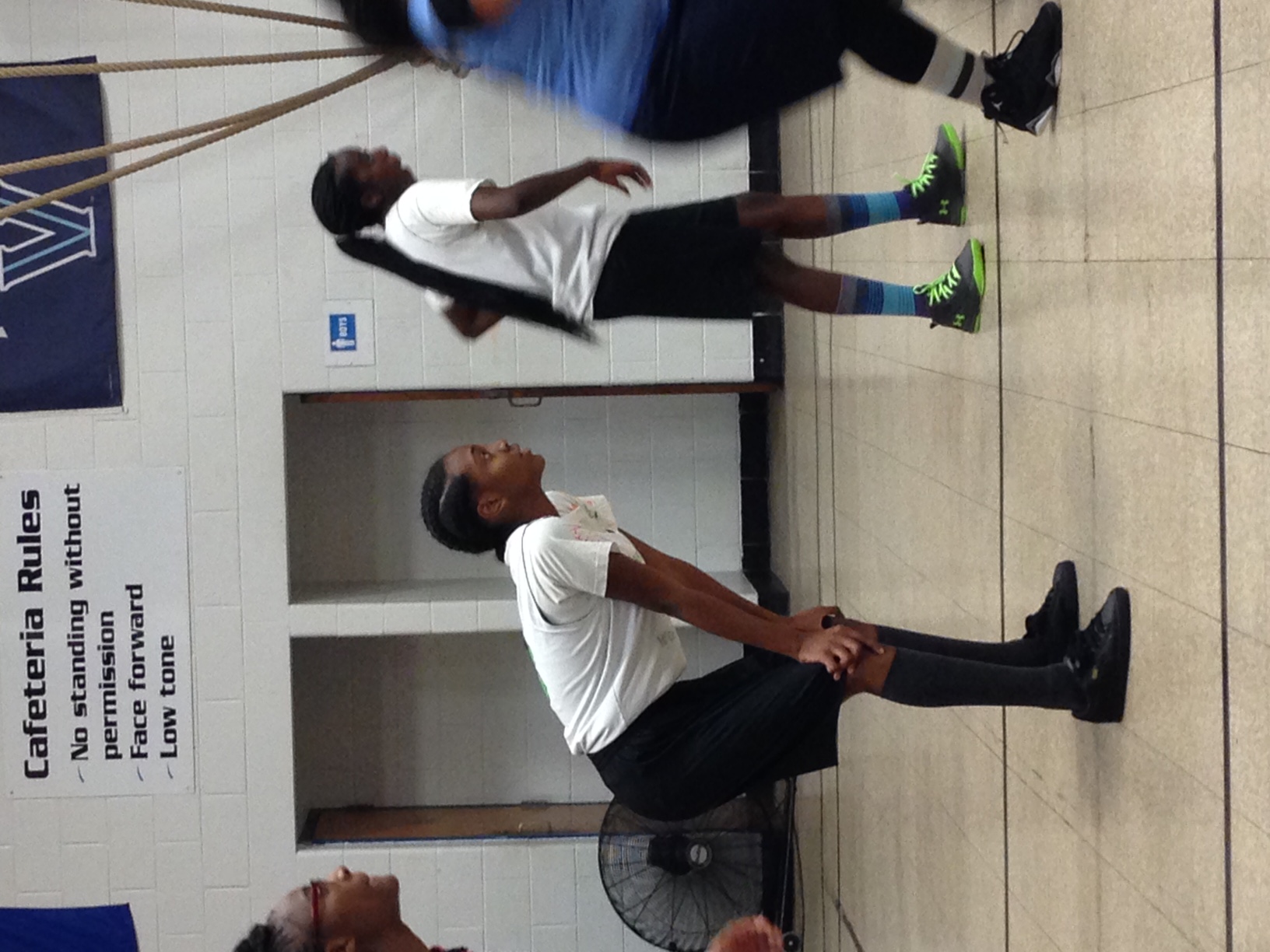 We are gearing up for our boys' basketball season and wrestling season, which both begin in January. Email me at stuart.warshawer@masterycharter.org if you'd like to attend a game or a match.
Best,
Stu
Breaking News! Harrity Wolf Pack Receives 10K grant :)
December 7, 2016
Dear friends and wolf-pack members,
I'm thrilled to announce that our school has recently received a major grant from the Mastery Foundation that puts us well over the $10,000 goal we set. With the money raised from the SIXTY-TWO of you who contributed to our cause, plus the grant, we will be able to maintain girls basketball, boys basketball, wrestling, cheerleading, track and field for our students. Our kids will have coaches, buses, uniforms, water bottles and teams to compete against for the remainder of the school year.
As we go into the holiday season, I'm filled with gratitude for the extended wolf pack community.
Please feel free to reach out to me at stuart.warshawer@masterycharter.org if you'd like to come visit us.
Yours in partnership,
Stu Warshawer

Anonymous

Chuck Bernard

Anonymous

Stephanie Bailey

Henrietta Hobert

Victoria Costa

Sergio Katz

Lisa M schuhle

Kathryn Lorenz

Hildy Somerville

Jessica Nayor

Oliver Millwood

Shaunte Ledger

Janet Kang

Morgan N Barth

Peggy and David Schuhle/Kucko

Susan Schuhle / McGowan

Amy Hogg Hogg

Mat Wimmer

Amanda Niu

James mcelhone

Olivia Barrett

Nancy Lorenz

Neil Deegan

Anonymous

Julie Rosen

Judd G Schneider

Lauren Kelly

caroline roth

Zenon Halatyn

Anonymous

R M CUNNINGHAM

Susan I Kelley

Katherine Rocker

Anonymous

Anonymous

Andrew Kao

ETHAN ABELES

David Flores

Benjamin Himowitz

Anonymous

Anne Bailey

Brenna Prestidge

Mike Deegan

Michelle Brown

Stu Warshawer

Anonymous

William Siegfried

Elizabeth Warshawer

Leonard Francis III

Sean Joyce

Anonymous

Debby and Avery Comarow

Anonymous

William A Koresko

Kevin Joyce

Henry Melcher

drs. ed & liz Holifield

Lauri and Ken Gatsik

Anonymous

Anonymous

Jennifer Balog