Help SWE Protect Memories and Teacher Materials!

Verified Non-Profit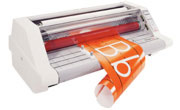 The Description
With these funds I will purchase a roll laminator (and possibly a stand if our current one does not work for the model we select) for school-wide use to replace our former one that died after years of use. Our teachers spend money out of their personal budgets for decorations and organizational items each school year and in most schools they are able to laminate those materials to extend the use of them. Beyond teacher materials, the laminator is used for protecting important student work, creating bubble sheets for quick assessments for students and for projects our PTA and other groups are conducting.  While a laminator would initially not be seen as critical, on an elementary campus the provision of one goes beyond a perk/retention tool for teachers, but extends to instruction, campus climate and polish we want to project to our school community. Please help us replace this in a timely manner. Models for laminators range from $1,800 - $3,500+, but we believe we can buy one that will last for $2,600.
Back Up Plan
If I do not meet my goal, I will extend the life of this fundraiser until the goal is met. We simply must have a laminator and my campus budget cannot meet this expense.
No Updates
About the Creator

I have the good fortune of being the principal of Sherwood Elementary in SBISD, home of the SWE Eagles! We are a small school community comprised of mainstream, traditional bilingual and dual language programs.
Investments (49)
$31
Christina Bell
5 years ago
$10
Beverly Foreman
5 years ago
$25
Kathy R Gossett
5 years ago
$62
Cindy Vattathil
5 years ago
$52
Stacy Sanchez
5 years ago
$100
Victoria Benoit
5 years ago
$15
Margaret Bott
5 years ago
$25
Sherry Cooper
5 years ago
$10
Lou Ann Timmreck
5 years ago
$52
Karen Donathen
5 years ago
$35
Jacqueline Swilling
5 years ago
$25
Patricia Adame-Fujii
5 years ago
$21
Jennifef Terveen
5 years ago
$10
Heather Sheffield
5 years ago
$41
Sydney Bermack
5 years ago
$10
Kristin Hopper
5 years ago
$21
Elizabeth Elliott
5 years ago
$50
Cheryl McIntyre
5 years ago
$52
Kathryn Thomas
5 years ago
$50
Gretchen Dolnier
5 years ago
$77
Jenifer Aguilar
5 years ago
$26
DeLisa Strege
5 years ago
$10
Andrea Ibarra
5 years ago
$50
heather camfield
5 years ago
$103
Brandy Crawford
5 years ago
$100
Martha Barrera
5 years ago