SBEF School Supply Project

Verified Non-Profit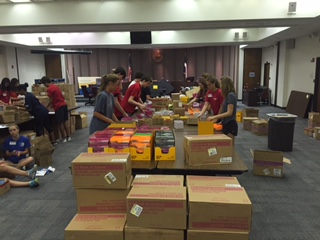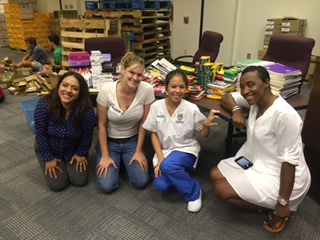 The Description
With these funds we will buy wholesale school supplies from national vendors as well as loss leader items from Walmart.  We have an 8 year track record of success providing thousands of economically disadvantaged SBISD students with essential school supplies, many in Title 1 schools. The supplies range from crayons and pencils to binders and paper; everything a student needs to begin a successful academic year! What would normally cost about $30-35 per student, we are able to provide for around $5 through our wholesalers and donations from individuals and corporations.  This project's success depends largely upon the generosity of time.  Over the 8 prior years we have had 2,000+ volunteers who devote days of their summer to sorting and packing the individual supplies into easily deliverable boxes.  
Imagine you are a teacher in a classroom of economically disadvantaged students...the first day of school is an exciting time in which you strive to begin building the best learning environment possible for the young minds before you. You ask them to take out a sheet of paper and draw a picture of their family or something that inspires them.  Even this simple task is impossible without basic school supplies like paper and crayons or pencils.  In this scenario many of our teachers who are underpaid and sadly sometimes under appreciated dig deep and find supplies or buy them themselves for their students.
Back Up Plan
If we do not meet our goal we will purchase as many supplies as we can and will continue to be good stewards of all donated funds, stretching each and every dollar to its limit to ensure that as many students have the essential supplies as possible!!! (If you are an English teacher who is reading this and cringing at my run on sentences etc. please chalk it up to enthusiasm for the cause ;) We look forward to once again gathering cost effective supplies and our army of energetic volunteers to make this another great summer of giving!
No Updates
About the Creator
I have served on the Spring Branch Education Foundation for over a decade. Nine years ago my daughter and I took on a school supply project for students who are economically disadvantaged.
Investments (68)
$50
Stephani Hess
5 years ago
$52
Meredith Turner
5 years ago
$50
Mondira Tangri
5 years ago
$25
Lennie S Grimes
5 years ago
$26
Courtney L. Kuhlmann
5 years ago
$103
Kimberly Bergen
5 years ago
$103
Kristi and Paul Robishaw
6 years ago
$26
Sina Maria Alvarado
6 years ago
$25
Camille Stern
6 years ago
$52
Mariju f Wille
6 years ago
$50
Harold B Kincaid
6 years ago
$103
Ellen Robinson
6 years ago
$515
Jennifer Koithan
6 years ago
$25
Monica Howard
6 years ago
$25
Adam Michael Stiles
6 years ago
$309
Alice Johnsen
6 years ago
$26
NICOLA SALAZAR
6 years ago
$25
Laurie L Meister
6 years ago
$26
Patrick Horton
6 years ago
$25
Mariko Shinmi
6 years ago
$10
Angela Bailey
6 years ago
$52
Michael Walsh
6 years ago
$100
shawnna tuscai
6 years ago
$26
Candy Garrison
6 years ago
$52
Maureen Gilliard
6 years ago