Fill the Halls with Music

Verified Non-Profit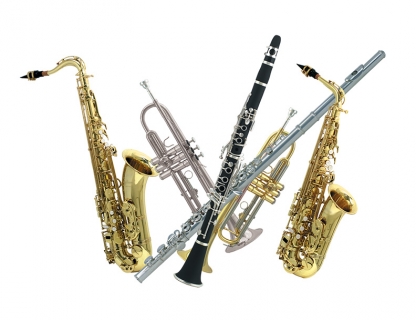 The Description
Students at Bache-Martin have the opportunity to receive musical instrument instruction throughout their K-8 education, as the school has a long history of valuing supplemental music instruction and recognizing the benefits it provides to students. Starting in Kindergarten and through 3rd grade, students focus on violin.  Starting in 4th grade and through 8th grade, our students can expand their musical horizons and participate in the school's band program.
In today's climate of shrinking school budgets and having to do more with less, the band equipment at Bache-Martin has not received necessary repairs or replacements over the years, and now is in dire shape. At a minimum, 25 instruments are in fair or poor quality. From flutes with missing screws, to keys that have fallen off saxophones and clarinets, and a dent in the tuba, the school's band instruments are in desperate need of repair or replacement.  
With a student population where over 90% of students come from low-income families, our families do not have the financial resources available to purchase new equipment, repair the existing instruments, and obtain the consumables needed (such as reeds). Despite the current conditions, our students continue to play using the instruments on hand, though they would benefit so much more from their instruments if they functioned properly.
Through this campaign, we hope to be able to do the following:   
Purchase 3 new clarinets
Purchase 3 new flutes
Purchase 2 new alto saxophones
Purchase 1 bell kit with a rolling cart
Purchase 1 box of clarinet reeds
Purchase 1 box of saxophone reeds
Purchase 3 boxes of oboe reeds
Purchase 3 boxes of bassoon reeds
Repair 25 instruments
The repair of existing instruments and purchase of new instruments will benefit students for years to come at the school, and allow them to play on equipment that works and properly presents their hard work to learn and practice their musical instruments.
Back Up Plan
If we do not meet our goal, we will work with the school's Band Teacher, Vanessa Taylor, to prioritize what is most needed for the band program and expend the funds raised accordingly. 
Fundraiser Updates (3)
Clean Sweep - 3 for 3!
September 22, 2016
Hello investors,
It is done. It was a clean sweep and we won all three rounds for a total of $2,000.
The Friends of Bache-Martin, with the support of over 100 investors, raised in excess of $8,000, most of it within the last 16 hours.
There are really no words other than thank you to those who supported this campaign, shared the word on social media and among family and friends.
It is so great to see how the community support of Bache-Martin has grown over the years.
Many thanks again on behalf of myself, the Friends of Bache-Martin, and in the end, the students of Bache-Martin now and in the future who will benefit for years from what we will be able to do with the funds raised today.
Cheers, Nina
We are 2 for 2!!
September 21, 2016
Hey folks, We did it again! We won round 2 for an additional $1,000 to be contributed to the school! Many thanks to all of the investors who helped make this happen.
Now it is time for us to go 3 of 3 in Round 3 where $750 is up for grabs. From now until 1am, please ask your friends, family, random strangers, anyone who loves and cares about music and its value to children to donate and help us secure even more funds to support our music program at Bache-Martin.
https://www.pledgecents.com/cause/rpnlzn/fill-the-halls-with-music
You may note that we are currently fully funded. But that does not mean we need to or should stop! The additional monies raised will now allow us to more fully address the needs of the school's band and strings programs, including the purchase of new violins. Please help us to really address the full needs of these long neglected programs and give all of our students the opportunity to learn and play a musical instrument that works the way it should!
Don't forget, all donations are tax deductible and every bit helps get us closer to the goal of music for all of our students.
Many thanks. I am in awe of the support that has been shown thus far!
Nina
We Won Round 1 for $250! Now On to Round 2!
September 21, 2016
Hey folks, We did it! We won round 1 for an additional $250 to be contributed to our Pledgecents campaign. Thank you, thank you, thank you!
Now its time for us to go gangbusters for Round 2 where $1,000 is up for grabs. From now until 8 pm, please help us win Round 2 by sharing our cause and spreading the word!
https://www.pledgecents.com/cause/rpnlzn/fill-the-halls-with-music
And remember, all donations are tax deductible and any amount helps! Thanks everyone!
Nina
About the Creator

I am currently the parent of a 4th grader at Bache-Martin, and I was the President of the Home and School Association for 4 years. With having 2 children that previously/currently attend Bache-Martin, I am deeply invested in seeing my neighborhood public school succeed and offer as many opportunities as possible to our students. I am also the Treasurer of the Friends of Bache-Martin.
Investments (99)
$52
Tony & Linda Mauro
2 years ago
$52
Rosemarie D'Alba Cipriano
2 years ago
$50
Tania Giovannetti
2 years ago
$52
SUSAN CAUNTER
2 years ago
$52
Johann Sarmiento
2 years ago
$52
Anne K Henner
2 years ago
$26
Martin Siminski
2 years ago
$10
Melanie A Izzo
2 years ago
$50
Angelica Jaszek
2 years ago
$25
jennifer kosoff
2 years ago
$25
Eve Gigliotti
2 years ago
$52
Leslie Schultz
2 years ago
$15
Geraldine Parrish
2 years ago
$25
Elizabeth Pollitt Paisner
2 years ago
$52
Tracey L McVeigh
2 years ago
$26
Julia Nicholls
2 years ago
$40
Soma Banik Banerjee
2 years ago
$26
Kristin Mckeown
2 years ago
$26
Elizabeth Tarpy
2 years ago
$52
Katherine Spellissy
2 years ago
$50
Kelly Springer
2 years ago
$5
Angelina Charles
2 years ago
$34
Shalika Sprowal
2 years ago
$20
Angelica Jaszek
2 years ago
$100
Ryan M Bailey
2 years ago
$50
Andrea Facciabene
2 years ago
$27
Michelle Wetzel
2 years ago
$100
Martha Desmond
2 years ago
$10
The Friedlander Family
2 years ago
$21
Mizuho Kalabis
2 years ago
$26
Melissa Stewart
2 years ago
$206
Kathleen Niswander
2 years ago
$1,000
Chas Kutchinsky
2 years ago
$50
Carolyne Dilgard-Clark
2 years ago
$10
Melanie A Izzo
2 years ago
$28
Johanna Isaacs
2 years ago
$103
Kelly Kutchinsky
2 years ago
$25
LESLEY M GROSSBERG
2 years ago
$200
Jerilyn Dressler
2 years ago
$52
Sharon Tice DelCotto
2 years ago
$52
Katherine Spellissy
2 years ago
$34
Pamela S. Klemm
2 years ago
$34
Kelly S. Curran
2 years ago
$103
Billie Faircloth
2 years ago
$50
Timothy Creamer
2 years ago
$103
Noam Kugelmass
2 years ago
$30
Kathryn Fleegel
2 years ago
$21
Laura McClammer
2 years ago
$52
Anna Marchini
2 years ago
$52
christine lejeune
2 years ago
$103
Kathleen Klemm
2 years ago
$50
Jennifer & Christopher Storb
2 years ago