Send WLHS TroBots to Worlds in Houston

Verified Non-Profit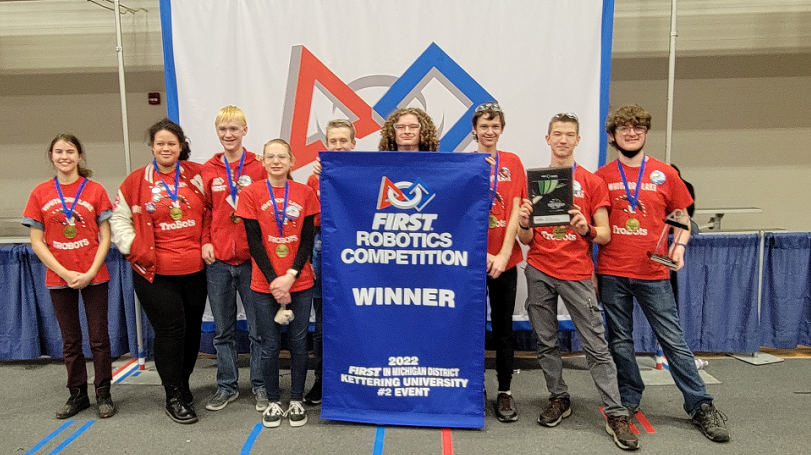 The Description
With these funds we will cover the registration, transportation and room and board costs for our Whitmore Lake High School Robotics Team, The TroBots, team number 3668, to go compete at the First Championship in Houston, Texas. 
Their season consists of a 6-week build season where our 10 students and about 5 mentors spend around 1000 hours or more building our robot.  After the build season, they have two events over the course of another six weeks to compete in all while still tweaking the robot.
Their first event was in week 2 at Kettering University.  This event went very well. The TroBots were the second alliance captain leading into playoffs and ended up the winners of the whole thing.  They also won the Innovation in Control Award! 
Their second event was in week 6 at Woodhaven High School.  This event did not go as planned, but they did end up on the third alliance.  Their alliance got past the first round though, beating the 6th alliance.  They also won the Innovation in Control Award again.
With all this success the TroBots were able to get a ranking of 25 in the state, securing our spot in the Michigan State Championship at Saginaw State University.  This event was very hard-fought.  In their division after qualification marches, they ended up in 13th place. They were picked for the 8th alliance in playoffs where they lost to the number 1 alliance.
Accumulating all they did at their 2 events and at the Championships, they secured their spot at the First Championship in Houston, TX April 20-23!
This is only their second time in team history going to Worlds, so it is important we go. The team worked so hard and their robot reflects all their efforts.
Back Up Plan
If we do not reach our goal we will deplete all the fund The TroBots we have raised since the team's inception that would be necessary for a successful season next year. 
No Updates
About the Creator
Currently serving at the Community Relations Director for a fantastic small school district in Michigan.
Investments (32)
$100
Lewis Poole
10 months ago
$300
Gypsy Kolasinski
11 months ago
$40
Andrew Jewell
11 months ago
$50
Patrcia Quigley
11 months ago
$25
Becky Majesky
11 months ago
$25
Margaret J Minnich
11 months ago
$20
Debra Burchi
11 months ago
$300
Dave & Laura Watenpool
11 months ago
$100
Brian Collingham
11 months ago
$50
Jim and Mia Bennardi
11 months ago
$10
Kota and Kade Hunter
11 months ago
$25
Janice Pardy
11 months ago
$20
Lindsay Simonson
11 months ago
$20
Justin Phillips
11 months ago
$100
Sharon Abla
11 months ago
$100
Terry Bond-Manville
11 months ago
$50
Jamee Zielke
11 months ago
$200
Lenore Zelenock
11 months ago
$100
Phil & Laura Plevek
11 months ago
$100
Marta L Larson
11 months ago
$20
Halie Pechette
11 months ago
$5
Jared Steele
11 months ago
$100
Kalyndra Craven
11 months ago
$100
John Briggs
11 months ago
$25
Rita LaForest
11 months ago
$25
Maria Carter-Ewald
11 months ago